This archived news story is available only for your personal, non-commercial use. Information in the story may be outdated or superseded by additional information. Reading or replaying the story in its archived form does not constitute a republication of the story.
CLEARFIELD — Amanda Pippin got the worrisome news Wednesday morning: Her kids may have been exposed to lice.
Pippin checked her two youngest, who are still at home, who tested positive. The discovery was stressful but came not a moment too soon.
"I actually checked my other two kids out of school to come (out) to get free treatments," said Pippin, of Roy. "It was actually really good timing. Otherwise, I'd be at home with home treatments, combing it all out by myself."
For one day Wednesday, families affected by head lice were able to get their ailment taken care of at a new professional clinic built solely for that purpose. Normally costing $165, full treatment of head lice was offered for free as the new Lice Clinics of America branch at 540 E. Antelope Drive introduced itself to the area.
"Anytime you do a free event, you want to treat as many people as possible," said Adam Ward, chief operating officer for Lice Clinics of America. "We love being able to help families. When parents are dealing with head lice, their whole world kind of turns upside down."
Head lice are parasitic insects that live exclusively on a person's scalp, biting that person and subsisting on their blood. They are very small but visible to the naked eye.
Head lice are infamous for their ability to rapidly evolve to become resistant to various chemical-based treatments, making the continued development of home treatments very demanding, Ward said.
"They're pretty resistant, and we believe the number of incidents is going up," he said.
The latest available data suggest demand for such treatments has been steadily growing, Ward said, with a 5 percent increase in prescription lice treatment sales and a 12 percent increase for over-the-counter products over a year span.
That indicates incidents of head lice infestation are continuing a steady trend upward nationwide, he said.
And Utah is no exception.
"The Salt Lake market interestingly is one of the top five markets in the country for sales of retail lice products," Ward said. "That tells us there is a demand."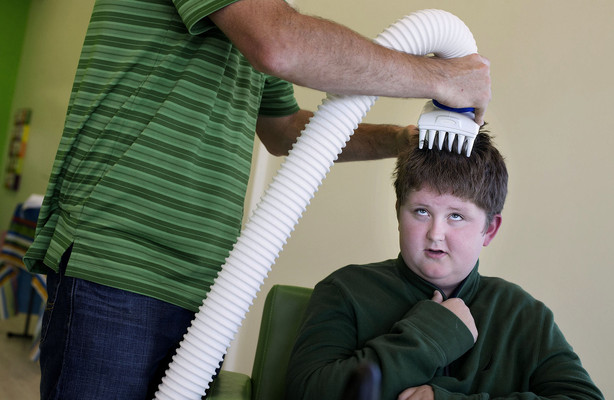 Demand for treatment coming from lice experts itself is increasing at an even larger rate, with Lice Clinics of America seeing a 47 percent increase in customers over the previous year, he said.
The organization uses a tool called the AirAllé, a device that was created at the University of Utah due to research by U. professor and evolutionary biologist Dale Clayton. The tool first hit the commercial market in 2010.
"It's really a Utah-based success story," Ward said of the device.
Closely resembling a simple home vacuum, the device actually blows heated air through an extension that looks roughly like a diffuser on a hair dryer. In the right quantities, at the right temperature and with the correct amount of dryness — or aridity — that blowing air creates an environment where it's extremely difficult for head lice to survive, Ward said.
"It's a very safe treatment," he said, and less susceptible than topical treatments to be rendered moot due to the evolutionary adaptation of lice.
---
Psychologically, it does kind of mess with you a little bit. … We try to take the stress out of having head lice.
–Adam Ward, chief operating officer for Lice Clinics of America
---
The full offered treatment takes roughly an hour, and customers are sent home with additional gel in case a small percentage of the lice survived.
Pippin, who believes her daughter was most likely first exposed to lice at a church activity with friends, said the treatment "just feels like a hot scalp massage."
"It's not bad at all," she said. "It feels nice."
Although Lice Clinics of America was founded in Utah, Clearfield is its only other in-state location besides its headquarters in Murray, Ward said. The chain has more than 300 locations in 34 countries and has served 300,000 people since 2010, he said.
Another franchise is expected to open in Orem in the next couple years. At first, the business simply provided equipment and technical support, but it began franchising as its influence grew, according to Ward.
Other businesses using the same device invented at the U. have set up shop in Utah in recent years, including Hair Maidens in downtown Salt Lake. Still others without storefronts visit their patients in-home along the Wasatch Front.
Ward estimates there are currently about 800 lice-removal businesses nationwide. Prior to the recent advances in lice-fighting technology, "this whole concept of treatment (centers) didn't exist," he said.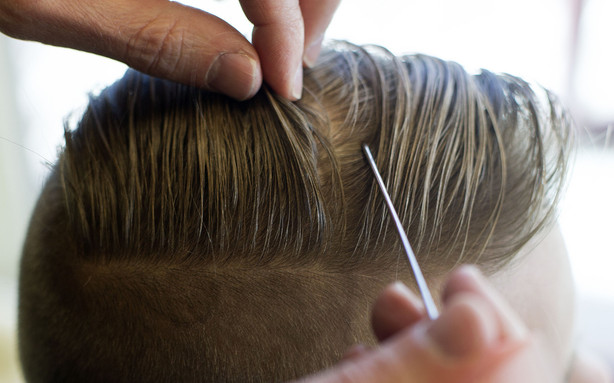 One fulfilling part about running "such a quirky business," Ward said, is the ability to educate families about lice, including the "myth that (lice) like dirty people and dirty hair."
"Anyone can get lice," he said.
Ward also takes satisfaction in helping people understand how long head lice can live without its human host on something such as a pillow or clothing (virtually never more than 15 hours), whether head lice spread disease (they don't), and whether people affected by lice have to "tear their house apart" to prevent being affected again (that isn't necessary).
"Psychologically, it does kind of mess with you a little bit. … We try to take the stress out of having head lice," he said.
Pippin was still feeling paranoid about the parasite Wednesday, but found some solace being with people who specialize in getting rid of it, she said.
"It helps (to have) the information I'm hearing now," she said. "Sounds like they know what they're doing."
×
Photos
Related Stories