Estimated read time: 3-4 minutes
This archived news story is available only for your personal, non-commercial use. Information in the story may be outdated or superseded by additional information. Reading or replaying the story in its archived form does not constitute a republication of the story.
TOMBALL, Texas — Hassan Mohammed, his wife and mother-in-law spent the night on cots in a classroom at a Mormon meetinghouse here after being rescued by boat from their flooded apartment not far from the Houston Texas Temple.
"Good people came and picked us up from the apartments," he said as he sat on an inflatable pad in his temporary shelter. "We're thankful to God. These people are like angels for us right now."
Mohammed and his wife, Mary, live on the ground floor of the building now inundated with several feet of water. His mother-in-law, Mary Tucker, was staying with them after fleeing her home in Magnolia.
The Cypress LDS Stake Center has become a shelter for dozens of people displaced by the unrelenting wind and rain from Tropical Storm Harvey. About 50 spent Monday night in rooms throughout the building.
The stake center also is staging area for boat rescues on flooded streets in the area. On Monday, volunteer rescuers, Mormon and non-Mormon, plucked about 500 people from their saturated homes, including residents of a high-rise care center near the temple.
"Our angels are right there behind you," Mohammed said, as Stirling and Maureen Pack poked their heads into the classroom.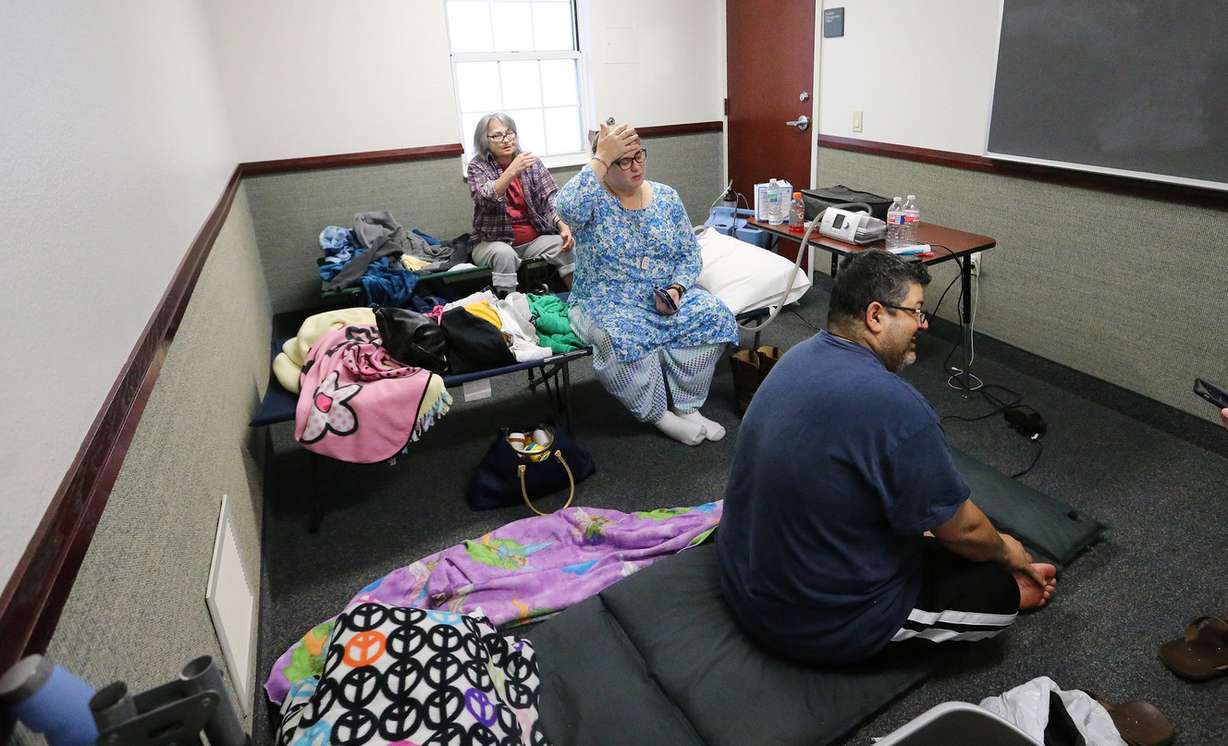 Stirling Pack, the former Cypress Stake president, is the regional disaster coordinator for the Houston region, which covers 22 stakes of The Church of Jesus Christ of Latter-day Saints and three missions.
"It's a very dynamic, a very challenging situation," Pack said. "I don't think there's anywhere in the continental United State where we've had something as big and as complex and as dynamic as is going on right now, and that does not exclude Superstorm Sandy."
Decisions, he said, have pushed down to the local level.
"What we found is local government officials, the Red Cross, FEMA are overwhelmed," he said. "We have members and nonmembers working shoulder to shoulder to accomplish this."
Pack said he was initially told that local church members would bring displaced people to meetinghouses to feed them and get them to Red Cross shelters.
"There are no Red Cross shelters — none," he said.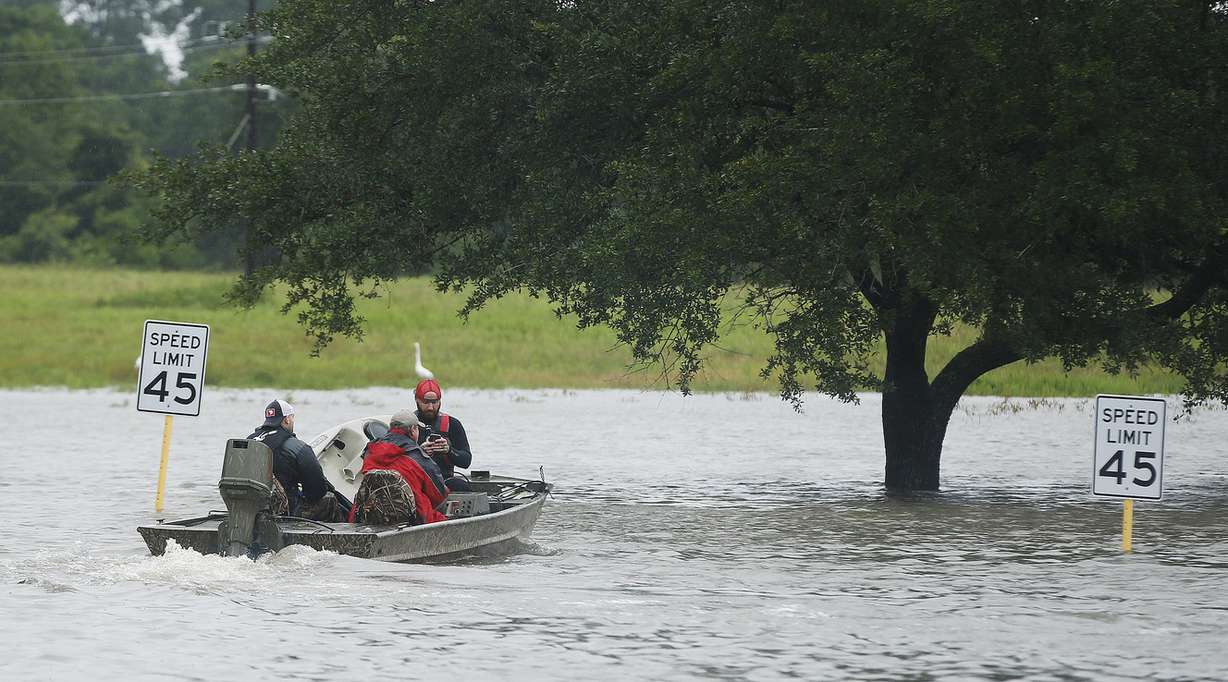 Water-covered roads have made it difficult for rescuers to get into Houston from Dallas and other areas.
"What we've seen is a collapse of the infrastructure in the city, and I say that not disparagingly, but it has overwhelmed everyone."
After putting out a call for private boats Monday, 22 boats, three jet skis and a slew of canoes and kayaks descended on the church to go out into neighborhoods looking for people. More volunteer boaters showed up Tuesday, filling the parking lot with trucks and trailers.
"We've never seen anything like this," Pack said.
The Primary room has turned into a command center to coordinate boat rescues. People with bags and bins of clothes filled the cultural hall in the stake center. A couple of young boys tossed a football to pass the time. A local restaurant brought in dinner Monday night, and a nearby subdivision provided breakfast.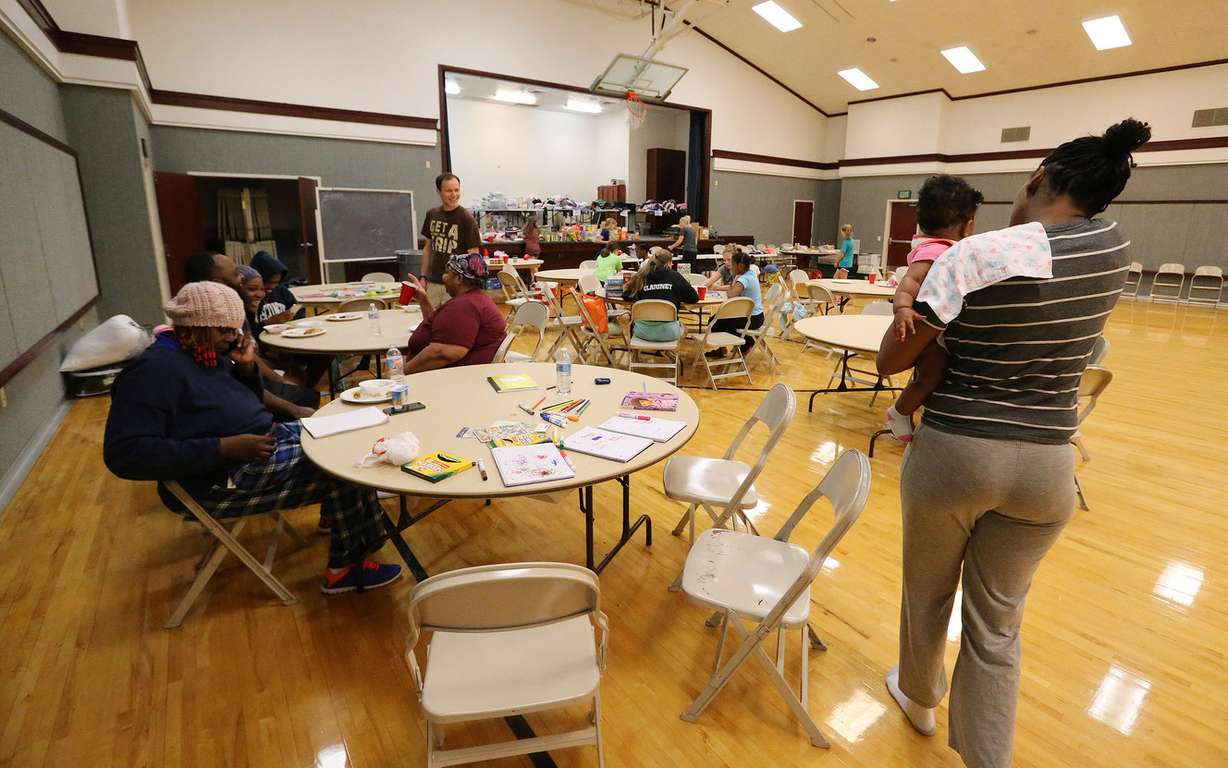 "This is where the decision level is pushed down to the very local level, and these guys have responded magnificently. It is humbling. It's very humbling, Pack said, tears welling in his eyes."
×
Photos
Related stories
Most recent Utah stories