This archived news story is available only for your personal, non-commercial use. Information in the story may be outdated or superseded by additional information. Reading or replaying the story in its archived form does not constitute a republication of the story.
LEHI — With Utah's jobless rate among the lowest in the nation and local tech companies clamoring for more skilled information technology professionals, the state is creating a new program to provide a pipeline for developing homegrown talent to fill that void.
The Governor's Office of Economic Development and Silicon Slopes Wednesday announced the IT Pathways Program — a partnership with tech companies and schools aimed at developing a career path to train and bolster the Beehive State's current below-capacity tech workforce.
"The IT Pathways Program will fill critical workforce needs in our state and ensure the continued success of Utah's tech industry," said Gov. Gary Herbert. "This program will be an important investment — for education, for our growing workforce, for the IT industry and for economic opportunity — in other words, for Utah's future."
Speaking to an audience of business and education leaders in the Lehi offices of tech nonprofit Silicon Slopes, Herbert explained that IT Pathways will be part of the state's Talent Ready Utah initiative and be designed to more effectively align education with pressing workforce needs.
"We have more jobs and openings than we have people available to take them. Hence the importance of education," he said. "(The tech industry) has great (job) opportunities right now, but we don't have enough people in the pipeline."
Herbert said the state is taking a proactive approach to addressing the need for more qualified workers by creating a program that will track from elementary school through high school and college to get students interested in IT careers and provide the training necessary to have them prepared upon graduation. Additionally, the program will also offer training for adults who may want to transition to a new career, he added.
"(IT Pathways) is not only an immediate need right now, but it will certainly help us in the long haul to make sure we have a continuing flow of labor with skills necessary to align with the global marketplace," Herbert said.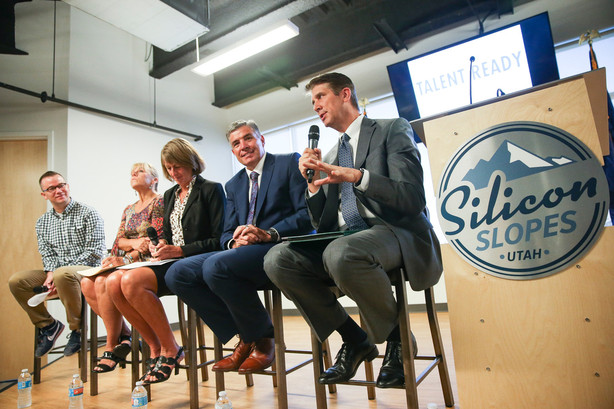 The meeting featured an education discussion that included Utah Valley University President Matthew Holland, Salt Lake Community College President Deneece Huftalin, Utah State University President Noelle Cockett and Dave Woolstenhulme, commissioner of the Utah System of Technical Colleges. The panel — moderated by Silicon Slopes Executive Director Clint Betts — exchanged ideas on strategies to prepare Utah students to enter the workforce.
"Tech companies play a major role in Utah's economy, and we hope to keep it that way," Betts said. "We're grateful for the show of support from education and community leaders at this meeting and look forward to the outcomes of this partnership."
He noted that based on the success of the state's other pathways programs, if IT Pathways can be as promising, then the state's tech sector will thrive to an even greater degree than it already has.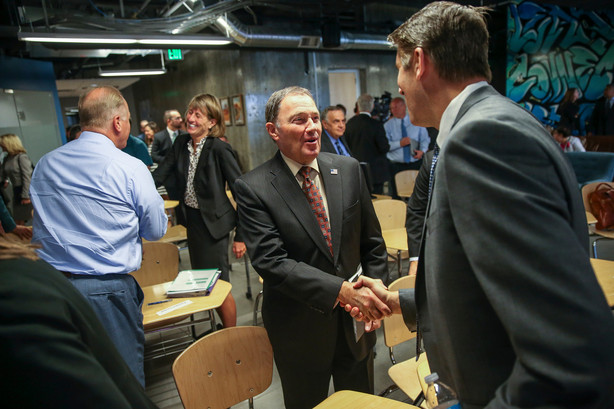 According to U.S. Bureau of Labor Statistics, in 2016 Utah had the greatest percentage of tech job growth in the nation at 7.69 percent. Careers in software and IT represent more than 68,000 jobs at over 4,000 companies. The IT Pathways program is designed to help ensure the continued growth and success of Utah's tech industry for generations to come, Betts said.
"My hope is this pathways program will reach out to the 347,000 kids who live at or near the poverty level in Utah, to show them that they have permission to be a part of this community and they are welcome in this community," he said. "My hope is that the pathways program will address those folks and those kids who currently don't know anything about this. But if they did, they would love to jump in with both feet."
One of the potential advantages of this newly proposed program is that it will directly connect with industry providing people with the desired qualified skill sets for careers in tech, explained Woolstenhulme.
---
"We have more jobs and openings than we have people available to take them. Hence the importance of education. (The tech industry) has great (job) opportunities right now, but we don't have enough people in the pipeline."
---
"At the end of the day, we know those students are going to get a valuable education and get placed in the workforce," he said. "It's good for industry and it's also good for the student that's spending good dollars to get that (education) and we want them to be employable at the end."
Meanwhile, Vance Checketts, vice president and general manager for Dell EMC — and strong advocate of science, technology, engineering and math education — said this new program can be the conduit that blends all the state's best resources together to create a cohesive, broadly beneficial program.
"We're going to have a more structured statewide initiative to help provide the focus and the coordination," he said. "We have a real need (for workers) in the long term that is only going to be filled by educating our young children starting in (elementary school)."
"We've got to unite and focus our education efforts to make sure we're training the future workforce today."
×
Photos
Related Links