This archived news story is available only for your personal, non-commercial use. Information in the story may be outdated or superseded by additional information. Reading or replaying the story in its archived form does not constitute a republication of the story.
SALT LAKE CITY — While gazing at the tall white columns of aspen tree trunks after moving to Utah, graphic designer and marketing expert Scott Filipiak saw barcodes.
The Best of Utah Arts Winner of 2016 knows something about the intersection of landscape and technology.
Growing up amid the cornfields of Illinois, Filipiak used to yearn for trees. Other than an occasional stand of trees planted for a windbreak along a farm lane, or a solitary giant marking the forgotten town cemetery, the Midwestern landscape seemed unendingly flat and treeless.
Excursions to pay homage to ancestors at a forested cemetery provided the young artist with the opportunity to spend precious time among towering beautiful trees that he loved.
Filipiak never outgrew his fascination with trees. Years later, he discovered that he could juxtapose his graphic design background with fine art to create a series of acrylic paintings on board featuring local aspens which he entitled "The Barcode Series."
Far from simple or pristine, the series, 12 years in the making, demonstrates how nature and technology intersect in complex and entertaining ways imbued with many levels of meaning.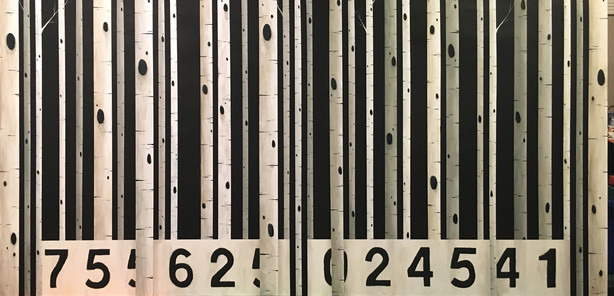 The morphing of aspens into UPC codes appears amusing and static but under the surface lie questions, anxiety and movement. The artist inspires us to question the objects of our deep-seated fears and wonder how destructive they might ultimately be.
In addition to the paintings that feature trees, others portray images of chainsaws and hatchets — instruments of progress or weapons of destruction depending upon the viewer's perspective.
Filipiak asks us to consider the aspens as metaphors for the temporal nature of relationships. In nature, as in human relations, destructive elements may arise that could ultimately be fatal to the organism or relationship, he says.
Viewers can download an app and scan the bar code paintings that will help them find hidden images of chainsaws and hatchets in the paintings. After this, they could connect to a retailer and buy that same instrument they're seeing in the app.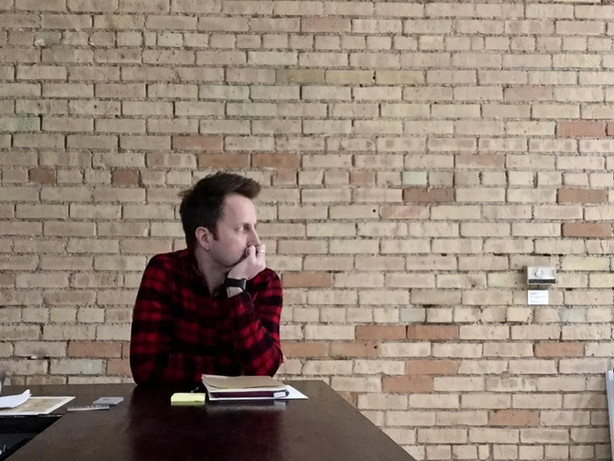 Once the viewer discovers the secrets hidden in the paintings, he or she has the choice of whether or not to act upon their discovery, like a romantic partner or employer who identifies a flaw in a person with whom they have a relationship. Does one do something about it or ignore it? And does one realize that the inclusion has the power to ultimately damage or end the relationship?
The viewer may choose to act upon the knowledge or not, but they are no longer naive.
Although he has won awards for his photography, the artist relishes creating fine art. He feels that there is more of a personal investment as he has to conceptualize and work through the process and execution.
Filipiak credits his high school art teacher Michael Henning for introducing him to the practical and valuable aspects of painting with acrylics. Henning painted realistically and included "odd" elements. At the conclusion of a session, acrylic paintings could be safely stored and easily cleaned up. As he progressed, Filipiak experimented with pen and ink and watercolor. He appreciated the clean lines and vivid colors. As his art evolved he also discovered his fondness for fine art juxtaposed with graphic art in creating contemporary works that were still approachable without being sterile.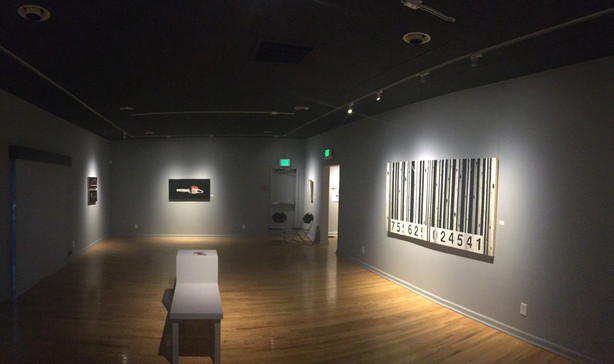 An artist with an understanding of design and marketing, the practical side of Filipiak emerges as he plans his paintings with their end use in mind. The dimensions of a piece might lend itself to be hung in a hallway or over a piece of furniture. The largest painting in "The Barcode Series" is 8-by-4-feet.
Filipiak is currently experimenting with adding hue to the contrasting high and low values of the aspen paintings. With autumn approaching, he is working with yellows, browns and golds to add interest to the mostly monochromatic series.
Scott Filipiak's award-winning photographs are on exhibition at the Meditrina restaurant in Salt Lake City.
For more information, please visit his website: http://krop.com/flipdesign
---
Pam McMurtry is an artist, designer, teacher and writer with a BFA in visual art. Her "A Harvest and Halloween Handbook" is on Amazon.com and B&N.com and website: www.pammcmurtry.com. She is married and a parent of seven.
×
Photos