Estimated read time: 4-5 minutes
This archived news story is available only for your personal, non-commercial use. Information in the story may be outdated or superseded by additional information. Reading or replaying the story in its archived form does not constitute a republication of the story.
SALT LAKE CITY — In a pair of starkly different settings less than two miles apart, Utahns late Monday joined elected officials and community leaders to rally against the deadly, race-fueled violence in Charlottesville, Virginia, over the weekend.
About 1,000 gathered on the lawn of the Salt Lake City-County Building, where an energized crowd cheered and whistled at unbridled calls to thwart white supremacy, resist President Donald Trump's policies, support communities of color and prevent neo-Nazis from ever convening in Salt Lake City.
The Utah League of Native American Voters and the Multicultural Engagement for Utah organized the "solidarity rally."
Earlier in the evening, at a more subdued gathering of about 200 hosted by Republican leaders and the conservative think-tank Sutherland Institute at the state Capitol, Utah Congresswoman Mia Love and Lt. Gov. Spencer Cox decried the weekend violence and urged unity.
Love, a Republican representative and daughter of Haitian immigrants who largely has shied away from talking about her race, said Monday that in her first job as a swim coach, a boy told her he liked her even though his parents didn't — an example, Love said, that hate must be taught but love can be learned.
Cox agreed.
"If you move toward violence, justice will be swift and certain. Don't make that mistake," Cox said. "For the rest of us, let's lead with love," he said, joining several others in echoing speeches of Martin Luther King Jr.
At the later rally, speakers were met with cheers and applause when they said it's time for the nation's long history of covert racism to come to a close.
"I am not shocked at what happened in Virginia," said organizer Moroni Benally, with the Utah League of Native American Voters.
Several held signs that said "Your silence is compliance," "Stop white terror" and "Solidarity creates change" at the event organized to support the victims of Saturday's violence when a car plowed into a crowd of people protesting a white nationalist rally in the Virginia college town.
The City-County Building protest remained largely peaceful, but a brief scuffle broke out about 50 paces from the stage.
Even though the two rallies took opposite tones, the lineup of speakers partially overlapped.
Republican state Sen. Daniel Thatcher spoke at both. He promised an overhaul of Utah's "outdated, useless hate crimes laws" in his second speech, and was met with cheers.
Utah Attorney General Sean Reyes also made double appearances. He told the first audience that as the son of immigrant parents, he would lay awake at night wondering if his family's home would be burned down.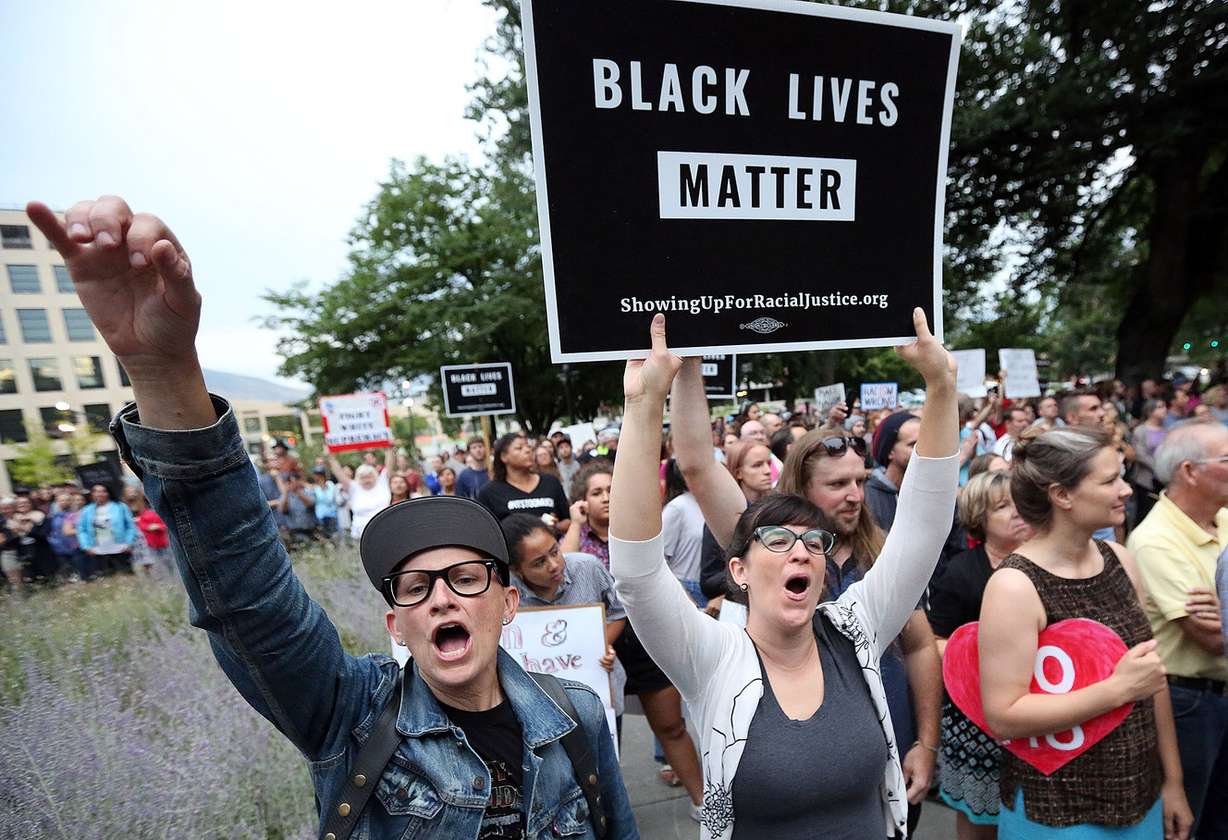 Rep. Sandra Hollins, a Democrat from Salt Lake City, told both crowds that racist posters that appeared on the University of Utah campus last week highlighted "we have our own challenges to overcome" in Utah.
Activist Joel-Lehi Organista urged members of the The Church of Jesus Christ of Latter-day Saints to take a critical look at their thoughts and attitudes toward people who aren't white.
"Those who are LDS have an important role," said Organista, who is Mormon.
Rabbi Ilana Schwartzman of Salt Lake's Congregation Kol Ami said she graduated from the University of Virginia 16 years ago and is descended from Jews who escaped Nazi Germany. She has a 3-month-old daughter, and the violence nearly 2,000 miles away on Saturday made her too afraid to bring her daughter to hear her speech Monday night.
Over the weekend, the fatal car crash happened nearly two hours after confrontations between hundreds of protesters and counter-protesters. Utah lawmakers were quick to denounce the violence that included the deaths of two officers killed when a police helicopter crashed en route to monitor the violence.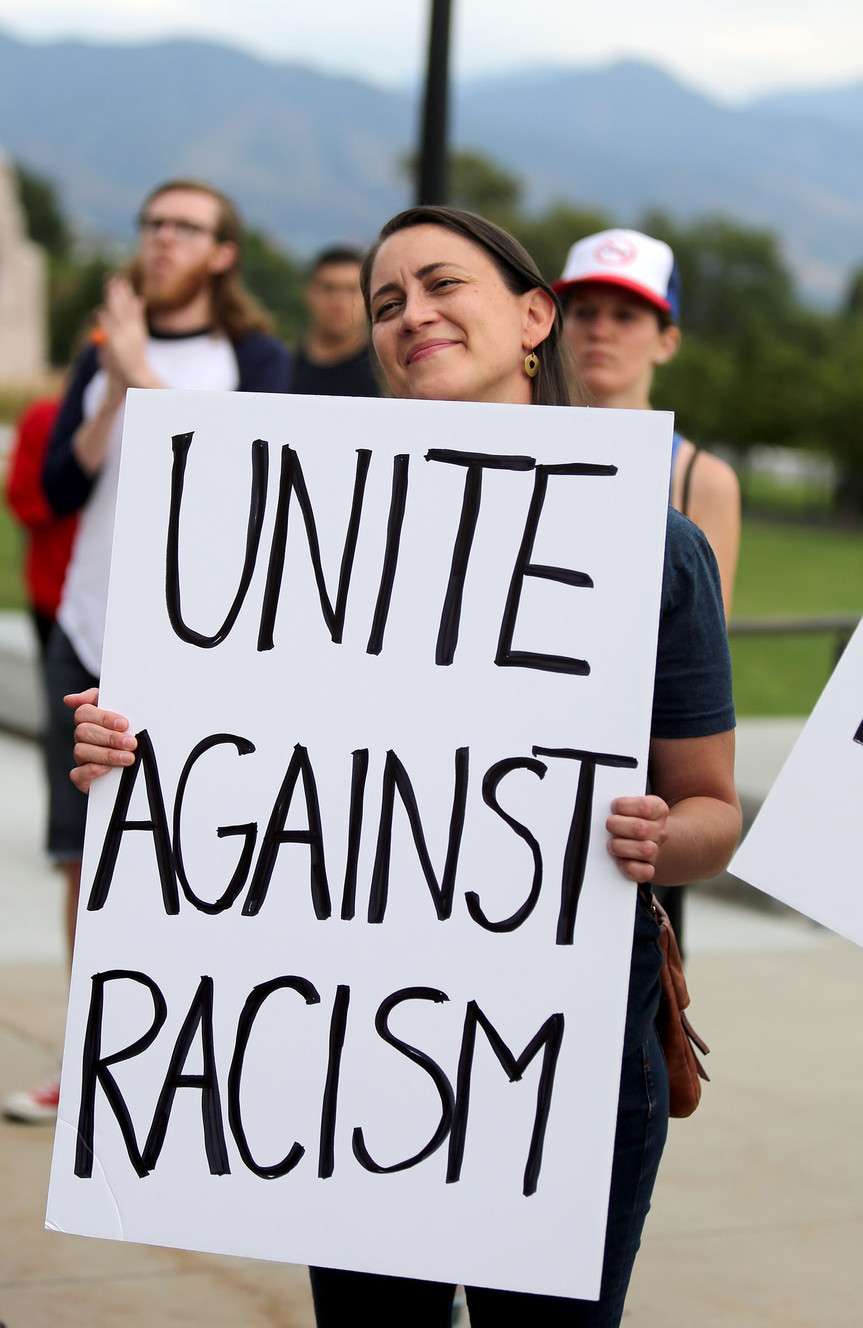 Gov. Gary Herbert said via Twitter that "bigotry and racism have no place in our society."
Sen. Orrin Hatch, R-Utah, also weighed in.
"We should call evil by its name. My brother didn't give his life-fighting Hitler for Nazi ideas to go unchallenged here at home," he said, also on Twitter.
The LDS Church said in a statement Sunday said the violence illustrates growing intolerance: "People of any faith, or of no faith at all, should be troubled by the increase of intolerance in both words and actions that we see everywhere."
The LDS Church referred to a speech given more than 10 years ago by late church President Gordon B. Hinckley, who said those who disparage another's race cannot be considered true disciples of Christ.
Contributing: Associated Press
×
Photos
Related stories
Most recent Utah stories