Estimated read time: 6-7 minutes
This archived news story is available only for your personal, non-commercial use. Information in the story may be outdated or superseded by additional information. Reading or replaying the story in its archived form does not constitute a republication of the story.
NASHVILLE, Tenn. (AP) — Glen Campbell, the affable superstar singer of "Rhinestone Cowboy" and "Wichita Lineman" whose appeal spanned country, pop, television and movies, died Tuesday, his family said. He was 81.
Campbell's family said the singer died Tuesday morning in Nashville and publicist Sandy Brokaw confirmed the news. No cause was immediately given. Campbell announced in June 2011 that he had been diagnosed with Alzheimer's disease and that it was in its early stages at that time.
"Glen is one of the greatest voices there ever was in the business and he was one of the greatest musicians," said Dolly Parton in a video statement. "He was a wonderful session musician as well. A lot of people don't realize that. But he could play anything and he could play it really well."
Tributes poured in on social media. "Thank you Glen Campbell for sharing your talent with us for so many years May you rest in peace my friend You will never be forgotten," wrote Charlie Daniels. One of Campbell's daughters, Ashley, said she was heartbroken. "I owe him everything I am, and everything I ever will be. He will be remembered so well and with so much love," she wrote on Twitter.
In the late 1960s and well into the '70s, the Arkansas native was seemingly everywhere with his boyish face, wavy hair and friendly tenor. He won five Grammys, sold more than 45 million records, had 12 gold albums and 75 chart hits, including No. 1 songs with "Rhinestone Cowboy" and "Southern Nights."
His performance of the title song from the 1969 film "True Grit," in which he played a Texas Ranger alongside Oscar winner John Wayne, received an Academy Award nomination. He twice won album of the year awards from the Academy of Country Music and was voted into the Country Music Hall of Fame in 2005. Seven years later, he received a Grammy for lifetime achievement.
His last record was "Adios," released in June, featured songs that Campbell loved to sing but never recorded, including tunes made famous by Bob Dylan, Linda Ronstadt and Johnny Cash. Ashley Campbell, also a musician, made a quest appearance and said making the album was "therapeutic."
#dolly_tweet
Campbell was among a wave of country crossover stars that included Johnny Cash, Roy Clark and Kenny Rogers, and like many of his contemporaries, he enjoyed success on television. Campbell had a weekly audience of some 50 million people for the "Glen Campbell Goodtime Hour," on CBS from 1969 to 1972. He gained new fans decades later when the show, featuring his cheerful greeting "Hi I'm Glen Campbell," was rerun on cable channel CMT.
"I did what my Dad told me to do — 'Be nice, son, and don't cuss. And be nice to people.' And that's the way I handled myself, and people were very, very nice to me," Campbell told The Telegraph in 2011.
He released more than 70 of his own albums, and in the 1990s recorded a series of gospel CDs. A 2011 farewell album, "Ghost On the Canvas," included contributions from Jacob Dylan, Rick Nielsen of Cheap Trick and Billy Corgan of Smashing Pumpkins.
The documentary "Glen Campbell ... I'll Be Me" came out in 2014. The film about Campbell's 2011-12 farewell tour offers a poignant look at his decline from Alzheimer's while showcasing his virtuoso guitar chops that somehow continued to shine as his mind unraveled. The song "I'm Not Gonna Miss You" won a Grammy for best country song in 2015 and was nominated for an Oscar for best original song.
Campbell's musical career dated back to the early years of rock 'n roll. He toured with the Champs of "Tequila" fame when the group included two singers who formed the popular '70s duo Seals & Crofts. He was part of the house band for the ABC TV show "Shindig!" and a member of Phil Spector's "Wrecking Crew" studio band that played on hits by the Ronettes, the Righteous Brothers and the Crystals. He played guitar on Frank Sinatra's "Strangers In the Night," the Monkees' "I'm a Believer" and Elvis Presley's "Viva Las Vegas."
"We'd get the rock 'n' roll guys and play all that, then we'd get Sinatra and Dean Martin," Campbell told The Associated Press in 2011. "That was a kick. I really enjoyed that. I didn't want to go nowhere. I was making more money than I ever made just doing studio work."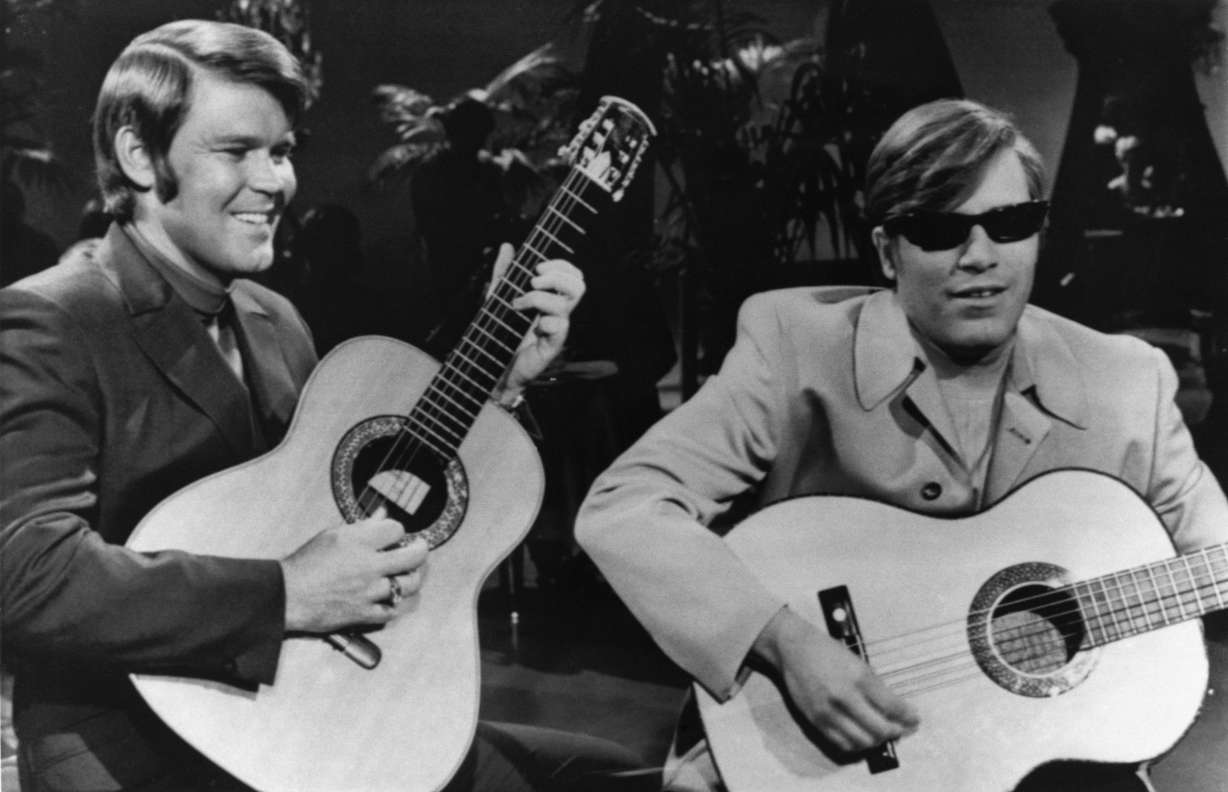 A sharecropper's son who was one of 12 children, he was born outside of Delight, Arkansas, and grew up revering country music stars such as Hank Williams.
"I'm not a country singer per se," Campbell once said. "I'm a country boy who sings."
He was just 4 when he learned to play guitar. As a teenager, anxious to escape a life of farm work and unpaid bills, he moved to Albuquerque, New Mexico to join his uncle's band and appear on his uncle's radio show. By his early 20s, he had formed his own group, the Western Wranglers, and moved to Los Angeles. He opened for the Doors and sang and played bass with the Beach Boys as a replacement for Brian Wilson, who in the mid-'60s had retired from touring to concentrate on studio work. In 1966, Campbell played on the Beach Boys' classic "Pet Sounds" album.
"I didn't go to Nashville because Nashville at that time seemed one-dimensional to me," Campbell told the AP. "I'm a jazzer. I just love to get the guitar and play the hell out of it if I can."
By the late '60s, he was a performer on his own, an appearance on Joey Bishop's show leading to his TV breakthrough. Tommy Smothers of the Smothers Brothers saw the program and asked Campbell if he'd like to host a summertime series, "The Summer Brothers Smothers Show." Campbell shied from the Smothers Brothers' political humor, but still accepted the offer. He was out of the country when the first episode aired.
"The whole lid just blew off," Campbell told the AP. "I had never had anything like that happen to me. I got more phone calls. It was awesome. For the first couple of days I was like how do they know me? I didn't realize the power of television."
His guests included country acts, but also the Monkees, Lucille Ball, Cream, Neil Diamond and Ella Fitzgerald.
He was married four times and had eight children. As he would confide in painful detail, Campbell suffered for his fame and made others suffer as well. He drank heavily, used drugs and indulged in a turbulent relationship with country singer Tanya Tucker in the early 1980s.
He is survived by his wife, Kim; their three children, Cal, Shannon and Ashley; and his children from previous marriages, Debby, Kelli, Travis, Kane and Dillon. He had 10 grandchildren.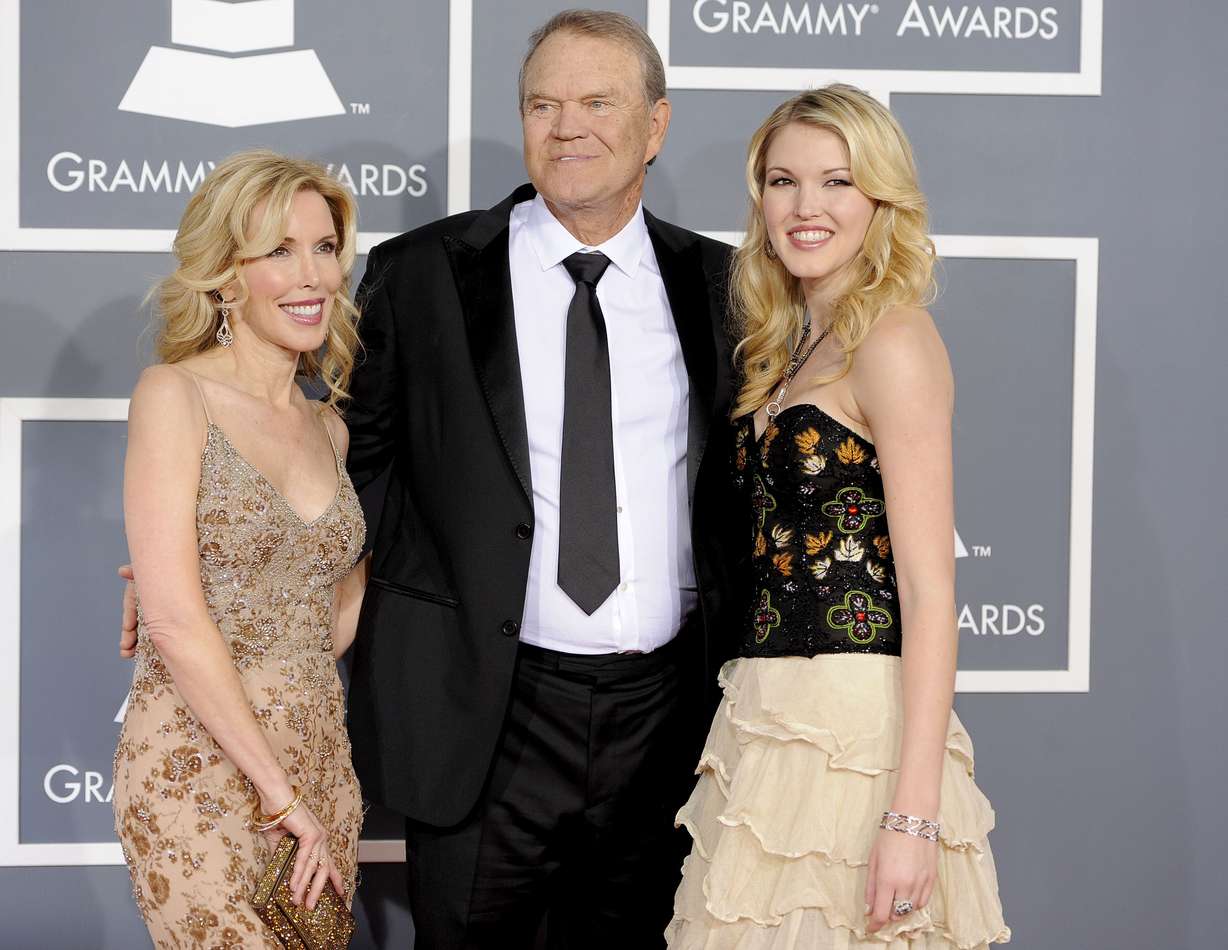 In late 2003, he was arrested near his home in Phoenix after causing a minor traffic accident. He later pleaded guilty to "extreme" DUI and leaving the scene of an accident and served a 10-day sentence.
Among Campbell's own hits, "Rhinestone Cowboy" stood out and became his personal anthem. Written and recorded by Larry Weiss in 1974, "Rhinestone Cowboy" received little attention until Campbell heard it on the radio and quickly related to the story of a veteran performer who triumphs over despair and hardship. Campbell's version was a chart topper in 1975.
"I thought it was my autobiography set to song," he wrote 20 years later, in his autobiography, titled "Rhinestone Cowboy."
Copyright © The Associated Press. All rights reserved. This material may not be published, broadcast, rewritten or redistributed.
×
Photos
Most recent Entertainment stories