Estimated read time: 3-4 minutes
This archived news story is available only for your personal, non-commercial use. Information in the story may be outdated or superseded by additional information. Reading or replaying the story in its archived form does not constitute a republication of the story.
SALT LAKE CITY — One University of Utah graduate joined an exclusive club when she accepted her diploma this spring. Former foster kid Christina Andino is one of only three-tenths of a percent of foster children who graduate from college. Now, she hopes to help this struggling population get a higher education.
"I knew in order to make a change, it was up to me. I had to do something about it because there was no one there to help me," said Andino about her decision to get a higher education.
School was Andino's escape growing up. "School was my life. That is just where I seeked refuge to get away from all of the foster care stuff."
But after aging out of foster care at 18 years old and plunging into adulthood, life got even tougher for Andino. Still, she pushed ahead, earning first an associate's degree from Salt Lake Community College and then a bachelor's degree from the University of Utah this spring.
Andino believes she took the best route even if the road was bumpy. "It could have been so much easier for me to just give up or not even go because there are so many more emotional and psychological issues that you are dealing with," she said.
Most of the 400,000 kids in foster care fall far short of Andino's academic achievements.
Nationally, numbers collected by the First Star Academy program show that less than half of foster youths graduate from high school, fewer than 3 percent go on to college and only one-third of 1 percent graduate from a university.
"We can change the numbers here in Utah, and it was something we couldn't 'not' do," said Sandi Pershing, the assistant vice president for engagement at the U.
Beginning this school year, the U. is teaming up with the First Star Academy program to support and mentor up to 30 foster kids as they make their way through high school.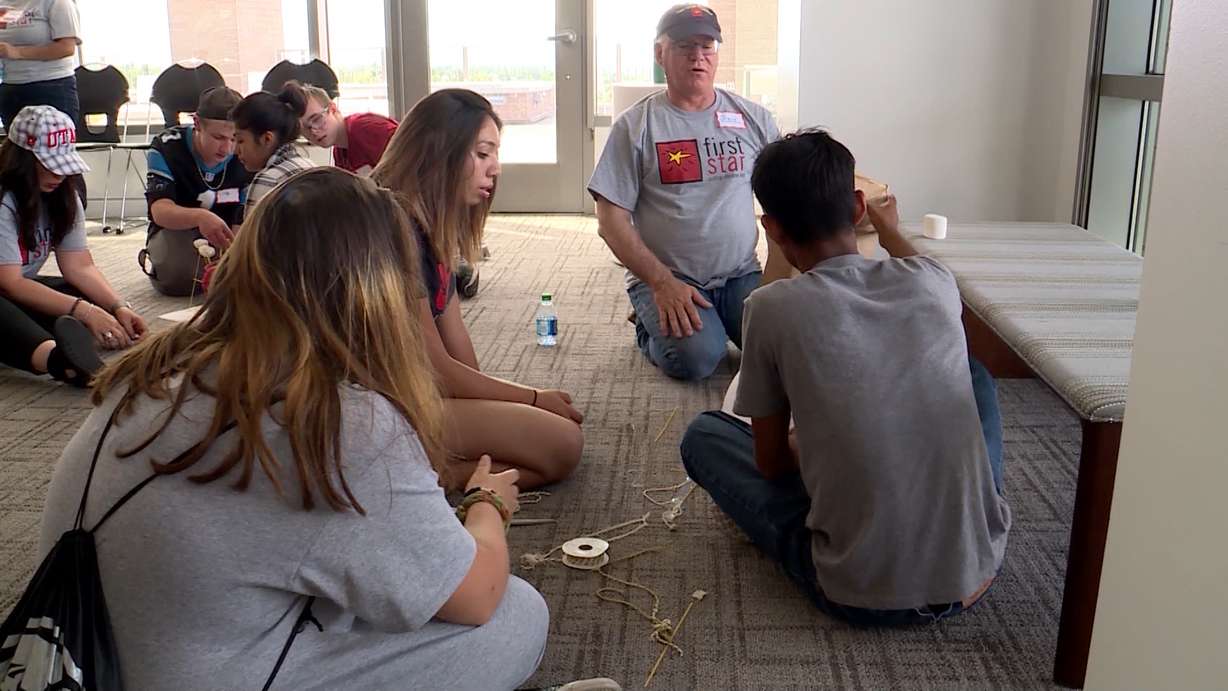 Pershing said, "We will be working really hard on academics, life skills and advocacy for the students and their caregivers."
"Children who experience trauma and who end up transitioning out of foster care … they need a little extra support," says Crystal Vail, Adolescent Services Program administrator for the state of Utah.
The First Star program is already on 14 university campuses. And early results have most First Star kids graduating from high school and moving on to college.
Vail said, "This program will make it more achievable for more kids and it will be that extra support, that missing piece that we're seeing with those kids who are not successful."
Foster kids who attended the First Star Academy at the U.'s kick-off this July are fired up about the program.
---
I knew in order to make a change, it was up to me. I had to do something about it because there was no one there to help me.
–Christina Andino
---
"This place looks like it has a lot of opportunities to help me with my future and help me just get into college in general," says 13-year-old foster kid Zachary Lee Pruett.
"So, it seems like I will have some new friends and people to trust here," says 14-year-old foster kid Maria Cisneros Etzold.
Andino is already hard at work on her master's degree in social work at the U., but she's also committed to mentoring First Star Academy kids.
"I think the support that the foster youth … that peer-to-peer support they (First Star Academy kids) are going to provide each other with is going to be amazing because foster youth just understand each other," Andino said.
Pruett is confident the program is going to boost his success. "I want to look back and see and say, 'man' these people are amazing for helping me do this," Pruett said.
Andino believes this is the kind of support that could turn these foster kids' lives around.
"And then they will feel worthy enough and capable enough to go to college," she said.
The First Star Academy kids will have year-round access to mentors, gather one Saturday a month for group activities and spend four weeks each summer living and learning on campus.
The group will have its first Saturday meeting on Aug. 12 to talk goals for the early days of high school.
×
Photos
Most recent Utah stories