Estimated read time: 4-5 minutes
This archived news story is available only for your personal, non-commercial use. Information in the story may be outdated or superseded by additional information. Reading or replaying the story in its archived form does not constitute a republication of the story.
SALT LAKE CITY — Dr. Jeff Pettey suggests there is an easy way for every person to determine whether their eye gear provides enough protection for viewing a solar eclipse.
"You know you have a good pair of solar eclipse glasses if you can't see anything except for if you look at the sun," Pettey, an ophthalmologist and a professor at the University of Utah, told reporters Wednesday at the John A. Moran Eye Center.
The unyielding light resistance of lenses made specifically for an eclipse — only allowing in about one-millionth of the sun's rays — have recently made for some amusing online reviews of those products filled with angry complaints about not being able to see, Pettey said with a wry smile.
"Unfortunately, they didn't take a moment to actually look at the sun," he cracked.
As extreme as its design is, Pettey said that eyewear — as opposed to ineffective binoculars, dark sunglasses or "even five pairs of dark sunglasses" — is precisely what will be needed to adequately protect the eyes of any person hoping to witness the highly anticipated solar eclipse sweeping across the continental United States on Aug. 21.
Otherwise, he said, looking directly at the sun for even as long as a few seconds can wreak havoc on a tiny part of the eye called the fovea, close to the center of the retina, that is critical for sharp vision in the midpoint of a person's gaze.
"If you damage that part of your eye, you would lose your ability to recognize faces and even your ability to recognize fine print," said Pettey, who is also director of education for the Moran Eye Center, chief of ophthalmology at Salt Lake's Veteran Affairs hospital and an official Utah Jazz team doctor. "That is the part of the eye we're worried about."
Other ways to check on eyewear suitability for a solar eclipse are looking for the International Organization for Standardization certification on the inside of the glasses and checking online to ensure the vendor is considered reputable within its particular industry.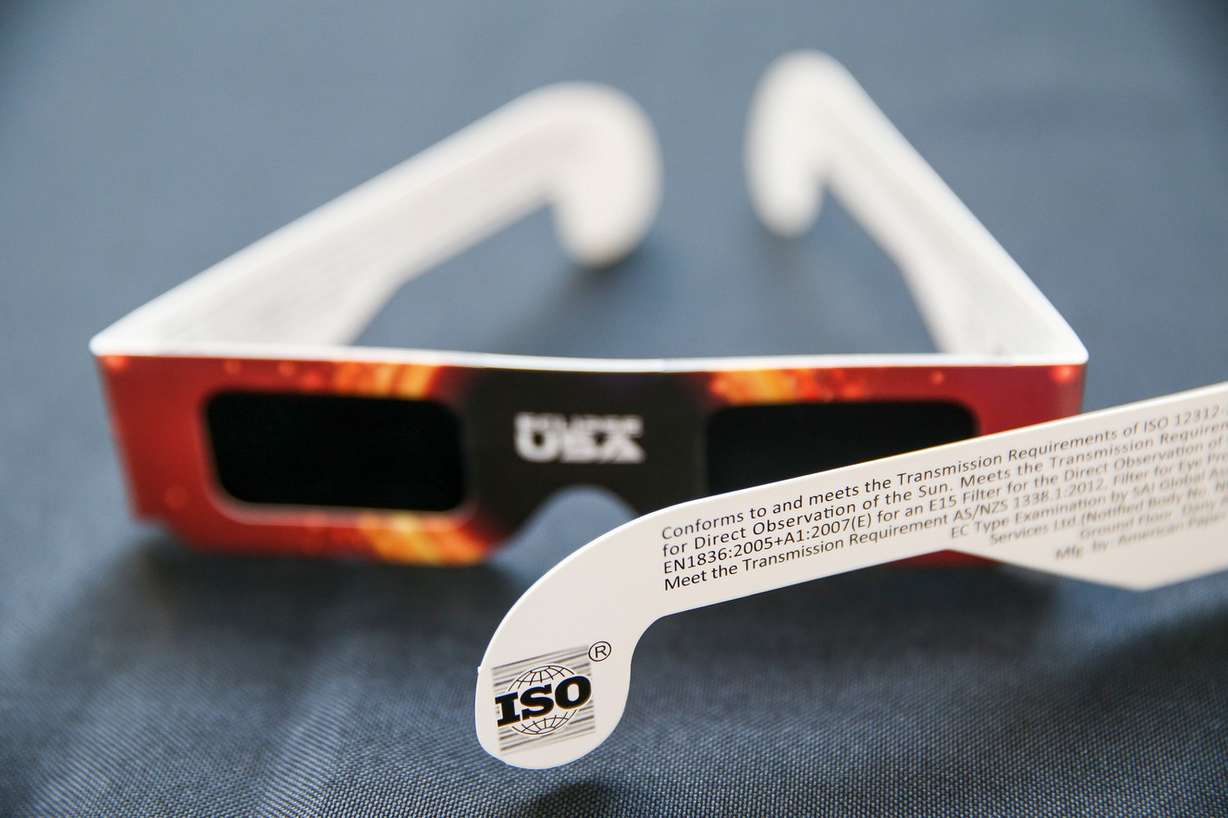 Nina Waters, a Moran Eye Center patient, injured her left eye 18 years ago while viewing a solar eclipse in her native Russia, when she was convinced that looking through a piece of a colored glass bottle would protect her eyes.
"Somebody told me 'this is actually safe to use,' and I believed this person," recalled Waters, who now lives in Salt Lake City.
Later, she said, she had a sensation that "felt like a bee sting in my eye," but didn't know her vision would be damaged long term. Soon after, Waters forgot about it, but her vision eventually became worse and worse, until at an eye doctor appointment in the United States "years and years" after the eclipse, she learned she had a burn from the sun in her eye.
"Then I realized it (came) from that time," Waters said.
Related:
Surgery has since helped Waters overcome her sight problems to an extent, but to this day she regrets her lack of caution.
"I wish I would've never looked at the sun," she lamented.
A person whose eyes are damaged from viewing a solar eclipse may not notice any symptoms for even a few days, Pettey said. Multiple symptoms are similar to that of macular degeneration, he said.
One potential symptom is the persistent existence of a sight-blocking spot "right in the center of our vision," Pettey explained. The damage can be permanent in some cases.
Pettey said the Moran Eye Center doesn't want to discourage Utahns from viewing the eclipse, which is the first total eclipse across the continental United States since 1918. But the eye center does want to ensure people don't harm their eyes. Beginning Friday at 8:30 a.m., 1,000 free pairs of eclipse glasses will be handed out at nine Moran locations, said Elizabeth Neff, the center's spokeswoman.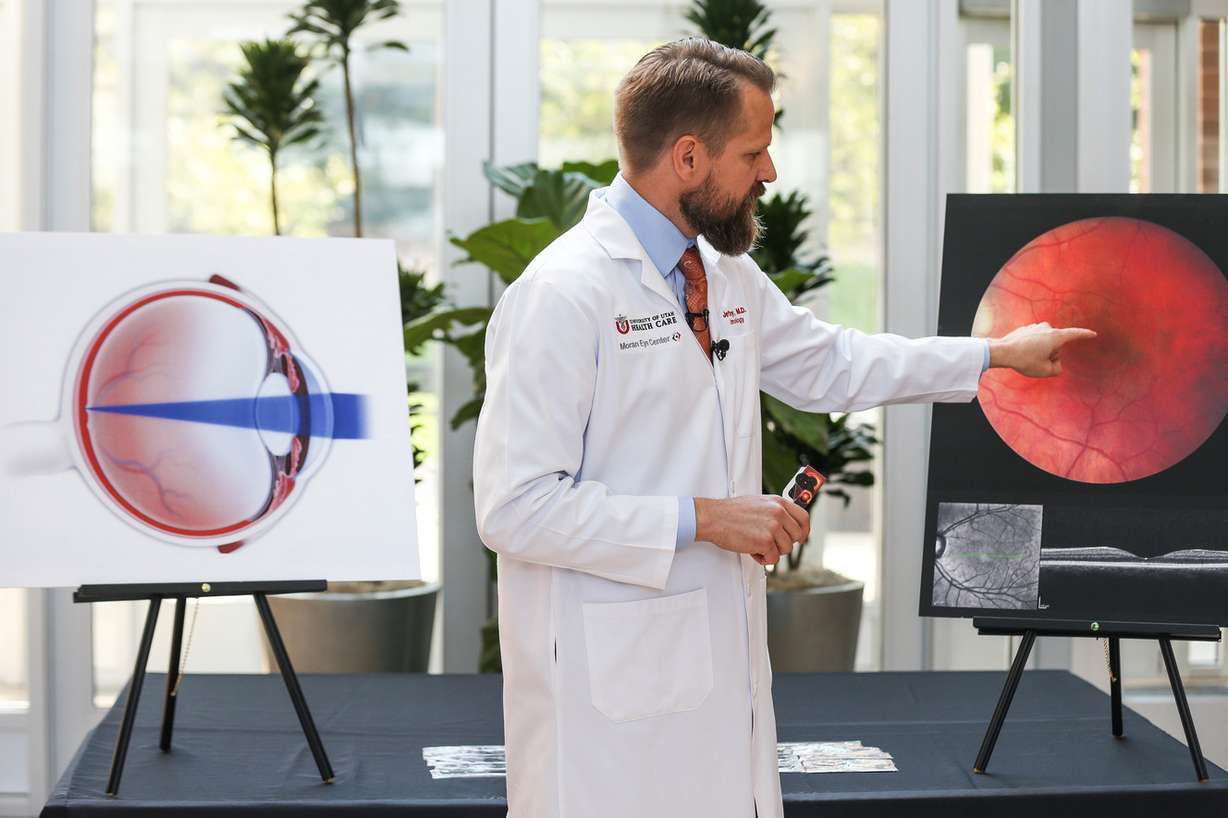 Neff said glasses will be available until 5 p.m. or supplies run out in three Salt Lake City locations, as well as in Farmington, Park City, Murray, South Jordan, Riverton and Orem. There is a limit of two pairs per family.
Moran Eye Center will also sell several hundred pairs next week for $1.50 each without a per family limit, she said.
Pettey said people's curiosity about the eclipse is understandable and should be encouraged, adding that it could turn out to be "the most tweeted about event perhaps in history."
"We should take advantage of the event. ... We should all be able to look at the sun — as long we have our solar eclipse glasses," Pettey said.
Still, ever conscious of her previous experience, Waters doesn't plan to take any chances. "I'm scared," she admits.
×
Photos
Related links
Related stories
Most recent Utah stories