Estimated read time: 5-6 minutes
This archived news story is available only for your personal, non-commercial use. Information in the story may be outdated or superseded by additional information. Reading or replaying the story in its archived form does not constitute a republication of the story.
GREAT BASIN NATIONAL PARK — The Great Basin Desert is notoriously hot and dry, so tourists are often surprised to learn that a glacier has survived there for thousands of years — just 15 miles from the border of Utah and Nevada.
"I'm pretty surprised, astonished, yes," said Marion Ziems, a tourist from Mainz, Germany, who recently hiked to the glacier at its high-elevation perch on Wheeler Peak. "Yes, somehow, because we are in the middle of the Great Basin Desert, I never expected this before."
This summer, a team of scientists and students conducted monitoring activities on the glacier to figure out how it's doing in the era of global warming.
"It's just another piece of the puzzle," said James DeGrand, an assistant state climatologist for Ohio and a senior researcher at Ohio State University.
"We don't know if it's changing shape until we attempt to map it," DeGrand said as he maneuvered helium balloons to dangle a camera over the glacier.
The studies have gone on every summer since 2005, but this year's effort was the biggest yet. Thirteen scientists and students from the University of Georgia, Ohio State and Miami University of Ohio all camped near the glacier and hiked to it daily.
Wheeler Peak is an alpine wilderness rising to more than 13,000 feet, high above a vast desert that stretches across Nevada and western Utah.
The glacier rests on the peak's north slope at an elevation of about 11,500 feet in a cirque of towering rock. A frozen remnant of the last ice age, the glacier is about 300 feet long and 400 feet wide.
A paved road in Great Basin National Park rises to 9,800 feet. A foot trail to the glacier climbs another 1,100 feet through a broad canyon that was carved by a massive glacier that has now all but vanished.
"Thousands of years ago, the glacier would have filled this," said Scott Reinemann, a scientist and an assistant professor at Miami University of Ohio.
Reinemann pointed to a jumble of rocks left by glacial action in the distant past, noting that the climate started getting warmer and drier long ago.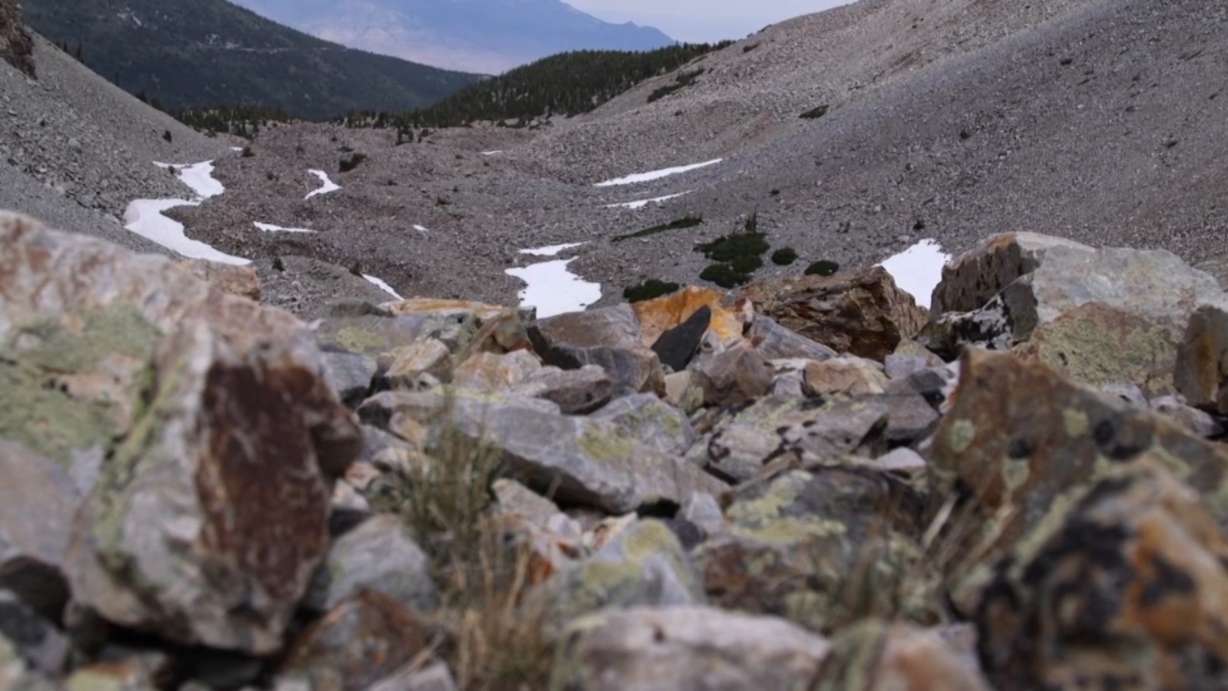 "Less and less moisture," he said, "and we get the glaciers retreating up into the higher mountains."
As Reinemann hiked higher toward the glacier, the trail led through a forest of gnarled and twisted bristlecones, the oldest trees on Earth.
"These trees have been here since … Christ walked the Earth," Reinemann said. "Since before the Egyptians built their pyramids."
Above 10,000 feet, the trail leads across large expanses of white — not glacial ice but snow that fell last winter
"It starts to melt in the spring," Reinemann said. "It probably covered most of the terrain we're walking across. It will probably be gone by late August."
Hikers who expect to see a massive ice sheet — like those found in Alaska or Iceland — are likely to be disappointed by the Wheeler Peak glacier. It's defined as a glacier because its ancient glacial ice has persisted through the centuries. But nearly all of it is literally invisible all year around.
The so-called "rock glacier" is hidden in winter by seasonal snow and in summer by massive piles of rock. Most of the glacial ice is actually embedded deep within the rocks well below the surface. Only a small portion of the glacial ice can be seen in late summer.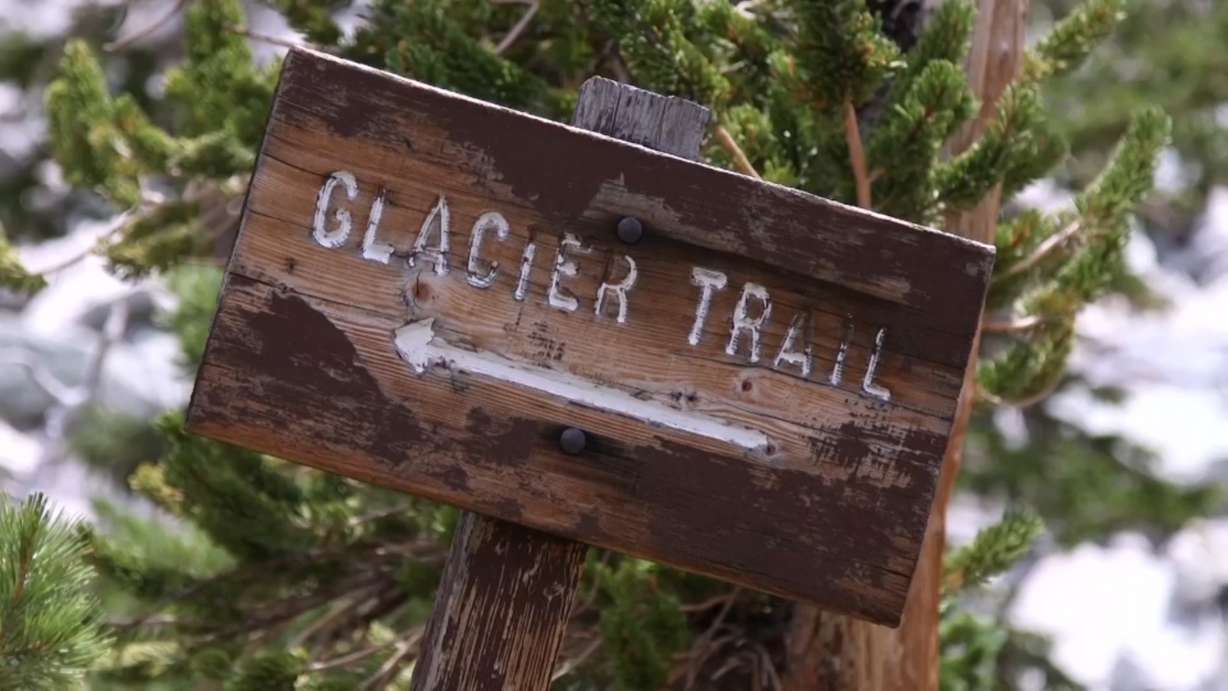 "As glaciers retreat," Reinemann explained, "one of the last stages of their life is they get covered up by rock."
The researchers are forbidden to use aerial drones because of National Park Service regulations. Instead, they use balloons to waft a camera over massive lobes of rock that hide the glacier.
"That is taking a picture every 15 seconds of whatever it's looking at on the ground," DeGrand said.
The balloon photos will help scientists create a computer model that they can compare with similar studies in other years to see if the buried glacier is shrinking under lobes of rock.
"And if that ice is melting, they're losing mass, and so those lobes might be subsiding a little bit in elevation," DeGrand said.
If studies determine that shrinkage is occurring, would that be a consequence of climate change?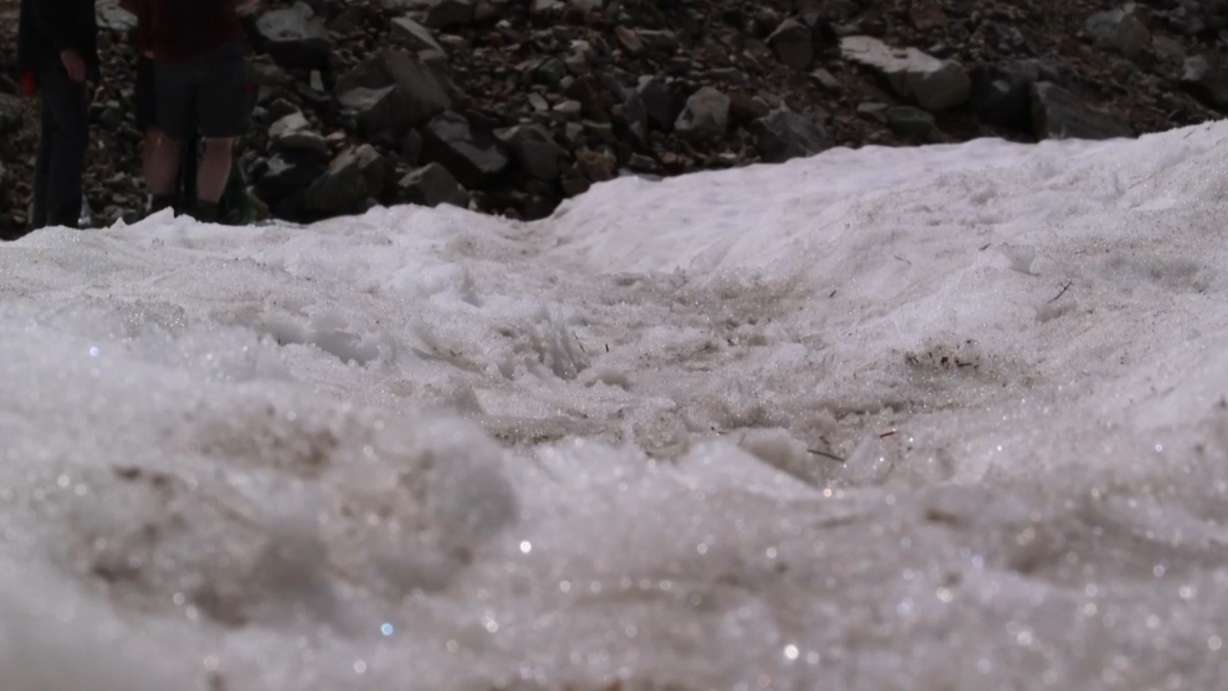 "Well," DeGrand said, "that's the question."
The research team is also studying springs and other water sources far below the glacier. They provide water that is crucial to farmers and ranchers in Snake Valley, which stretches far into Utah from Wheeler Peak. Part of the study is to determine how those water sources might be affected as the climate warms.
"The springs and the creeks and the rivers that feed all the springs lower in the valley, are they coming from melt of this glacier?" Reinemann asked. "Or are they coming from annual snowpack?"
It may seem odd that the scientists are all from Ohio and Georgia, but it all started with a geographical observation made more than a decade ago. An Ohio State professor visited Great Basin National Park with his family and was surprised to see a glacier at roughly the same latitude as Columbus, Ohio. Scientists in Ohio began to wonder what combination of elevation, microclimate and localized conditions allow a glacier to survive so far south of the Arctic.
Reinemann, whose Miami of Ohio campus is 1,600 miles east of Wheeler Peak, said, "You can go someplace that is the same 40-degrees latitude, but is completely different from what you're used to."
×
Photos
Most recent Utah stories