DRAPER — With the Loveland Living Planet Aquarium expected to reach its 3-millionth visitor later this month, the 3-year old building is fast approaching its capacity for both visitors and residents.
So on Thursday, the aquarium announced its plans for the construction of a $21 million, 80,000-square-foot facility for extra living space for its animals and new classrooms for its education programs.
The aquarium, which began in 2004 with a small exhibit at The Gateway in downtown Salt Lake City, quickly outgrew its first site and the exhibits moved to a Sandy facility in 2006. After continued expansion, the aquarium moved once again, opening in 2014 at its current Draper location. Now, with a down payment of $1 million donated by the Loveland Family Foundation, the aquarium's planners feel they have the traffic and interest to justify expanding onto a neighboring 9-acre lot.
"This expansion is the next logical step in our mission to inspire people to explore, discover and learn about Earth's ecosystems," said Brent Anderson, CEO and founder of the aquarium.
The new facility, to be called the Science Learning Campus, will include STEM classrooms for students from kindergarten to 12th grade, room for science summer camps and a five-story rainforest habitat and endangered species conservation center.
---
We literally have to turn teachers away or put them on a waiting list just because we don't have the space for them to come and do a lot of these things.
–Christian Burrell
---
The focus of the center is to expand educational programs, which currently accommodate about 80,000 student visitors each year and nearly as many through outreach programs.
Anderson said his hope for the expansion is to raise local interest in scientific development and participation among schoolchildren.
"In the past, the United States has been a leader in creating scientists. We've slipped behind quite a ways," Anderson said. "To be successful we've got to re-engage and get that leadership position in science back."
Christian Burrell, the director of education for the aquarium, said the new space will address the rapid growth of its outreach program, which has more than doubled since the Draper site opened in 2014.
"We literally have to turn teachers away or put them on a waiting list just because we don't have the space for them to come and do a lot of these things right now," Burrell said.
Related
In addition to education, the space will also provide more living room for the aquarium's residents. Home to 4,500 animals from 550 species, the aquarium participates in an endangered species survival plan.
"This five-story rainforest is obviously going to function as an exhibit that people are going to visit, but it's also a species survival center," Anderson said.
Anderson said he expects the $1 million donation from the Loveland Family Foundation to spur participation from other local investors.
He said many STEM and technology startups have expressed interests in partnering with the aquarium, and part of the expansion will include facilities for an entrepreneurial incubator for environmental and applied science startups.
Anderson said the new facility will be paid for largely through gifts, grants and donations.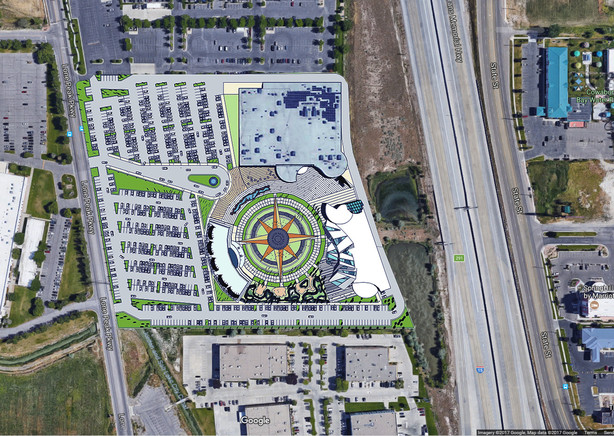 Ari Robinson, director for creative and exhibit design, said the plans for the new expansion are meant to mirror the shape and look of the Wasatch Mountains that provide a backdrop to the aquarium.
"This current building is reflective of the ocean and the water, and the new building, we have designed it to be more reflective of the mountains," Robinson said.
Robinson said the two themes underscore the Loveland Living Planet Aquarium's idea that all ecosystems are connected.
The aquarium expects to gather the funding for the expansion by the end of 2018 and complete the construction of the new facility by summer or fall of 2020.

Email: rmorgan@deseretnews.com
×
Photos
Related Stories