This archived news story is available only for your personal, non-commercial use. Information in the story may be outdated or superseded by additional information. Reading or replaying the story in its archived form does not constitute a republication of the story.
SALT LAKE CITY — Drugs off the streets. Millions of dollars seized. Dealers behind bars or deported.
A combined law enforcement strike force heralded the outcomes of more than a year of work as the latest effort to fight addiction and prevent overdose deaths in a state where widespread opioid abuse has created a sought-after market for criminal drug organizations.
Utah Attorney General Sean Reyes and law enforcement representatives of the Drug Enforcement Administration and the state's recently formed opioid task force touted the outcome of an investigation dating back to March 2016 during a joint press conference Friday.
Reyes called it a takedown of "one of the largest drug smuggling operations in Utah's recent past."
What started as an inquiry into methamphetamine distribution soon revealed that drug traffickers with roots in Mexico and Honduras were peddling heroin and cocaine near Salt Lake's downtown homeless shelter and in its surrounding neighborhoods, according to investigators. And part of that drug trade, they said, includes dealers waiting to capitalize on Utahns in the throes of opioid addiction looking to make the step to other narcotics.
"When you have a location where opioids are being voraciously abused, that becomes a very vulnerable group of people, and the cartels recognize this is a place to make money," said Brian Besser, DEA agent-in-charge.
"Because 80 percent of heroin users started with opioids. So where do you think the cartels are going to put the heroin? They're going to put it where the opioids are being abused."
In response, Besser said, law enforcement is looking to send a swift and aggressive message as they work to disrupt the flow of illegal drugs coming in, like the 14-month operation the led to 35 arrests and millions of dollars worth of cash and drugs seized, including:
• More than 35 pounds of heroin, which has an estimated $3.2 million street value
• More than 25 pounds of cocaine, which has an estimated $2.3 million street value
• Nearly 12 pounds of methamphetamine
• More than $1 million in cash
• Assets worth $148,405, including 23 cars
While the operation predates the formation of the state's opioid task force, Besser said the efforts involved represent the beginnings of the formal effort.
As the case has developed, Reyes said investigators have been working in cooperation with leaders of other countries involved in order to disrupt the drug trade.
"They are equally loathed and cause all sorts of havoc and destruction in their countries of origin," Reyes said of the dealers. "This is a very local issue, and it's also a global issue, and unless we're addressing them simultaneously, we will never be able to have the kind of success we want to see."
All 35 people who have been arrested are either awaiting trial in county jails in the state or have been deported, Besser said.
Much of the cash seized over the past year has been $10,000 bundles of $1 bills, meaning the money was collected through individual street-level sales. And each sale that was prevented, Besser said, to him represents a life saved.
"This heroin comes up from the source country, it gets stepped down or cut down … into .1 gram dosage units, which is typically what is found down around the shelter area," Besser said. "That's a lot of heroin, and I translate heroin into lives. So that's a lot of lives, in my opinion, that have been saved."
Besser called heroin and synthetic opioids "twin siblings from the same ugly family of addiction," saying Utahns must overcome the idea that the two are separate.
"In Utah, we've got to change the paradigm in our minds that one is naughty and one is OK," Besser said.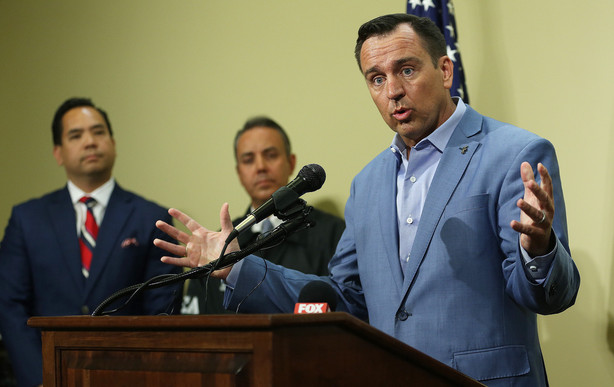 As undercover agents worked throughout the operation to track down and identify dealers, Besser said they were silent witnesses to the many kinds of customers showing up to buy: a soccer mom who can no longer get prescription pain pills, a businessman slipping away on his lunch break to stock up for the weekend, and a 15-year-old boy who has sought out heroin after becoming addicted to the pills in his grandmother's medicine cabinet.
"Every day while this happens, one dollar at a time is trickling back to Mexico, and it keeps the drugs coming into our communities and the violence that comes with it," Besser said.
While individual buyers are sometimes "vacuumed up in the process," Besser emphasized the task force's mission is rooting out the drugs' source.
Also at the press conference Friday, Utah House Speaker Greg Hughes took a moment to voice legislators' support for the efforts to track down and prosecute dealers in order to fight addiction in the state.
"These Honduran and Mexican drug cartels are coming to our communities, to our public libraries, to our parks, and it's coming in a way we aren't ready for," Hughes said. "And that's why, on my watch, as a Legislature, as a state, we aren't just going to sit idly by."
Hughes said the state's taxpayers are paying the costs of these drug battles "in a myriad of ways," calling on Utahns to support law enforcement efforts.
Moving forward, that action could include action against pharmaceutical companies, which have been accused of failing to communicate the life-threatening and habit-forming dangers of strong prescription drugs, Reyes acknowledged. However, he clarified that the state is not currently prepared to take any legal action.
Earlier this year, Ohio sued five pharmaceutical companies that it claims has fueled opioid addiction in the state.
Hughes levied stronger criticism against the pharmaceutical industry, saying that while he knows he is "poking a political bees nest," he was speaking for himself and not necessarily for his colleagues in the Legislature.
"The painkillers that are being prescribed, is it really understood that they have that propensity for addiction? That it is creating the kind of human carnage that we're seeing happen?" Hughes said. "As a policymaker, I am more than comfortable staring at big pharma and asking this question: Are you disclosing in an appropriate and accurate way, so that we're not getting in between the physician and the patient, but the physician has all the information relevant before they prescribe?"
Rather than seeking new legislation in the state, Hughes said lawmakers are looking at how to use existing statutes to address the issue.
In the meantime, legislative committees are studying opioid issues and options for responding in preparation for upcoming sessions, Hughes said. He also asserted that he believes Medicaid and other funding currently in place in the state will be able to serve drug treatment for Utahns, despite the current debate about health care raging nationwide.
×
Photos
Related Stories