Estimated read time: 11-12 minutes
This archived news story is available only for your personal, non-commercial use. Information in the story may be outdated or superseded by additional information. Reading or replaying the story in its archived form does not constitute a republication of the story.
SALT LAKE CITY — The first time Shauna Spencer had an inkling that something was not right in her relationship came as she moved out of her apartment.
The man who would become her first husband had become upset at Spencer's young cat, so he picked up the cat and threw it at the kitchen wall.
She was horrified but also unaware that his behavior was a sign of abuse.
Recalling it now, she said she was in love and that mattered most to her at the time.
"I didn't know what an abusive relationship was," she said.
Domestic violence has been thrust back into the spotlight in Utah with two recent shootings. Advocates and survivors hope to shed light on this pervasive problem with the hope of sparing any further victims.
Recent events
Domestic violence and abuse is a public health crisis in Utah, Spencer said. A two-time victim, she is now the chief domestic violence services officer at the Utah chapter of the YWCA.
Spencer said that domestic violence mostly affects women and children, though not exclusively. She is quick to point to a statistic that the Utah Domestic Violence Coalition has posted on billboards throughout the state: one in three women will be abused in a relationship at some point in their lifetime.
On June 6, a Draper man, 32-year-old Jeremy Patterson, shot and killed Memorez Rackley, of Sandy, and her 6-year-old son, Jase. He injured two others before killing himself.
Police said Patterson and Rackley had previously dated. Rackley called police days before the shooting, and Patterson left cryptic social media posts before it happened.
On Thursday, Unified police responded to what they said was a possible murder-suicide in Taylorsville involving Fransiska Dastrup, 49, of Taylorsville, and Richelle Horsley, 47, of Taylorsville. Unified Police Lt. Brian Lohrke said the two had a relationship and that Horsley was in the process of receiving a protective order against Dastrup at the time of their deaths.
'We have a really serious problem'
The numbers paint a sobering picture of just how many people are affected.
There were 575 homicides in Utah from 2000-2011, according to the Department of Safety. Of those, 226, or 39 percent, were domestic violence-related, statistics from the Utah Department of Health show.
More than 25 percent percent of 90 homicides in 2016 were related to domestic violence, according to the Deseret News.
From 2008 through 2013, there was roughly one intimate partner-related homicide every 33 days in Utah, according to the Utah Department of Health. And in 2012, more than 3,114 men, women, and children in Utah entered shelters to escape domestic violence.
"People are really resistant to the idea that this is a serious public health issue in Utah," said Jenn Oxborrow, executive director of the Utah Domestic Violence Coalition. "I think part of it is that we have this image of being so family-friendly and such a wholesome place — and we are in a lot of ways, except when it comes to family violence. We have a really serious problem, and especially (with) intimate partner homicide."
This problem plagues cities and towns throughout the state regardless of demographics, said Liz Sollis, communications consultant for the Utah Domestic Violence Coalition.
"Domestic violence does not discriminate. It does not see age, gender, socioeconomic status; it does not discriminate. It can happen anywhere," she said. "That's why, as a community and as individuals, it is so important that we know the signs and also know somewhere to get help and support."
Assessing the danger
Due to the complex nature of domestic violence, Oxborrow said, the Utah Domestic Violence Coalition sides with research when it comes to trying to prevent such abuse The coalition uses the Danger Assessment system to gauge the risk of each person who calls or walks in. The assessment, created by Jacquelyn Campbell, a nurse and expert on violence against women, was created as a way to better engage victims in their own safety planning and customize the help they receive.
The assessment asks victims 19 yes-or-no questions that are designed to gauge, among other things, the risk that the abuse could lead to homicide. Another common assessment given by police is the Lethality Assessment test. This test, derived from the danger assessment system, asks 11 questions more specific to homicide risk.
---
"People are really resistant to the idea that this is a serious public health issue in Utah. ... We have a really serious problem, and especially (with) intimate partner homicide." — Jenn Oxborrow, executive director of the Utah Domestic Violence Coalition
---
The questions on the danger assessment include whether physical violence has increased in severity or frequency over the past year, if weapons were involved in the abuse or if death threats have been made. It also asks victims to indicate the approximate date during the past year that attacks happened and rate those incidents from 1 to 5. A '1' on the scale would be if the partner had slapped or pushed the victim but there were no injuries, where a '5' would be a weapon used against the victim and resulting in injury.
How to spot domestic violence
There are several signs that a relationship will be or is abusive, Sollis said.
Signs of Abuse
The National Domestic Violence Hotline lists 14 signs of possible domestic violence, which includes physical and emotional abuse:
Partner insults, demean or embarrasses you with put-downs
Partner controls what you do, who you talk to or where you go
Partner looks at you or acts in ways that scare you
Partner pushes you, slaps you, chokes you or hits you
Partner stops you from seeing your friends or family members
Partner controls the money in the relationship, takes your money or Social Security check, makes you ask for money or refuses to give you money
Partner makes all decisions without your input or consideration of your needs
Partner tells you that you're a bad parent or threatens to take away your children
Partner prevents you from working or attending school
Partner acts like the abuse is no big deal, denies the abuse or tells you it's your own fault
Partner destroys your property or threatens to kill your pets
Partner intimidates you with guns, knives or other weapons
Partner attempts to force you to drop criminal charges
Partner threatens to take their life or threatens to kill you
Experts say that some additional early warning signs may also yield clues to the potential for abusive behavior, including a fast-moving, obsessive relationship.
"Specifically, the partner who may be prone to be abusive may be very interested in spending a lot of time with the individual, which often happens in relationships — but with unhealthy relationships, it's more of an obsession, and they move the relationship quickly," Sollis said.
'The violence comes later'
Spencer now recalls progressing quickly through the relationship with her first husband. But her first warning sign came when her husband threw her cat against the wall. It wasn't until later that she saw this as a sign of abuse.
She grew up in a strict household, struggled with self-esteem in her youth and battled with her parents. She wanted love and felt unworthy of it. The day she turned 18, she left her home and eventually ended up with her first husband. He quickly told her how much he loved her and gave her generous gifts — and the love she longed for.
Then came the abuse. After the cat incident, she returned the cat to her parents' home and never brought it up again. Verbal abuse began and developed into physical abuse. She woke up while being attacked in her bed by her husband in one instance.
"The violence comes later. It's not at the beginning," she said. "We always say, 'Why does this happen? Why did she do that? Why would she pick him?' Well, she picked a guy who was really great to her, and that's how it starts out."
The physical abuse that would eventually happen in that relationship wasn't her only run-in with domestic violence. She ultimately left her husband and remarried, only to be abused again.
One moment in that relationship left her with a scar still visible many years later.
"I don't remember what I said or did, but it couldn't have been horrible. He picked up the frying pan out of the fire and threw it at me and split open (the skin) at my shinbone. It was horrible, and it was painful," Spencer said.
When Spencer left her first husband, she began working at Westminster College full time, and the school gave her free tuition for classes. She pushed herself to get a degree, taking night classes and working at times as a waitress on weekends on top of her full-time work.
"I worked really hard so I would never be in a position of dependence again," she said, pushing away tears as she recalled that time in her life. "That I would be able to take care of myself. And I knew that that was the only thing I could hold onto."
Spencer struggles with those who suggest that abuse victims can simply get out of the relationship.
She was lucky.
When she decided to leave her second abusive relationship, she had finished graduate school and felt that she had more resources to make her escape easier.
Now that she oversees domestic violence services for Utah's YWCA chapter, she understands that many victims feel stuck in abusive relationships because of finances, threats involving their children or threats made to their life. She connects many of these victims to necessary resources.
Safety planning
Of the 551 officer-initiated screens conducted by police in Utah from January through March 2017, 66 percent of the victims were considered to be in high danger, according to a Lethality Assessment Protocol report. An assessment falls in the "high danger" category when the respondent indicates majority "yeses" to the 11 questions, or if there has been a recent threat regarding the victim's life, Oxborrow said.
Eighty percent of those in the "high danger" category completed safety planning with an advocate over the phone. However, only 20 percent of victims screened in any category accessed services. Only 32 percent of those who accessed services received shelter and 27 percent received legal advocacy.
In 191 self-initiated screens — screens conducted by those seeking help from crisis lines — during that same time span, 93 percent of those cases were considered "high danger," and 63 percent of the high danger victims accessed services. Over all risk categories, 59 percent of victims screened accessed services. Of these, 72 percent received crisis counseling and 71 percent accessed shelters, according to the same report.
"I think people are more likely to get engaged in more active safety planning when risk is high and they've talked to a person in a program," Oxborrow said. "I think the real opportunity for safety is putting someone on the phone with a trained victim advocate."
Where can domestic violence victims receive help?
The first step for domestic violence victims, friends or family members of victims is to call their local police department, experts say. All threats against a person should be taken seriously, Sollis added.
The second is for victims to call a hotline and connect with resources.
Domestic Abuse Hotlines
National Domestic Violence Hotline: 1-800-799-7233 (SAFE)
Those at the hotline can help victims find a shelter, transitional housing, crisis counseling, child care, services to rebuild credit, and groups provide group and individual therapy. They also can connect victims with legal advice on how to obtain protective orders and stalking injunctions. The council has 17 programs located throughout the state. Services are available for all genders.
"It doesn't matter where you are or what your situation is, one of our programs can help you," she said. "The easiest way to find access to a program is to call our LINK line, which is a free confidential number that you can call 24/7."
The YWCA offers similar options for victims: legal assistance, crisis intervention, sexual assault exams and immigration assistance, among other services. The center in Salt Lake houses 250 people daily, with 75 percent of those typically being children, Spencer said. All calls and walk-ins are 100 percent confidential.
Sollis encourages friends and family members to watch for warning signs and support those who may be domestic violence victims. Those leaving an abusive relationship may need temporary shelter, perhaps in a location unknown to the perpetrator, she said. Even threats made on social media are serious, Sollis added. She asked that family or friends who see these threats check on the victim's welfare, and report the threat to local authorities and the social media website.
In the end, she said, those who are victims of domestic violence need good friends.
In Spencer's case, this included a co-worker for whom she is forever grateful.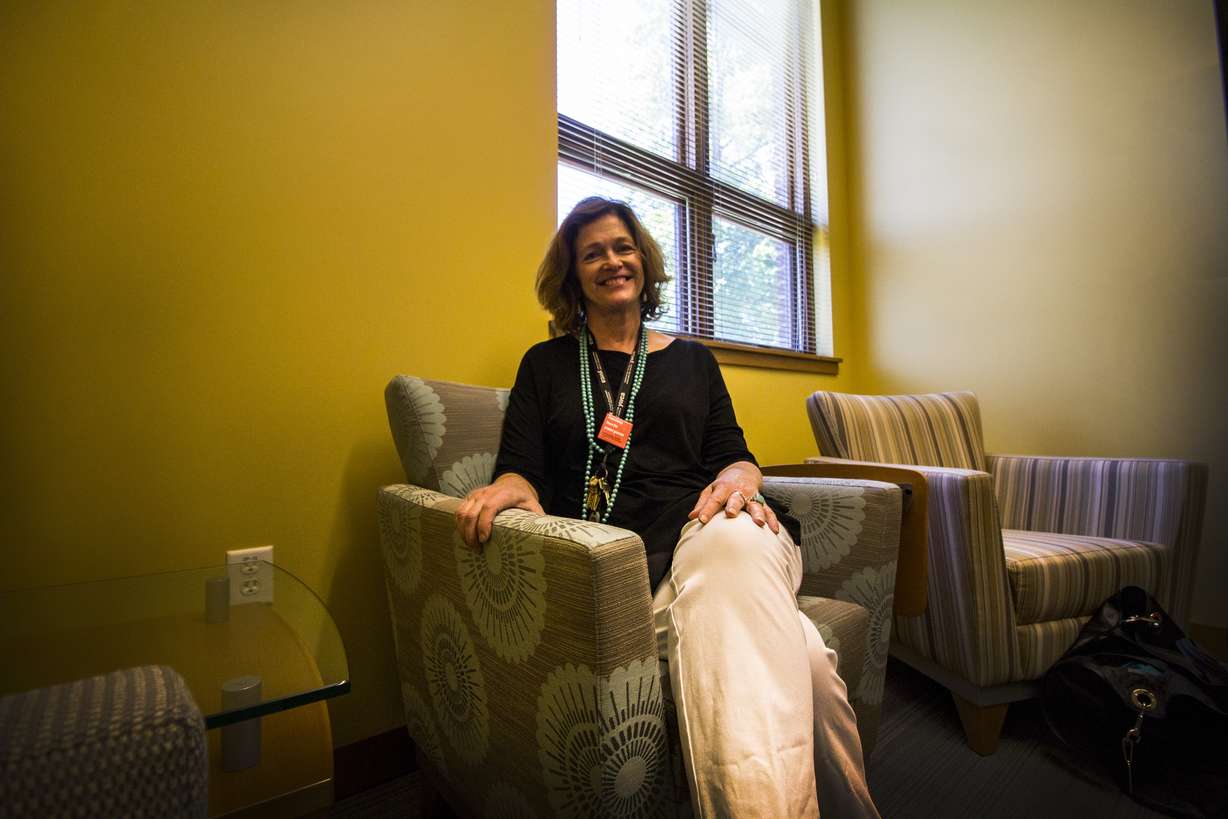 Her story, she said, is about her ability to overcome the doubt, fear and depression that come from an abusive relationship. But she would not have gotten there without some help.
She said she wanted to tell someone about the abuse, but being a victim came with feelings of guilt and shame. This came at the time when she had a full-time job and a master's degree.
Spencer came to work one day — just before Christmas on this particular year — wearing a turtleneck to cover choke marks around her neck left by her second husband. She didn't want anyone to know, but her work supervisor noticed and said something.
"She was shocked; she was appalled," Spencer said. "She said that 'you cannot live there anymore. We're going to your house right after work. I'm bringing so-and-so with me and we're going to get your things and you're going to come with me.'"
Spencer slept on her supervisor's couch, and then slept in her car until she found a apartment on her own again.
Talking to someone and having their support made all the difference, Spencer said.
"It saved my life," she says about her supervisor's intervention. "I don't know if (my ex-husband) would have killed me, but I don't know if he wouldn't have."
She was lucky.
×