This archived news story is available only for your personal, non-commercial use. Information in the story may be outdated or superseded by additional information. Reading or replaying the story in its archived form does not constitute a republication of the story.
WEST JORDAN — They say that doing good work is its own reward.
While that may be the case for Alton Thacker — whose work brings joy to the young and meaning to those aging — good work will not pay the bills.
Thacker — wearing a blue cap and bifocals — moves quickly, in a way that wouldn't lead you to guess he's 82-years-old. He happily ends every other sentence with a joke, and could talk about his work for hours on end.
For the past 15 years, he's been steering his very own car factory. But Thacker's "cars" are made of wood, and can fit in the palm of your hand.
"I want to be the biggest car dealer in the state of Utah," Thacker said with a laugh.
His little factory cranks out 85,000 of them a year. The cars are then shipped all across the country and all around the world.
He still struggles to maintain his composure while telling the story of how his factory was born, although he's told this story many times over.
"I gave a little girl a toy, and when I saw how she responded, I thought," Thacker said, pausing to find the right words, "you know, she smiled. She was happy."
That single smile lit a fire in Thacker and Tiny Tim's Toy Factory was born. His toy cars are given away to seas of eager hands — many of which belong to children who've never received a gift in their lives. He estimates that hundreds of millions of children are in situations or conditions where they will not get toys. He hopes that his tiny factory can make a difference. The toys from his factory are sent to children in need, locally and around the world.
One of the first things you notice in this factory is the roar of machinery and the fine mist of sawdust floating in the air. Every seat is filled and Thacker smiles when he discusses how his workers are compensated.
"The pay is out of this world, and they've got to go there to get it," he laughed. "If I paid them they wouldn't show up."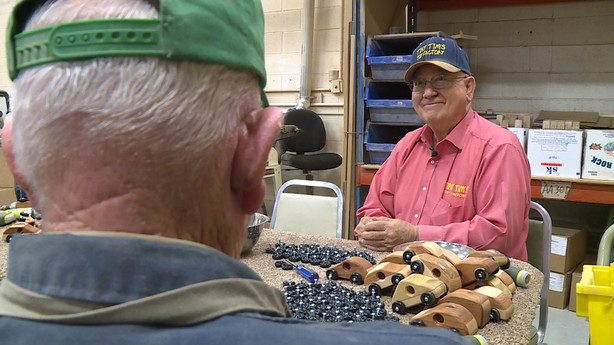 Not a single one of Thacker's employees has ever received a paycheck. He says he's found a perfect way to ensure they keep coming.
"We give them a toy and send them to lunch," he said. "And when they've come back, they've given that toy away and their smile is greater than the kids' that got the toy. Once they come and hand out a toy, they're hooked."
That leads us to the second thing you notice about Thacker's factory: it's a place where being in your 60's means you're just a kid.
"Oh, the average age is about 80," Thacker said of those who volunteer with him. "They'd rather be here than home, waiting to die. When you wait to die, you have to wait a long time. But when you're working, time really goes by fast."
If you need proof of that, just ask John Bassarear who at 92-years-old has lost most of his sight to macular degeneration. He attaches wheels to the toy cars by touch, but that doesn't seem to slow him down.
"Well, I'm having the time of my life, working with fellas that never give me a hard time," he said. "It's one of the highlights of my week because it breaks up the monotony of being a 92-year-old with nothing to do."
Or you could ask Gene Wilson who's so busy he'd barely have time to answer.
"When you look at the smiles on the kid's face, " he said, before pausing to reach in his breast pocket. "Let me show you something here."
He pulls out a tattered picture of a small girl with a big smile, holding one of Thacker's cars. He carries it everywhere he goes, right next to his heart.
"No idea who the kid is," Wilson said. "Doesn't matter."
---
Any time a man will come and donate his time day after day after day and love it, he's rewarded,
–Alton Thacker, Tiny Tim's Toy Factory founder
---
Everything here is donated: the work, the materials and even the building itself.
"A man has paid my rent for six years now," said Thacker. That rent runs $1200 a month. Despite all the donations, Thacker says each toy car still costs $2 to make, so the free rent has been quite welcome.
But then came a phone call.
"This year, he said I can't ... I can't do it anymore," Thacker said. "So we've lost our rent."
At first Thacker thought he could still keep the factory afloat. But in February he saw his financial reserves going down and faced a tough reality.
"I came out of the office and every station was full of people working," he said. "And the thought went through my mind, 'How can I close down now? How can I put these people out of work who work because they want to be working?' That was a sad moment for me."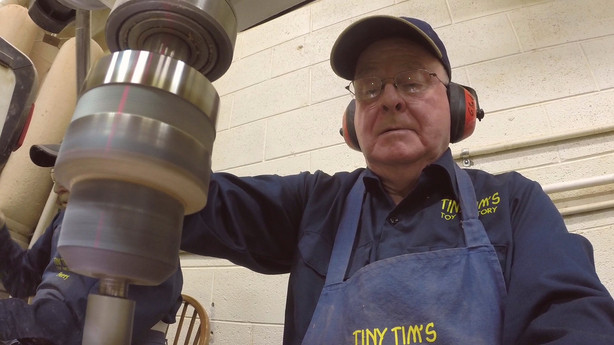 Thacker says he plans on staying put as long as he can — because as he says, there are people counting on him.
"And the reward is in their faces," he said.
Not just in the faces of children who receive one of his gifts, but in the faces of his volunteers — the faces those who've found a purpose.
Because if doing good work is its own reward, Thacker's factory is full of the wealthiest people on earth.
"Any time a man will come and donate his time day after day after day and love it, he's rewarded," Thacker said.
If you'd like to help Thacker with his rent, you can donate by visiting his website.
×
Photos