This archived news story is available only for your personal, non-commercial use. Information in the story may be outdated or superseded by additional information. Reading or replaying the story in its archived form does not constitute a republication of the story.
SANDY — David Holladay sits in the back of a booth whittling a stick as people of all sorts stroll by looking at the different vendors at Preppercon, a two-day convention focused on all things survival that began Friday.
He's wearing a corn-patterned shirt and his son is playing around him, sometimes picking up wood shavings and throwing them at Holladay to garner his attention as he speaks.
Holladay is a wilderness survival expert with experience living in Utah's deserts. He's also an instructor in survival, a consultant on survivalism for Hollywood producers and a TV host/expert of History Channel's "No Man's Land." He looks in awe of the products around him, as thousands of people wander through booths, trying out the newest gear or learning about various renewable resources.
There are also all sorts of gadgets that could be used to help if a major emergency happened — many created by the owner of the respective booth.
At one point, he's no longer whittling the stick and looks at the ceiling. He wonders what would happen if a major event happened at the Sandy Expo Center, where the convention is being held. He thinks about how many people would survive and how they'd do it.
"If you can weave cotton from scratch and make leather from scratch and grow your wheat, great. What are you going to do when those are gone? That's kind of what we're doing here. That's what this booth is about," he said. "When the electricity shuts off and the earthquake hits and this building falls down and there's only about half the people alive in this room. The people that know how to care for those are wounded, make them comfortable and then keep them healthy through the night without freezing to death are going to be really useful."
So if Utah was hit by a major disaster or health emergency today, would the state be ready?
According to the updated National Health Security Preparedness Index released Thursday, Utah remains ahead of the national average in being prepared for events. The index, created by the Robert Wood Johnson Foundation's 2017, assesses health security and preparedness for each state as well as the nation.
The index notes that Utah exceeds the national average in several areas: identifying threats, communicating and mobilizing people to work together in a crisis, ability to mobilize and manage resources and the ability to prevent the impact of a crisis.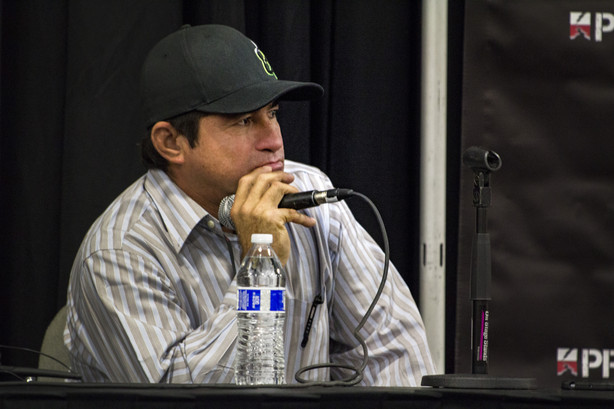 Also on Thursday, thousands of Utahns across the state participated in the Great Utah ShakeOut, a yearly drill to prepare residents in case a major earthquake hits.
Showcasing Utah's desire to be prepared is Preppercon. Along with booths of various objects — guns and ammunition, knives solar energy products, food storage, massive water tanks, tactical gear and self-reliance books — there are experts like Holladay teaching their tricks of the trade.
Scott Stallings, the chief executive officers and co-founder of the event, said there has been a steady growth of interest. This year, nearly 200 vendors set up booths — about 60 more than two years ago.
He said the origins come from the fact that needs in emergencies are simple but often overlooked. The event includes 80 classes taught by experts in all sorts of fields from food storage to emergency first aid. The goal is to keep people everywhere prepared for any disaster scenario that may arise.
Stallings figures the interest Utah has in being prepared comes from the pioneer heritage, and it is why Utah could be ahead of the national average in preparedness.
This event highlights why Utah has become so prepared for emergencies: it's a part of its past and it's a part of its current interest.
"Pioneers are synonymous with prepping because they were fully self-reliant," Stallings said. "That's the mission with most preppers. They want to be self-reliant. It's a part of the mindset and a part of the culture. Utah culture is very much focused on that, 'Oh, we don't want anyone else telling us what we should do, we can do it ourselves. We understand how to do it.'"
Tips on how to be prepared from the experts
Some scenarios from Preppercon seem unlikely — a woman dressed as a zombie meanders through one of the walkways during the afternoon. Some are worst-case political scenarios, such as post-apocalyptic nuclear warfare. Other scenarios, such as natural disaster, are brought up. For example, one could test out the hurricane simulator for just $5.
However, being caught in a situation needing to learn to survive can pop up at any time no matter what disaster that might be, which is where preparation pays off.
Perhaps the most household name to attend the event this year is Jose Salvador Alvarenga. The name may not ring a bell, but his story probably does. Alveranga was working on a small boat in Mexico that disappeared on Nov. 17, 2012. He survived the next 438 days out on the ocean mostly alone after his shipmate died at sea with him.
Alvarenga has never been on a boat since and through the help of a translator, said he still has vivid almost daily nightmares. He shared stories about befriending a bird for two months that would fly back every day and coming so close to him that he could cuddle with it.
Each story, though, drives home the point of the whole event. He's alive because he was experienced enough to know what to do — scooping fish out of the ocean and finding ways to drink water — to survive.
---
"The first thing is to learn how to use the stuff that you've got. So if you've got a knife, you've got a firearm — whatever it is that you have in your possession, if you have fire starter, turn the power off for a weekend and see how you do, see how prepared you are." -Nicole Apelian, survivor skills instructor
---
Another important skill for survival, Holladay said, is creativity. He defines creativity as seeing one object and figuring out how the object can be used in various ways. For example, he cites off various uses for a simple windowpane: a knife edge, protection, shelter or even a hot box for growing food.
"You can take that one thing and make hundreds of things — maybe even thousands depending on your creativity level," he said.
He references the famous cricket infestation story from the early Mormon pioneers that settled in Utah. It's a story he said he got a kick out of in Sunday school because, as he said, "millions of high-protein, delicious food particles just dropped out of the sky or just showed up and you didn't pick them up and start eating them?"
Nicole Apelian, a scientist, researcher, survivor skills instructor and subject of History Channel's season two of "Alone," said another important thing individuals can do now is to actually test their preparedness. She said too many people make the mistake of buying the right gear but not knowing how to use it when it matters.
"The first thing is to learn how to use the stuff that you've got. So if you've got a knife, you've got a firearm — whatever it is that you have in your possession, if you have fire starter, turn the power off for a weekend and see how you do, see how prepared you are," she said. "Put yourself or your family through a training exercise and see how you fare through it, so if the real thing hits, you'll have already been through it and it'll be a lot easier and you won't go into panic mode.
"If you have all this stuff and you don't know how to use it, it's like having none of it."
Another tip she gives is to ensure that items, such as a water bottle, are around at all times. Of course, she has a Batman belt-like amount of necessities around her canteen. There are helpful gadgets for fire starting, shelter, medical needs and signaling all around her canteen.
"I go everywhere with this — I don't leave home without it," she says, showing off the bottle that's also seen in a promotional photo of her for her appearance at the event. "It's always on my person."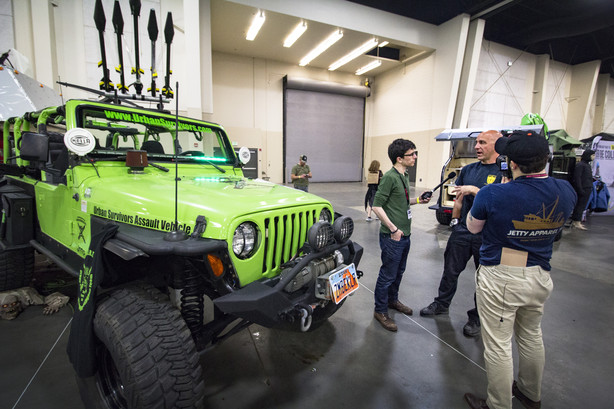 She adds that a bag full of emergency gear and a food and water storage lasting six months to a full year is also helpful, as well as having helpful gear stored in a car. In her experience from "Alone," where she spent two months alone living off the land of Vancouver Island, she learned how difficult it truly was but also that she knew she could survive living off the land.
That's also why, she semi-joked, she has a food storage set up at her home.
Finally, Holladay emphasized the importance of community. He said self-reliance is much easier if a group of people are working together.
He said in the early pioneer days, everyone in a neighborhood had a special skill that worked for a common goal. Each individual had one thing they could share and the trading led to a thriving self-reliant economy.
That's because groupthink, he said, is more powerful and productive than one individual's viewpoint. He said that political atmosphere of late has been toxic to this preparedness point.
"Alone, people don't really make it," he said. "The best survival skill I could say people in Utah might have or Salt Lake Valley: get to know each other, treat each other with love and respect and learn to cooperate with each other — on anything."
×
Photos