This archived news story is available only for your personal, non-commercial use. Information in the story may be outdated or superseded by additional information. Reading or replaying the story in its archived form does not constitute a republication of the story.
SALT LAKE CITY — A team of researchers led by scientists at the University of Utah has discovered that early detection of damage to collagen — the main building block of all human tissue — can alert doctors that a patient is on the verge of major tissue injury and pain.
By having a way to determine small levels of damage to tissue, doctors could better understand various types of injuries — particularly overuse or repetitive use injuries, explained Jeffrey Weiss, professor of bioengineering at the U.'s College of Engineering.
"Where it's not obvious that an injury has occurred, we now have a way to quantify that damage," he said.
Scientists previously thought collagen — strands of protein braided into a ropelike structure that give tissue its strength and stiffness — would just stretch or slide by each other during repeated stress, he said. As a result, patients who put repeated stress on their body through strenuous activity were unaware of the harm they were doing and the resulting problems they were headed for.
Weiss said research indicates that collagen molecules become unraveled at a molecular level before complete failure (tearing) of the tissue occurs. This type of minor injury, called "subfailure damage," is associated with common injuries to connective tissues such as ligament, meniscus tears and various types of tendonitis likes tennis elbow and rotator cuff pain, he noted.
"Accumulation of subfailure damage can go on for a long time with no catastrophic failure, but repeated damage results in inflammation," Weiss said. "So this vicious cycle continues, the inflammation breaks down the tissue, making it more susceptible to damage, which then can result in a massive tear."
By the time someone realizes they damaged a ligament, tendon or cartilage from too much exercise or other types of physical activity, it's too late because the tissue is stretched and torn and the person is writhing in pain, he added.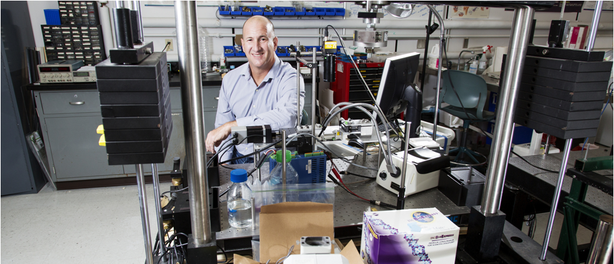 The researchers used a new microbe called collagen hybridizing peptide — or CHP, a tiny version of collagen that binds to unraveled strands of damaged collagen tissue, to figure out where and how much damage occurred in overloaded tendons.
"If we better understand how these tissues in the body are injured and damaged, we can better treat those injuries," Weiss said.
The availability of this technique allows medical researchers to use CHP for diagnosing if a person has damaged collagen and, if so, how much and where before a massive tear occurs.
Weiss and Michael Yu, associate professor of bioengineering and one of the leaders in the study, believe this new microbe could be used to deliver drugs directly to damaged tissue because the probes only target damaged collagen. Also, it would tell scientists more information about what happens to the body during repeated physical activity, Weiss said.
"A fundamental understanding of the loads and strain that cause molecular damage has eluded us until now," he said. "Our findings can translate into recommendations for athletes on how to train or what rehabilitation protocols people who are injured can use."
---
"There are so many tissues which involve collagen that can go bad mechanically. This issue is important for understanding many injuries and diseases." - Michael Yu, assoc. professor of bioengineering
---
In the next five years, this could be especially helpful for some people who want to know earlier if they are developing diseases such as arthritis or for athletes who want to know if repeated stress on their bodies is taking a toll, he added.
"The scientific value of this is high because collagen is everywhere. When we are talking about this mechanical damage, we're talking about cartilage and tendons and even heart valves that move all the time," Yu said. "There are so many tissues which involve collagen that can go bad mechanically. This issue is important for understanding many injuries and diseases."
The research team was comprised of scientists from the U. and the Massachusetts Institute of Technology. The research, funded by the National Institutes of Health, was published this week in the latest issue of Nature Communications.
×
Photos