Estimated read time: 3-4 minutes
This archived news story is available only for your personal, non-commercial use. Information in the story may be outdated or superseded by additional information. Reading or replaying the story in its archived form does not constitute a republication of the story.
Team coverageThe distressed economy is forcing Utah lawmakers to take a hard look at cutting the state's budget. That's going on right now in a special legislative session on Capitol Hill.
Lawmakers passed an $11.6 billion budget in March, but a sluggish economy has left them with less revenue than they expected.
At this point, it looks like nearly every state department could lose something in this latest budget battle; and in some cases that could even mean program cuts and layoffs in some state agencies.
Lawmakers met in their chambers briefly this morning to get their marching orders: Cut 3 percent across the board from every state program. The exception, of course, is public education. The shortfall there will be covered for this year. But for everyone else, the cutting will affect money that departments planned on but now don't have.
Rep. Ron Bigelow of West Valley City said, "Now the money we thought was going to be there isn't there. So they need to change their plans and scale back to reflect the actual money that's coming in."
Most dramatically for taxpayers, that could mean the state highway patrol, court system and department of corrections.
Also affected are people on Medicaid who may lose benefits at a time when they may need them the most. Medicaid recipient Don Reifsnider said, "In the past we have had these things cut, and we've had to fight to come back and get them restored, and we're concerned about dental and vision especially."
Tom Patterson, the executive director of the Utah Department of Correction, said, "We're hoping this will be short term, and we'll be able to fill the shortage through attrition; however, with that size of a budget decrease, it will mean we'll have to move people around and make due with less."
Bill Sederberg, with the Utah State Board of Regents, said, "I'm here to point out that our enrollment is increasing. The fiscal pressures are increasing. And it is a negative impact on our colleges and universities at a time when we have to get more people educated in the state of Utah."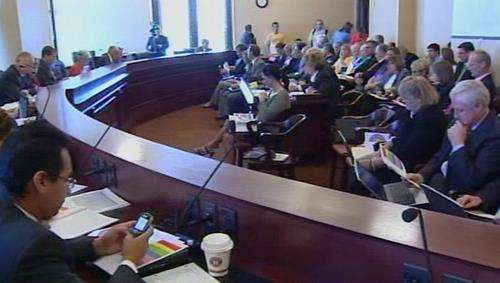 The order to cut the budget is to fill a projected shortfall of about $272 million coming up. That is sparked by a loss of investment and sales tax revenue, which is affected by the economic downturn.
The next question of course is: What about next year? Departments -- including public education -- could be vulnerable for more cutting, assuming the tough economic times continue.
Utah's economy has primarily been hampered by a slowdown in the housing and construction industry, according to state economists. While Utah continues to have positive job growth and a relatively low unemployment rate, it has failed to maintain the robust growth state officials expected when they wrote the budget last winter.
State offices have been preparing for the possibility of deep cuts for several months. The governor's office told state agencies this summer to prepare to cut their budgets by as much as 5 percent.
A final approval of specific cuts is expected on Friday.
E-mail: rpiatt@ksl.com
E-mail: aadams@ksl.com
E-mail: tcallan@ksl.com
(The Associated Press contributed to this story. Copyright 2008 by The Associated Press. All Rights Reserved.)
×
Related links
Most recent Utah stories