This archived news story is available only for your personal, non-commercial use. Information in the story may be outdated or superseded by additional information. Reading or replaying the story in its archived form does not constitute a republication of the story.
TAYLORSVILLE — When Utah Highway Patrol Col. Michael Rapich saw the damage caused by an SUV that had plowed into the rear of one of his trooper's patrol cars, he expected the worst.
"Considering the nature of the crash, I mean this was a really significant crash, completely totaled the patrol car that trooper Gurney was driving. It was violent. It was completely devastating in that the inside of the vehicle was completely obliterated," he said.
But when he got to the hospital to see UHP trooper Devin Gurney, 27, he learned that his injuries were not life-threatening. In fact, Rapich said he was told Gurney was expected to be released from the hospital on Tuesday.
In the evening, the UHP confirmed that Gurney was resting at home with his family.
"I went to the hospital with the worst of fears in mind. … I had the worst possibilities in mind when I went there," Rapich said. "And to have everyone with non-life threatening injuries and be able to walk from this, is really something that's remarkable, and we're grateful that's the case.
"From my perspective, probably one of the greatest moments that I could imagine, going from expecting the worst to finding out our trooper is safe," Rapich said.
Rapich gave an update Tuesday on the devastating crash that resulted in three damaged cars a half-dozen minor injuries.
Gurney had pulled over a 28-year-old woman on I-15 near Orem about 11 a.m. She pulled over to the emergency lane on the left side next to the center, concrete median.
While Gurney was standing outside of his patrol car, a 48-year-old man drifted across five lanes of traffic and slammed into the back of the patrol car at freeway speed, Rapich said.
Related:
"Ultimately his patrol car struck him, standing outside of his vehicle," he said. "Fortunately his patrol vehicle seemed to sustain most of the damage, hopefully absorbed a lot of that collision initially. And when it hit him, a lot of that initial energy had been dissipated to where the impact on him was smaller."
Gurney suffered leg injuries, but Rapich did not believe any bones were broken.
Fatigue was believed to be a factor in the crash. Utah County Sheriff's Sgt. Spencer Cannon said investigators do not believe the driver of the SUV was impaired, had been awake for an inordinate amount of time or had been traveling cross-country. But he became drowsy or fell asleep while driving, detectives believe, according to Cannon. The Utah County Sheriff's Office is the agency investigating the crash.
The SUV also had three child passengers, all between 5 and 11 years old, Cannon said. They all sustained minor injuries. The man's 11-year-old daughter reportedly tried to wake him just before the crash, according to the UHP.
The woman in the car that was originally pulled over also suffered non-life threatening injuries when Gurney's patrol car was pushed into hers, Rapich said. She had a 15-month-old child in her car that was properly restrained. Cannon said the toddler was not injured.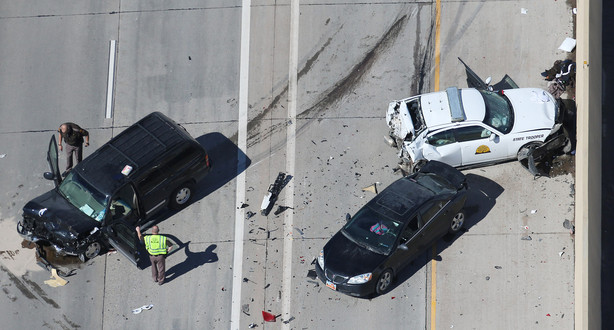 So far in 2017, seven UHP patrol cars have been hit. Rapich said the incident involving Gurney was the most serious. He called Monday's incident a "worst-case" scenario: when a trooper is standing outside his car exposed, has few places to go because of the soundwall and another vehicle comes at him or her at full freeway speed.
"He's grateful that he's doing as well (as he is). He's feeling well. He's still really sore. I think he's probably got a lot of bruises, a lot of muscle damage and things like that. But nothing that he's not going to be able to recover from. He's very grateful he's going to be able to go home to his family," Rapich said.
The colonel said the incident was a good reminder for all motorists to slow down and move over a lane when they see a trooper has made a traffic stop. And if a motorist is pulled over, Rapich said the driver should pull off on the right side shoulder where it is safer for the trooper.
Charges against the driver of the SUV were pending Tuesday.
×