Estimated read time: 3-4 minutes
This archived news story is available only for your personal, non-commercial use. Information in the story may be outdated or superseded by additional information. Reading or replaying the story in its archived form does not constitute a republication of the story.
PROVO — Virtual reality has found a lucrative home in the gaming world, but one BYU student and his professor are leveraging the technology in a different way and saving millions of dollars in the process.
Student Jeffery Smith recently interned with Lockheed Martin, a global aerospace and defense technology company, and developed a virtual reality system that lets engineers train with nothing more than a virtual reality headset.
The system uses 3-D technology from the Unity game engine to create immersive trainings that an engineer could access from anywhere in the world with his or her own headset.
When Smith returned to school at BYU, Lockheed Martin awarded a grant to the BYU Department of Mechanical Engineering to continue developing the system.
"Lockheed Martin has approached BYU to try and improve their training process," Smith's engineering professor John Salmon said. "(It) allow(s) technicians to learn how to operate machinery to repair parts, to assemble different components on a system, and they're finding that sometimes it's cost-effective if you allow some of the training to take place in a virtual environment so you don't have to fly them to a particular location for an in-person training session."
The system allows engineering trainers to put on a VR headset and become immersed in the virtual world of a factory floor or a helicopter pad and then record their movements. Students can then put on their own headset and follow along with the trainer's recorded movements to learn essential skills and develop muscle memory.
The students can then enter the world themselves to replicate and practice what they've just seen their trainer do. They can even rewind, pause, fast-forward or replay the demo to learn at their own pace.
"I'm bringing in students and training them in virtual reality … and these are students that are not engineering students … but they love the clarity and the enhanced understanding," Smith said. "Being able to see the assembly in 3-D, being able to hands-on do it virtually before they do it in real life. We're saving time; we're saving money in that regard, but the confidence and how well they build the physical assembly increases as well."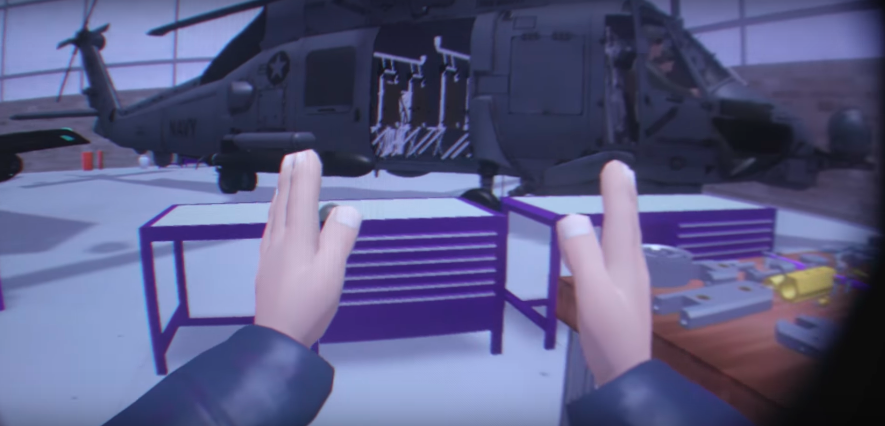 Lockheed Martin engineers also note that virtual reality training will save them millions of dollars by cutting the cost of resources and in-person training.
And according to Salmon and Smith, this technology is not limited to training for engineers. Those in the medical field have already started using it to train students in different medical procedures, like ultrasounds.
"The BYU students created an impressive demo of the VR system that really highlights the potential of this technology, even in its early stages," said Darin Bolthouse, an engineering manager at Lockheed Martin's Collaborative Human Immersive Lab.
The training could also aid athletes and musicians, as well as any other profession that requires physical movement. Those learning can virtually walk a mile in the shoes of an expert, all from the comfort of their own home.
---
Liesl is a reporter at KSL.com, section editor of KSL Tech and a student at Brigham Young University. You can email her at lnielsen@ksl.com and follow her on Twitter at @liesl_nielsen.
×
Most recent Utah stories