Estimated read time: 3-4 minutes
This archived news story is available only for your personal, non-commercial use. Information in the story may be outdated or superseded by additional information. Reading or replaying the story in its archived form does not constitute a republication of the story.
MONTICELLO, San Juan County — With as much open land as there is in San Juan County, it would take months, even years, to see what's out there.
"You never can visit the same place and not find something new," said Amy Camacho, who grew up in San Juan County. "There are places here I never knew existed."
That was a big reason why Amy Camacho wanted to be a deputy here.
She was a dispatcher in the San Juan County Sheriff's Office for a couple of years, and still works as a medical service officer in the Army Reserves. But when a job opened up to be a deputy patrolling the county, she went for it.
Camacho was sworn in this past December and still can't believe the views from the area she gets paid to patrol.
"It's freedom," she said. "You get to see beautiful things and then the people. The people are amazing."
However, it's those same people who, when she pulls them over, are completely surprised — and not because of why she pulled them over.
"Yeah, I've got a lot, like, 'Oh, it's a girl!' And I'm like, 'Yes, yes.' You know? It's funny," Camacho said with a laugh.
Camacho is the first female deputy in the history of the San Juan County Sheriff's Office. San Juan County Sheriff Rick Eldredge said he didn't know that fact when he offered her the job.
"I had no idea. We were just trying to choose who we thought was the best person for the job," Eldredge said.
The sheriff also said he knows she will make a difference in areas many people don't think of when it comes to law enforcement.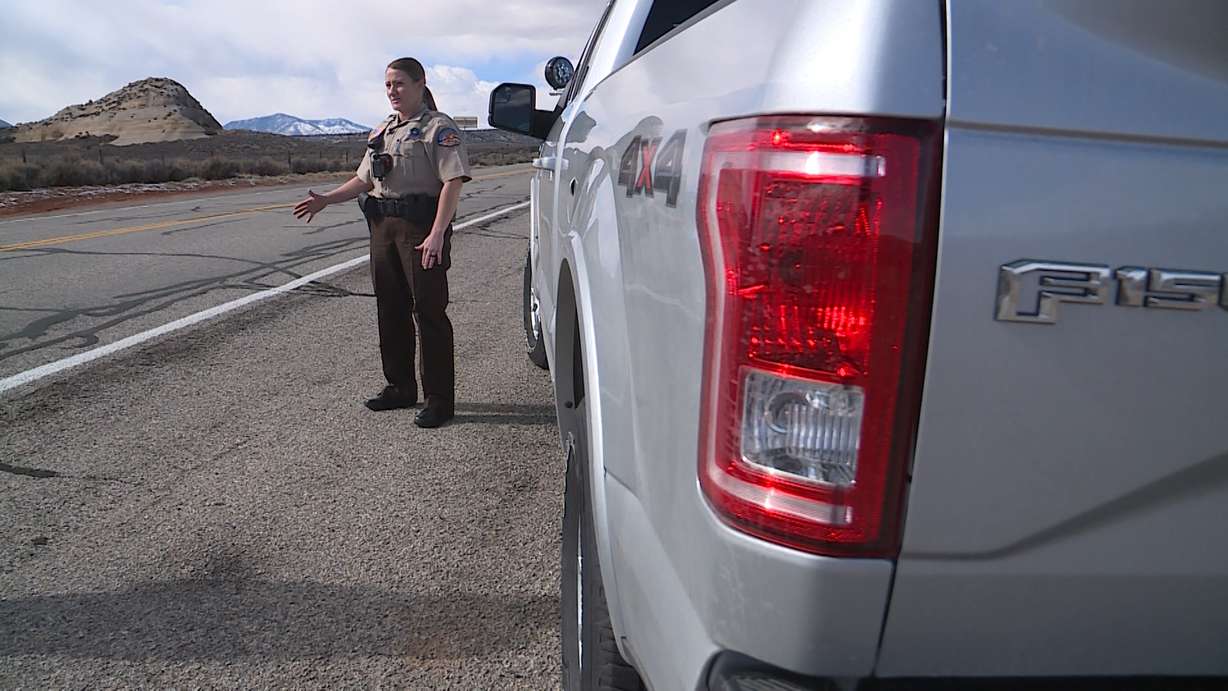 "Especially with investigations. We deal a lot with children. We have to interview children and I know for a fact they feel more comfortable with someone like Amy than they would a big male officer," said Eldredge. "There are some things a female brings to the table that a male officer can't, and I think in today's world, the law enforcement world, it's vital and important to have that female perspective."
Camacho said she didn't become a deputy to make history, but now that she has, she knows she's sort of a role model, especially to young girls.
"If I can make a difference for kids coming up, other females, little girls coming up, make a dream come true, then that's great," she said. "I'm not all about the fame and fortune or making history kind of stuff. Whatever. I guess I look at it as, if other young girls can pursue a dream they didn't know if they could or not, then that's awesome."
---
I've got a lot, like, 'Oh, it's a girl!' And I'm like, 'Yes, yes.'
–Amy Camacho
---
Of course, Camacho knows she's going to get those surprised looks. It doesn't offend her. She just wants to be treated like any other deputy.
"Obviously, all eyes are on me. If I mess up, it'll be a big deal," she said with a laugh.
Eldredge doesn't think that will be a problem.
"We are happy to have her with us and I will say some of the other deputies try to be her big brother and they're a little protective of her, but she can do the job," he said. "She can handle herself."
Contributing: Xoel Cardenas
×
Photos
Most recent Utah stories