Estimated read time: 5-6 minutes
This archived news story is available only for your personal, non-commercial use. Information in the story may be outdated or superseded by additional information. Reading or replaying the story in its archived form does not constitute a republication of the story.
COTTONWOOD HEIGHTS — In an electric town hall meeting filled with angry rebukes thrown at Rep. Jason Chaffetz, it was perhaps the soft spoken but pointed question from a young girl that drew the loudest standing ovation.
"Do you believe in science?" asked Hannah Bradshaw. "Because I do."
The frustration of some Utah voters upset with the president — roughly 1,000 of them inside the Brighton High School auditorium, and well over 1,000 people protesting outside the school — reached a fever pitch from the very start of the Utah Republican's question-and-answer session Thursday.
"So, President Trump," Chaffetz began, a minute or two into the meeting, before being immediately drowned out by loud boos.
"If you want me to answer the question, please give me more than five seconds to answer it, OK?" Chaffetz asked a few minutes later after several people heckled him, claiming he hadn't adequately answered an audience member's question about investigating Trump.
A few people even went up to the stage to point their fingers at Chaffetz and demand that he spend more time with specific questions. The congressman tried his best to defuse the tension.
"Let's try not to yell and scream at each other," he said.
Despite the many interruptions, Chaffetz did get to address several issues brought up by audience members. Most questions focused on how he would hold President Donald Trump accountable as head of the House Oversight and Government Reform Committee.
"What is your line in the sand?" asked one teacher concerning Trump. She joked that she could easily compare Trump to her most difficult students, who she tries to identify at the beginning of the school year.
"It's been two or three weeks," she said. "We have a problem child."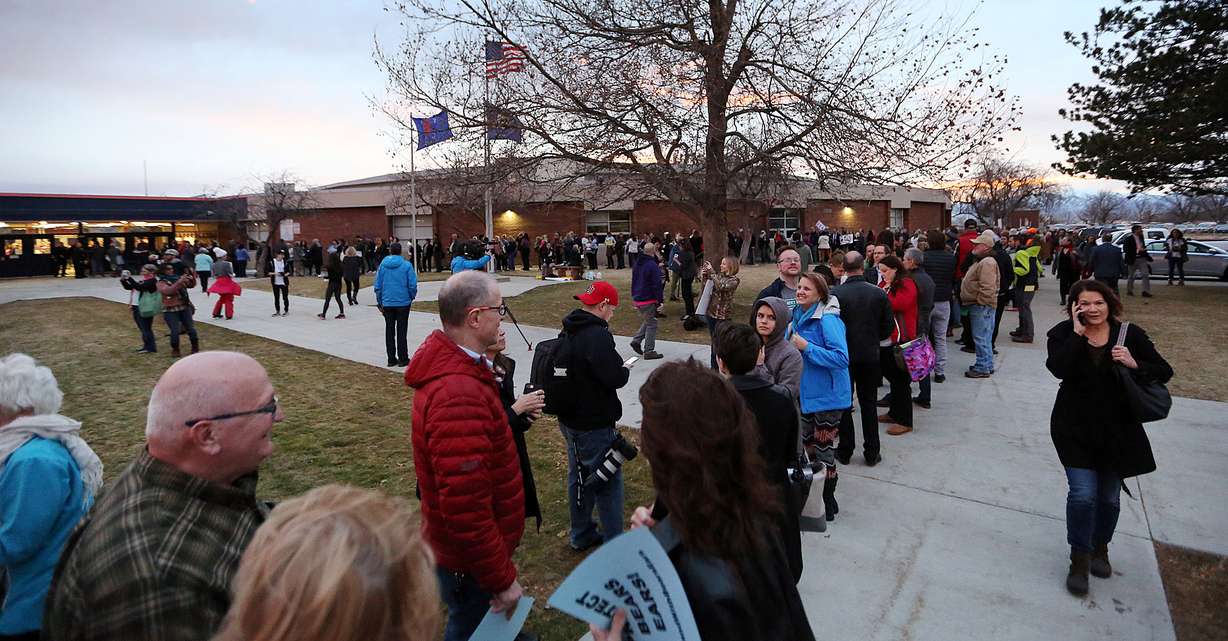 Another teacher — Chelsie Acosta, from the Salt Lake area — demanded of Chaffetz that he explain to her how she can "tell (students) about where our country got to today."
One man asked Chaffetz to investigate Trump's business interests, calling the president "despicable." His comment received a standing ovation and chants of "Do your job!"
Chaffetz said he is at the ready to investigate presidential wrongdoings, but insisted that it was not his role or his right to go on "a fishing expedition" to find ethics violations by the president.
"I think there is a very dangerous precedent – very dangerous precedent -- to have somebody who (has) power to overuse that power," he said.
One woman, a former Marine, talked about her initial gratitude for Chaffetz's declaration in early October that he would not vote for Trump.
That was after a recording surfaced in which Trump said he "(doesn't) even wait" before making sexual advances on women. But in late October, Chaffetz changed his mind and tweeted that he would reluctantly vote for Trump, chiefly to do his part to prevent Hillary Clinton from being elected.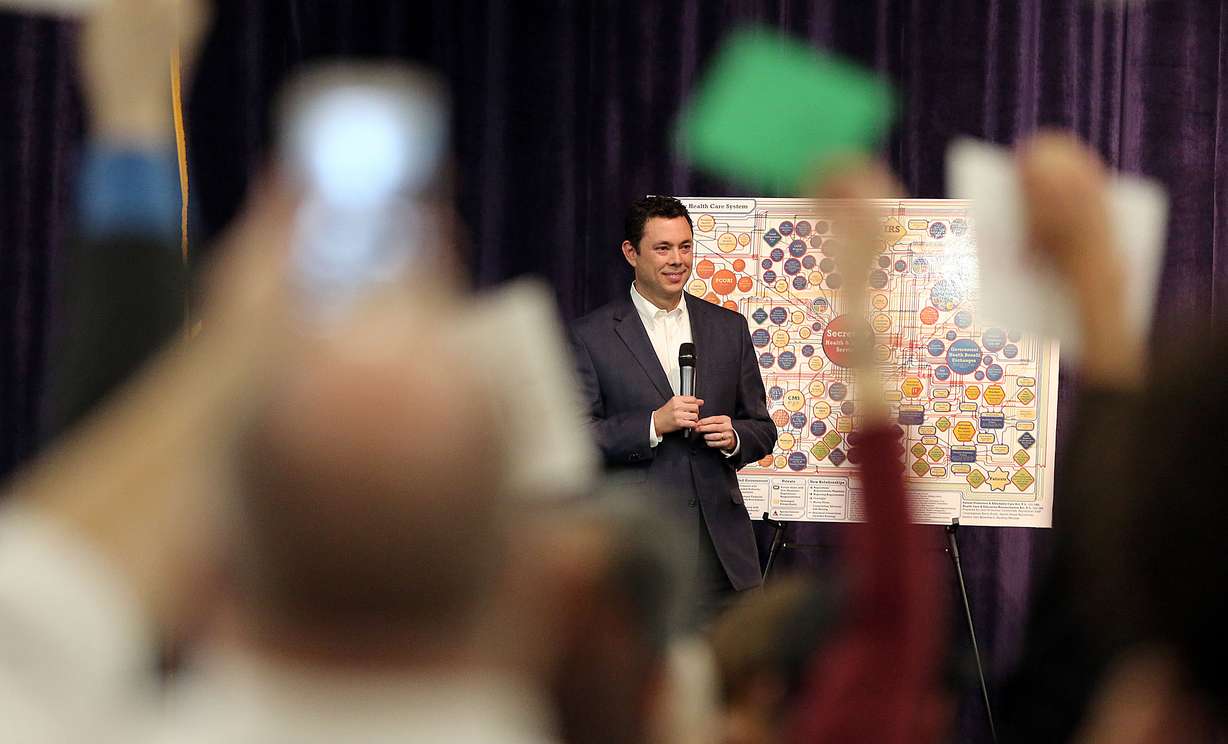 "When you walked it back, I was heartbroken, being a woman who is a survivor of rape," she said. "Every single person in this room has been touched by a violent act against a woman. … (Women don't come forward because) they are too ashamed or because they feel like people won't understand."
Chaffetz told the woman he was sorry for her experience, and assured her that he was doing everything in his power to strengthen the policies of the federal government in response to allegations of sexual offenses.
But it was no use — the Republican congressman was, as he had been all night, jeered relentlessly while speaking. In one moment, a few dozen people even jeered him as he spoke emotionally about the premature deaths of his parents, yelling at him that he wasn't answering the question he had been asked.
"So little decency here," Chaffetz lamented.
Outside, some attendees joined the remaining protesters who had waited outside the high school throughout the meeting, where they began to chant, "Vote him out!" Protesters also shouted, "You work for us!"
"If we don't make a difference, we won't matter," said Barry Rasmussen, one man who attended Thursday. "If we're not here letting somebody know how we feel, how are they going to know?"
Despite the largely hostile environment, a few of Chaffetz's answers were greeted to cheers.
Trump's executive order temporarily banning almost all travel to the U.S. from seven Middle East and African countries, which is currently on hold, has the support of Chaffetz. But arguably his largest applause of the night was when he detailed his opposition to singling out Muslims specifically for any immigration or travel ban.
"I thought it was absolutely wrong and I went on national television to say I thought it was absolutely wrong," Chaffetz said of Trump's campaign promise to temporarily halt all Muslim immigration into the United States.
Chaffetz also urged residents to befriend refugees in Utah and help them establish themselves in the community.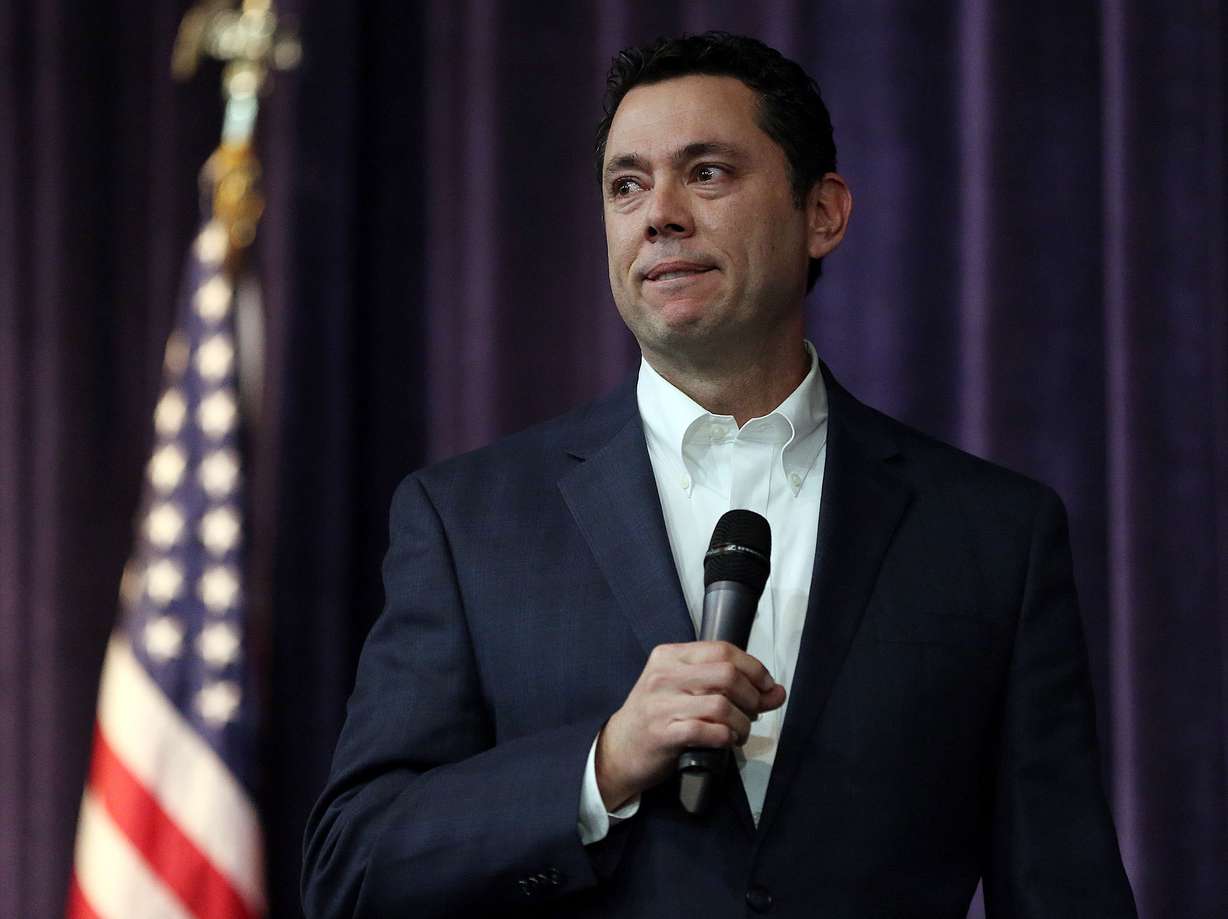 "They're citizens, they're friends, they're business owners," he said to cheers. "And by the way, they've been vetted."
Chaffetz was also warmly received when giving his take on the need to reform legal immigration. The congressman specifically criticized the fact that individual countries can only receive up to 7 percent of available American visas, and spoke favorably of Mexico.
"As far as the wall … I don't care how big, far and wide the wall is — if you don't fix legal immigration, you'll never solve this problem," he said.
As for young Hannah Bradshaw's question, Chaffetz reassured her that he believes in science, and notes the biggest problem facing Utah is its winter air quality.
×
Photos
Related stories
Most recent Utah stories