Estimated read time: 4-5 minutes
This archived news story is available only for your personal, non-commercial use. Information in the story may be outdated or superseded by additional information. Reading or replaying the story in its archived form does not constitute a republication of the story.
SALT LAKE CITY — Fifty percent of Utahns like what they've seen so far from President-elect Donald Trump's Cabinet selections, even though no one from the state has yet made the cut, according to a new poll.
The UtahPolicy.com poll found that half of Utahns are pleased with the president-elect's choices for his new administration, while 36 percent say they are displeased, and 14 percent aren't sure how they feel.
The poll of 614 registered voters was conducted Dec. 8-12 by Dan Jones & Associates. It has a margin of error of plus or minus 3.95 percent.
Utahns were being asked about Trump's cabinet just as Exxon Mobil CEO Rex Tillerson was emerging as his nominee for secretary of state over Mitt Romney, the GOP's 2012 presidential nominee who now calls Utah home.
Former Utah Gov. Jon Huntsman Jr. was also on Trump's list of secretary of state candidates, along with former New York City Mayor Rudy Giuliani, retired Gen. David Petraeus and others.
Other Utahns reportedly considered for positions with Trump in Washington, D.C., include a pair of his top supporters in the state, Utah House Speaker Greg Hughes, R-Draper, and Trump family friend Don Peay.
Hughes, a former Utah Transit Authority board chairman, was said to be a possible transportation secretary pick, but the post went to Elaine Cho, President George W. Bush's labor secretary and Senate Majority Leader Mitch McConnell's wife.
Peay, a Utah outdoorsman and the founder of Sportsmen for Fish & Wildlife, was said to have been looked at for interior secretary, but Trump named freshman Rep. Ryan Zinke, R-Montana, instead.
There is also talk that Rep. Mike Noel, R-Kanab, is a possibility to head the Bureau of Land Management.
Trump put both Sen. Mike Lee, R-Utah, and Lee's brother, Utah Supreme Court Justice Thomas Lee, on his shortlist of potential U.S. Supreme Court nominees. That decision is expected to be made sometime after Trump's Jan. 20 inauguration.
The lack of Utahns in the new administration shouldn't come as much of a surprise, said LaVarr Webb, who publishes UtahPolicy.com and writes a column for the Deseret News.
"Utah hasn't been a big Trump fan," Webb said, noting the Republican's win in a largely conservative state that hasn't voted for a Democrat for president since 1964 was by less than a majority, 45.5 percent.
Still, even though some Utahns had reservations about Trump before he become president-elect, Webb said they see him as keeping "his anti-establishment campaign promises" with many of his Cabinet choices.
"Most of them have not been part of the Washington establishment," he said, even if some are also billionaire businessmen like Trump. "He campaigned on and promised to be a different kind of president, and his Cabinet picks reflect that."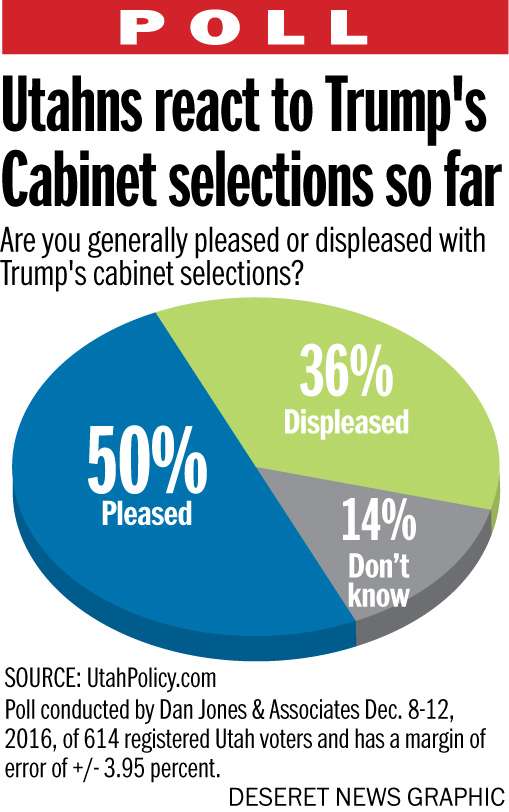 Sutherland Institute President Boyd Matheson said Utahns are getting more comfortable with Trump as they see him reaching beyond an "inner circle of loyalists" in putting together his Cabinet.
The head of the conservative Utah-based think tank said now that the election is over, most Utahns are pulling for Trump, who bemoaned his "tremendous problem" with voters in the state during the campaign.
"I think that's a Utah thing. We want our president to succeed," Matheson said. "You do have that natural pivot, and I think it's more pronounced than other places in the country. Utahns want their president to do well."
Webb said Utahns would be even more supportive of the next president had Trump chosen Romney, one of the state's most popular politicians, to serve in his administration.
But there are reports that Trump wasn't seriously looking at Romney for secretary of state, including recent comments from a longtime adviser, Roger Stone, that Trump was just toying with Romney to "torture him" for being critical during the campaign.
Romney appeared to be a front-runner for the top diplomatic spot in the new administration but was passed over after two high-profile meetings with Trump, including at a dinner in a posh New York City restaurant.
The leader of the 2002 Winter Olympics in Salt Lake City was among Trump's harshest critics during the campaign, labeling Trump a "fraud" and a "phony" in a widely covered speech at the University of Utah in March.
His consideration for the key post caused some Trump advisers to push publicly for a more loyal pick like Giuliani. Giuliani, who removed himself from consideration just before Tillerson was named, said at the time, "Mitt went just a little too far."
For his part, Romney called it "an honor to have been considered for secretary of state" in a Facebook post, describing his discussions with Trump as "both enjoyable and enlightening," and expressing "very high hopes" for the new administration.
×
Photos
Related stories
Most recent Utah stories