Estimated read time: 2-3 minutes
This archived news story is available only for your personal, non-commercial use. Information in the story may be outdated or superseded by additional information. Reading or replaying the story in its archived form does not constitute a republication of the story.
An off-duty, out-of-town police officer may have saved the life of a Boise man in Orem this morning.
After the man from Boise finished breakfast with his girlfriend at the IHOP on 850 W. University Parkway, he was attacked by a man with a scissors.
Orem police say for no reason at all, a complete stranger approached the couple in the IHOP parking lot and started stabbing the man. He fell, and the attacker jumped on him and kept stabbing him in his face, neck and arm.
It would've kept going, but a Chicago police officer in Utah for training was at the front door of the restaurant and saw it all happen. He tried to break it up, but the attacker went to stab the Boise man again. So, the Chicago officer shot him.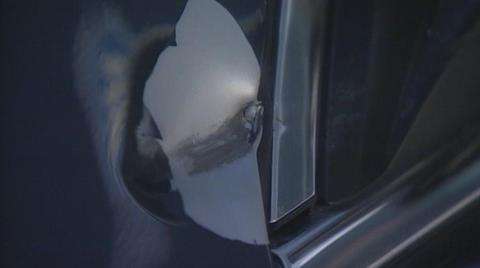 There's a bullet mark on a car that was parked in the lot.
The suspect tried to run away, but the officer caught him and held him until Orem police arrived.
The manager of the IHOP says the owners of the restaurant wouldn't let her talk to us on camera but wanted to say thank you to the Chicago officer and felt he was a true hero this morning.
Orem police aren't releasing the names of the victim, the suspect, or the Chicago police officer.
We also wanted to know how many shots were fired, but a woman at the police department told us no one would be available today for any questions.
We have learned the man who was stabbed was released from the hospital. The suspect is still in the hospital. He was shot in the back. Officers at the scene say he was delusional and showed signs of psychological disorders.
The Chicago officer has already left the state.
E-mail: acabrero@ksl.com
×
Most recent Utah stories