Estimated read time: 2-3 minutes
This archived news story is available only for your personal, non-commercial use. Information in the story may be outdated or superseded by additional information. Reading or replaying the story in its archived form does not constitute a republication of the story.
Downtown businesses are fed up with panhandlers. The complaints over panhandlers have poured into Salt Lake's Downtown Alliance over the last year, but now a plan to restrict panhandling in certain areas of the city is raising legal questions.
The alliance wants Salt Lake City to consider a panhandling ordinance. One idea is to create a "No Panhandling Zone," which would include most of the downtown area.
Panhandling has become almost a daily ritual outside the Gateway's Abercrombie and Fitch store. Several blocks away, at Sam Weller's Bookstore, there's a similar story to tell.
Sam Weller's general manager Jim Rosinus said, "There are a certain number of regulars that we recognize down here all summer long." He says some panhandlers become aggressive and pressure customers. "It makes it uncomfortable for people to come downtown to shop," he said.
Carla Wiese, with the Downtown Alliance, said, "The panhandlers, as they become more and more prevalent in the downtown, have become a problem."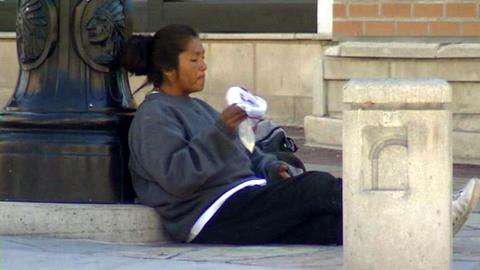 Members of the alliance wouldn't talk about specifics, but in a draft letter to the mayor's office, an area from North Temple to 400 South and from 200 East to 500 West would be considered off-limits to panhandling.
The alliance's other idea is to ban panhandling in targeted areas throughout the city, near ATMs and banks, for example.
Civil rights attorney Brian Barnard considers the plan troubling. Panhandling is protected free speech. Any government restrictions have to be "content neutral", as the lawyers say. "If restrictions are going to be put in place as to panhandling in the downtown area, those restrictions will also have to apply to missionaries, people handing out leaflets, to the Salvation Army with their red kettles every Christmas," Barnard said.
"But it can be restricted time, place, and manner, much like any other form of free speech, so that's how we look at that issue," Wiese said.
The Downtown Alliance says this plan would be similar to what Atlanta and Pittsburgh already have. They're ironing out the legalities with Salt Lake's city attorney. The alliance expects to send its final plan to the mayor in the next few weeks.
E-mail: gkennedy@ksl.com
×
Related links
Most recent Utah stories