Estimated read time: 7-8 minutes
This archived news story is available only for your personal, non-commercial use. Information in the story may be outdated or superseded by additional information. Reading or replaying the story in its archived form does not constitute a republication of the story.
OGDEN — At 6-foot-2 with 22-inch biceps, some called Utah Highway Patrol trooper Eric Ellsworth the strongest, most fit trooper they'd ever seen.
But being a trooper is what Ellsworth did, said his friend, UHP Sgt. Shane Nebeker. Who Ellsworth was, was a loving father, husband, son and brother.
The funeral for Ellsworth, who was killed in the line of duty, was held Wednesday at the Dee Events Center on the campus of Weber State University.
Ellsworth's widow, an emotional Janica Ellsworth, made her first public comments since her husband's death by reading a letter she addressed to him during the service.
"You've only been gone a week but it feels likes months," she said in a barely audible voice, even with the assistance of a microphone.
Ellsworth said "nothing could have prepared me" for the events of the past two weeks. Seeing her hulking husband in a hospital bed with his life hanging by a thread is something she thought she'd never see.
"You were my rock and my comfort. It's hard to believe you were taken away from me," she said.
Ellsworth said her husband's biggest fear about being a trooper was knowing there was a possibility that he might be taken away from the joys of his life — his wife and children.
"I've always been proud to say you were mine," Ellsworth said. "I have never doubted your love for me."
Ellsworth said the "little things we always did together are the things I'll miss the most," like going to Mantua for ice cream, or getting a burger at Smith and Edwards or deciding what to watch on Netflix after their three boys, Bennett, Oliver and Ian, went to bed.
Ellsworth thanked her husband "for 10 years of marriage and a million memories."
"I asked the boys what they missed most about you. They miss everything and I do, too," she said. "My heart feels like it is literally breaking."
Funeral service for officer Eric Ellsworth
Janica Ellsworth said that despite the "untimely timing," her LDS faith gives her comfort knowing they will be reunited again some day.
"I will try to stand tall and be brave. I will keep going when everyone goes back to normal life," she said. "I love you. Everyone loves you. Thank you for being such a good man. … Eric, you are now, more than ever, the man of my dreams."
Eric Ellsworth, 31, of Brigham City, was hit by a car on Nov. 18 while trying to direct other vehicles around a traffic hazard along a rural stretch of state Route 13 at 13600 North near Garland, Box Elder County. He was hit by a 16-year-old girl, described by the UHP as a "new driver." Both Ellsworth's family and the UHP have each offered forgiveness to the young girl, saying they realize this was truly an accident.
Ellsworth died Nov. 22 after several days in the intensive care unit at Intermountain Medical Center.
Ellsworth was the seventh of nine children. He and his brother were the only boys of the family.
"There had to be two of us to make it through it," his brother, Mike Ellsworth, said with a smile.
Eric Ellsworth loved weightlifting and camping. He was an active member of The Church of Jesus Christ of Latter-day Saints and served a mission in Winnipeg, Manitoba. Ellsworth was an Eagle Scout and a second generation UHP trooper. His father, Ron Ellsworth, worked for the UHP for many years in Davis County. Ellsworth graduated from Clearfield High School. He was with UHP for seven years.
Many remembered Ellsworth's love of working out and fitness, something he tried to pass on to his sons.
"Bennett can do more push-ups than anyone in here, I guarantee it," Mike Ellsworth said of Eric's young son.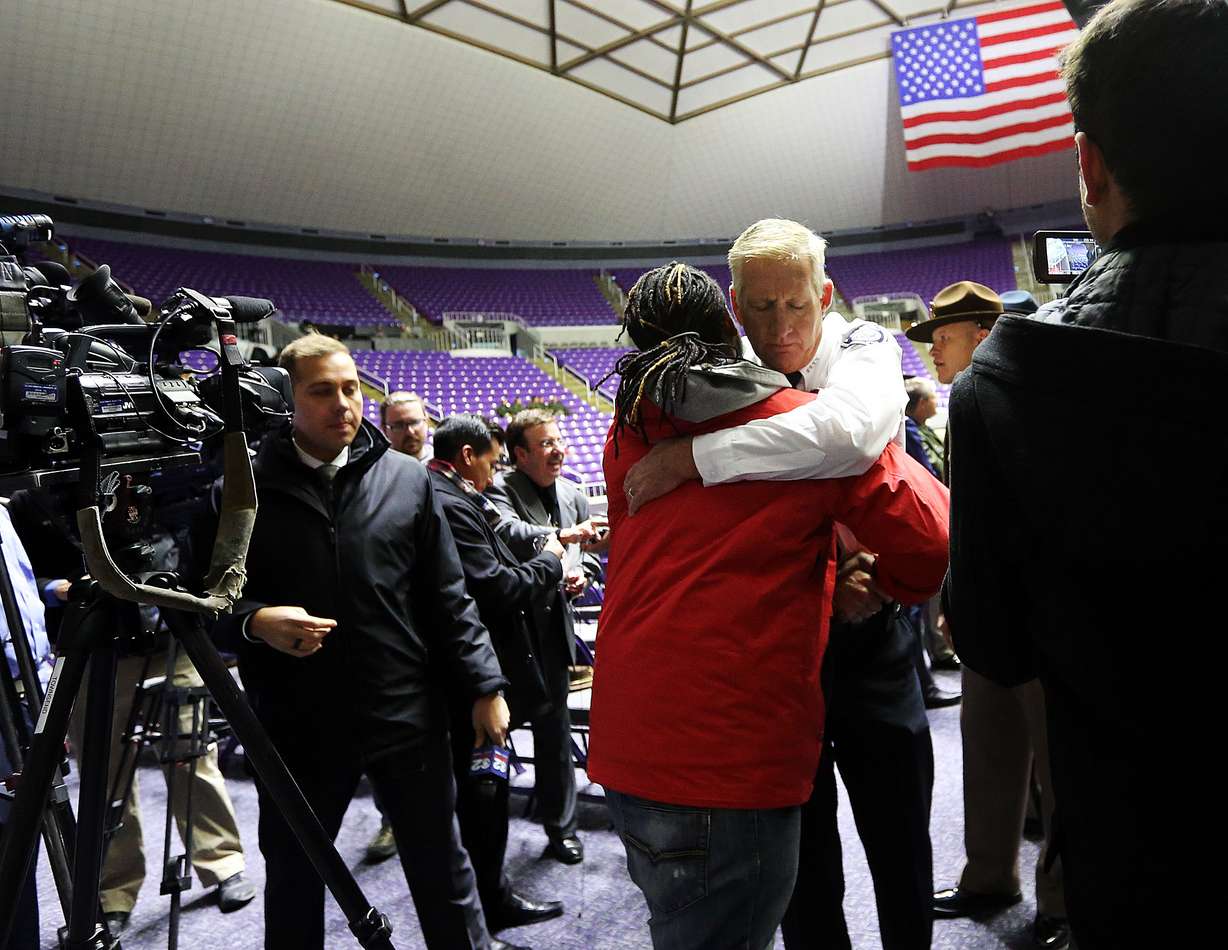 Friends and family also remembered Ellsworth's quirky sense of humor and how he loved scaring people, or how he would sit and hum while eating his food.
But what family members and co-workers also remember about Ellsworth was that he always wanted to better himself, whether it was at work or at home. He loved serving others. And more than anything, he loved his family.
"Eric impacted, changed and saved lives," said UHP Col. Michael Rapich. "He represents the very best of us."
Rapich said Ellsworth was "truly a great trooper."
"Eric will always be a giant, a hero among us," he said. "Well done, trooper."
Utah Gov. Gary Herbert added: "Eric truly does represent the very best society has to offer. He's a hometown hero."
The governor challenged the public to honor Ellsworth by looking for opportunities to follow his example of selfless love, whether that meant being a better neighbor or a better citizen.
One of Ellsworth's sisters, Lisha Folsom, cried as she gave the opening prayer at the funeral.
"I'm so grateful for the memories that we have with him. His smile, his kindness, his good example to those around him," she said.
Like other family members who spoke, Folsom said there was some comfort knowing that her family would see Eric again in the afterlife.
It was a sentiment shared by Herbert, who quoted from the Book of Mormon, Brigham Young and Abraham Lincoln.
"As a man of faith, I don't believe this is the end. I do believe there is more yet to come. That Eric is providing service in a different venue, maybe a different assignment, but nevertheless giving service to his fellow man," he said.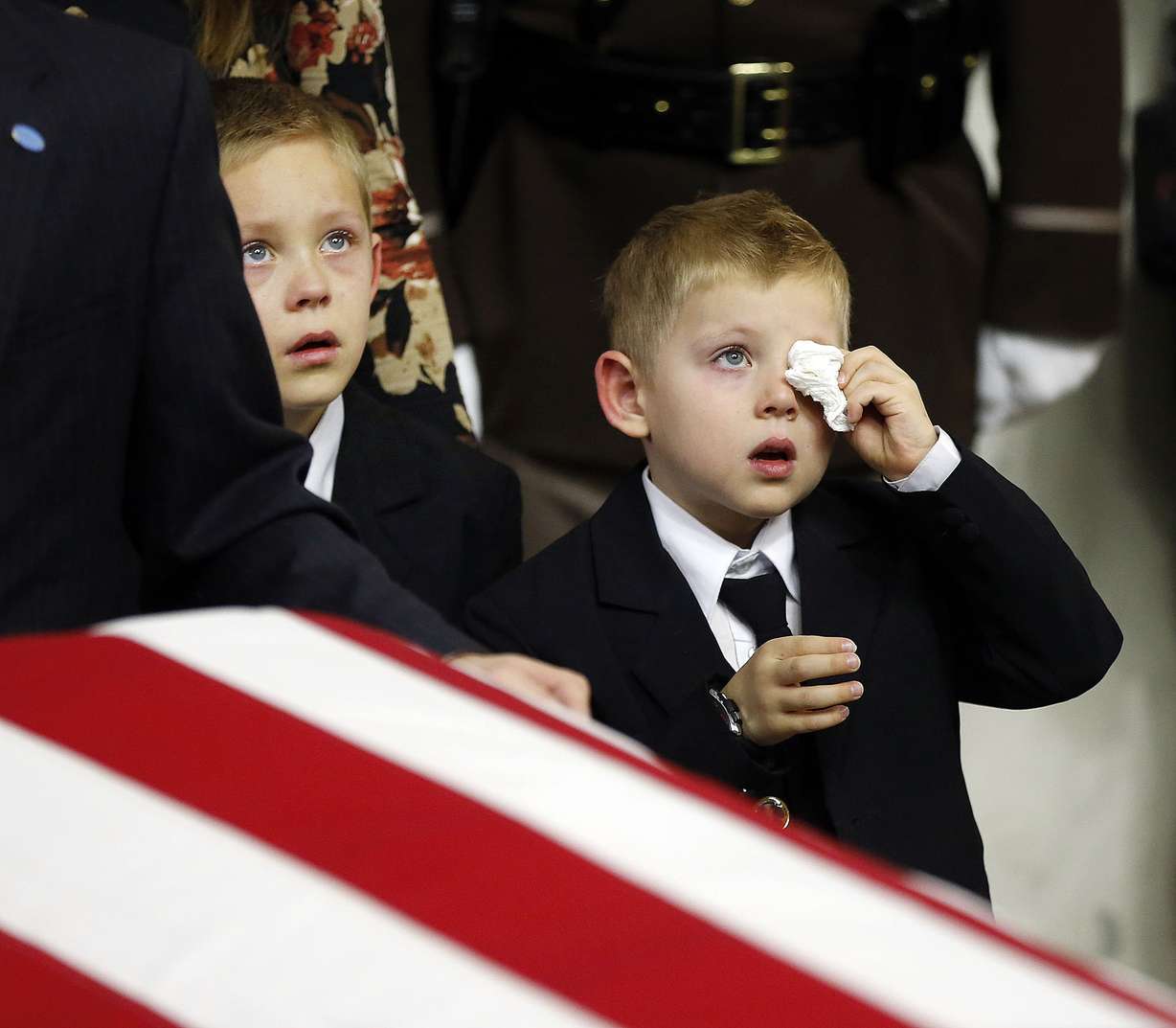 Spectators with flags and handwritten signs lined streets and overpasses to show their support as Ellsworth's body was transported from Ogden for graveside services in Brigham City.
"It's good to see the show of respect and support for Eric. Even though many people probably didn't know him, they know of him, and it's good to see that they are there for him," said neighbor Brad Michalik.
At the cemetery, a solemn Mike Ellsworth stood at the back of the hearse for an hour in extremely cold weather, refusing to leave his brother's side as he waited for his flag-draped coffin to be moved to its final resting spot. Ellsworth could be seen leaning against the back of the hearse, often putting his head to the window and looking inside in silence.
Eric Ellsworth's UHP patrol car lead the hearse into the cemetery along with a long motorcade of officers from numerous agencies. In addition to many from Utah, law enforcement officers from an estimated 20 states also attended Wednesday's services.
"When any officer dies in the line of duty, it's one of ours no matter the state," said Idaho State Police Lt. Col. Kendrick Wills.
At the cemetery, Ellsworth was given a traditional 21-gun salute and a helicopter flyover — led by the Department of Public Safety's helicopter — that performed the "missing man" formation in which one helicopter breaks off from the others that continue forward.
Then came the final call for Ellsworth as dispatchers called out 10-42 for badge 395, or the end of watch for Ellsworth.
Ellsworth is the second officer killed in the line of duty in November, and the third officer killed in Utah this year.
"I would say this has been a very tough year. The circumstances, I think, nationally have brought a great deal of attention to the fact that officers' jobs are very difficult," said Salt Lake County Sheriff Jim Winder.
Going to the funeral Wednesday, Winder said someone mentioned to him that this one was different because it involved a traffic accident.
"It really struck me, because a death is a death. When one is out representing our community and protecting this community, whether it is in saving a life, protecting a roadway, involved in a violent encounter, the reality is the job these people do can cost them their life. And this year it's happened far too frequently.
"So I think the reflection we have to make here is law enforcement is not about arresting people. It's truly about protecting. And in the role of a protector, you can give the ultimate sacrifice. … The act of standing on a darkened roadway and protecting people from driving into a power line is about as critical a function as one can do."
Contributing: Mike Anderson, McKenzie Romero
×
Photos
Related stories
Most recent Utah stories