This archived news story is available only for your personal, non-commercial use. Information in the story may be outdated or superseded by additional information. Reading or replaying the story in its archived form does not constitute a republication of the story.
WEST VALLEY CITY — About 1,000 people joined together Wednesday night for an emotional candlelight vigil to mourn, remember and pay tribute to West Valley police officer Cody Brotherson, who was killed Sunday in the line of duty.
"We are beyond devastated at the loss of our Cody James," a grieving Jeff Brotherson, Cody's father, told the crowd that gathered at the Fairbourne Station Promenade plaza just west of City Hall, 3600 S. Constitution Blvd. "You will be in our hearts forever. Rest in peace, my son. We love you."
Jeff Brotherson then returned to his seat behind the podium and openly cried on the shoulder of his wife, Jenny.
On Sunday, Cody Brotherson, 25, was attempting to assist other West Valley officers pursuing a vehicle that police said was stolen.
Brotherson had gotten a spike strip out of the trunk of his patrol car, which was parked near the intersection of 4100 South and 2200 West, police said. He had either thrown the spike strip or was about to when he was hit and killed by the fleeing vehicle.
All three suspects were arrested shortly after and booked into juvenile detention. Whether they intentionally swerved to hit Brotherson was still part of the investigation being conducted by a multiagency team led by the Unified Police Department.
West Valley Police Chief Lee Russo confirmed earlier this week that body-camera video of the fatal incident exists, but he had not yet seen the video and could not comment on it.
As of Wednesday, charges against three juvenile boys — ages 14, 14 and 15 — had not been filed. Russo said it will be up to the Salt Lake County District Attorney's Office to decide to what degree the boys should be held accountable in connection with Brotherson's death.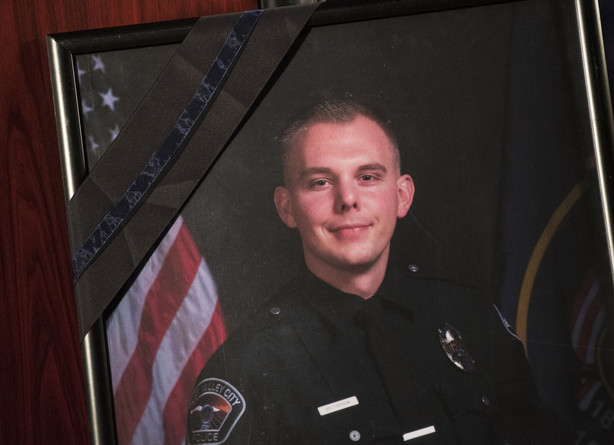 Brotherson's patrol car was placed at the Promenade plaza Monday. Since then, it has become a central gathering place for the community to mourn and express their thanks to the fallen officer and the West Valley Police Department.
Bouquets of flowers and messages addressed to Brotherson now cover the hood and roof of the car. One of Brotherson's friends could be seen Wednesday night weeping openly as he buried his head into the hood of the car.
The Patriot Guard Riders motorcycle club stood side-by-side around the perimeter of Wednesday's vigil, each holding an American flag.
Brotherson is the 140th law enforcer killed in the line of duty in Utah history, and the first for the West Valley Police Department.
During the vigil, Chief Russo talked about how Brotherson's death has changed not only the police department but the entire city as well.
"This has changed us all. This is something I know we'll never get over. In time, we'll simply get used to it. But we will never forget it," he said.
West Valley officer Austin Kimball, who worked with Brotherson for 2 ½ years doing patrol on graveyard shifts, fondly recalled both Brotherson's caring nature and his positive personality.
"My time with him was some of the best times of my life," he said. "He always made the best out of every situation."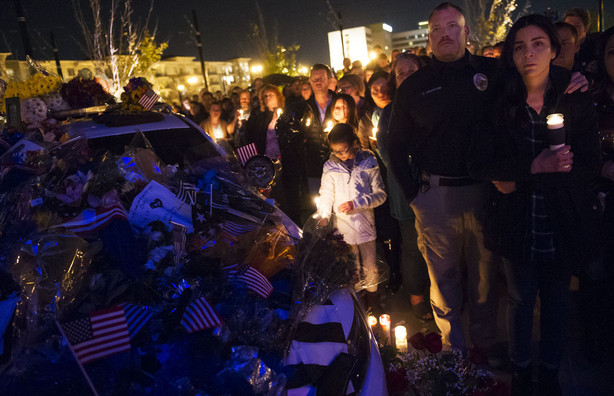 Kimball recalled Brotherson's love of cooking and taking ordinary food and turning it into something much better. He told the story of one night during a graveyard shift in which both were tired of eating at the same fast food restaurants, and Brotherson made deviled eggs from ingredients he collected at 7-Eleven.
"Sure enough, some of the best deviled eggs I've had," Kimball said.
Kimball worked with Brotherson on his final shift. Since Sunday, he says he has been replaying in his head all the conversations he had with him that night.
One of the calls Kimball and Brotherson responded to that night before the tragedy was a backyard karaoke party in which neighbors were complaining about the noise. The officers had to tell the group to keep the noise down.
But Kimball said because of Brotherson's good nature, he just watched and listened to them and allowed a singer to finish her song before stepping in.
Another example of Brotherson's caring nature is the time he came across a homeless person illegally sleeping in a city park with a campfire, Kimball said.
He told the man he had to be gone by morning. But Brotherson allowed the man to sleep there the rest of the night, and then went to his patrol car to bring him whatever food he had. He even apologized to the man for not having more food.
Jeff Brotherson also talking about his "sweet, loyal, funny and kind" son's love of mixing food together. Cody Brotherson was also a prankster and loved quoting movie lines that he thought pertained to him, his father said with a smile.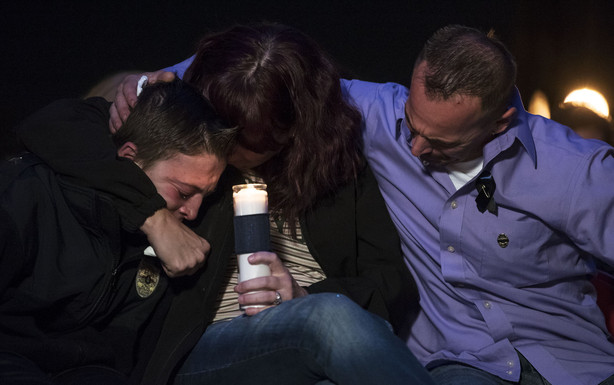 Those gathered at the vigil said Brotherson was a proud man. He was proud of his family and his fiancee, and he was proud to have fulfilled his lifelong dream of becoming a West Valley police officer, Jeff Brotherson said.
"Cody absolutely loved being on the force and making the city of West Valley safer for all of us," he said.
The Granger High School Madrigals performed "Who Are the Brave" and "The Star Spangled Banner" at Wednesday's vigil. Brotherson was a graduate of Granger High.
Later in program, West Valley officer Breianna Wolfgramm performed "Amazing Grace" with an acoustic guitar accompaniment. The version brought Brotherson's parents, his fiancee Jessica Le, and other friends and family members to tears. Many cried openly and got out of their seats to hug and console each other.
During his closing prayer, police chaplain Jerry Wellman noted that "a part of West Valley also died last Sunday," but that Brotherson's service "will never be forgotten."
A public viewing will be held 4-7 p.m. Sunday at Valley View Mortuary. Brotherson's funeral will be held at 10 a.m. Monday at the Maverik Center, 3200 S. Decker Lake Drive, with his interment to follow at the Valley View Cemetery.
Those wishing to donate to the Brotherson family to help with funeral expenses can do so at America First Credit Union locations. An account has been set up under Officer Cody Brotherson, account No. 9089772.
The Honor Network has been asked to bring The United States Honor Flag to Utah in honor of Brotherson. Those wishing to help pay for expenses can follow this link.
*KSL.com does not assure that the money deposited to the account will be applied for the benefit of the persons named as beneficiaries. If you are considering a deposit to the account, you should consult your own advisers and otherwise proceed at your own risk.
×
Photos
Related Stories