This archived news story is available only for your personal, non-commercial use. Information in the story may be outdated or superseded by additional information. Reading or replaying the story in its archived form does not constitute a republication of the story.
SALT LAKE CITY — Being a high-achieving woman in the world of technology or business requires intelligence, determination, grit and the unwavering belief that success is attainable.
"The seed of entrepreneurship begins with a dream, and one dream can transform a million realities," said Julie Hanna, Presidential Ambassador for Global Entrepreneurship.
She was the keynote speaker at the Women Tech Awards Thursday at the Grand America Hotel in Salt Lake City, presented by the Women Tech Council — a Utah-based nonprofit trade association that provides mentoring, visibility and networking for women in technology fields.
Born in Egypt, Hanna said her family fled civil wars in two countries — Jordan and Lebanon — before settling in the United States in the early 1970s. She said her experience as a refugee helped shape her world view and motivated her to pursue her dreams, which have led her to where she is today.
Hanna is a respected entrepreneur, investor and adviser to numerous Silicon Valley companies, as well as executive chairwoman of the board at Kiva — the world's first and largest crowdlending marketplace for global entrepreneurs.
She was founder and founding executive of several technology companies, including the world's largest healthcare portal, Healtheon — now WebMD, the first mass scale internet voice and data service, onebox.com — now OpenWave, Portola Communications and Scalix — the first open source email and collaboration software for businesses.
In May 2015, President Barack Obama appointed Hanna to her current post "to help develop the next generation of entrepreneurs." She said teaching women and children to dream can show them how to use entrepreneurship as a way to forge their own paths to the lives they want to achieve for themselves.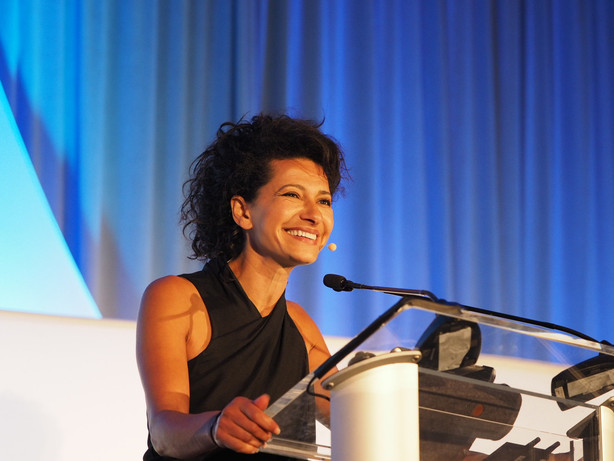 "The work I do around entrepreneurship is igniting the spark of possibility that you can create the future you want to live in," she said. "That can be a path rather then just getting a job. Whatever passion you have, whether it's born out of a sense of injustice or the relentless pursuit of a better way (to innovate), that (dream) is a possibility."
That message resonated with the audience of 900 people in the grand ballroom of the downtown venue.
Among the award recipients was Vicki Fish, vice president of dermatology at Myriad Genetics Laboratories, who was honored for leadership excellence. She is responsible for launching a gene expression testing procedure that aids in the diagnosis of melanoma — the most serious type of skin cancer.
She said being recognized with such an outstanding group of women was very humbling.
"You look at what these women have done and think, 'I'm not worthy,'" she said. "One of the most exciting things about (Women Tech Council) is the foundation that is being laid by these women for the future generations who are seeing how they are going to benefit from the path that has been laid for them."
×
Photos