Estimated read time: 7-8 minutes
This archived news story is available only for your personal, non-commercial use. Information in the story may be outdated or superseded by additional information. Reading or replaying the story in its archived form does not constitute a republication of the story.
THE GREAT OUTDOORS — With young children, it can be a trial just to get everyone loaded into the van for a trip to the grocery store. So it's understandable that many of us are overwhelmed by the prospect of taking the entire family on outdoor adventures.
But while outings are undeniably more difficult with kids, they can also be much more rewarding. The key is to prepare accordingly. Here are some outdoor products that might be worth checking out for your next adventure.
Durango Dog Company Roving Watering Bowl ========================================
PRICE: $58
GRADE: A
When you have family members of the four-legged variety, there are entirely different products to consider for an outing. The Roving Water Bowl, which was featured at this year's Outdoor Retailer show, is one such product.
Essentially, it replaces the need to bring a plastic watering bowl for your pet to drink from. The Roving Watering Bowl is a cross-body pack with a waterproof, welded liner with rugged canvas construction. Inside the pack is a reusable water bottle. When your dog is thirsty, you open the pack up and pour some water into the basin.
The pack also has storage on the outside for a cellphone, keys, dog treats and more. There's even an integrated pouch for pet waste bags. One final feature is that the strap on the bowl is detachable, meaning that in a pinch, you can use it as a leash for your dog.
Deuter Kid Comfort 2 Carrier ============================
PRICE: $249
GRADE: A-
Most kids love riding on their parent's back or shoulders. But that can get uncomfortable for both parties after an hour or two. A child-carrying pack is the perfect solution, as it maintains much of the same experience, without the sore muscles.
The Kid Comfort 2 strives to be everything you need in a child carrier. No, it's not the sleekest pack out there. But it's incredibly comfortable and delivers all kinds of features to help you stay comfortable on an extended trek.
For starters, the height and width of the seat are adjustable, helping your child have a more enjoyable ride. You can even adjust on the fly, with them already in the pack. The footrests are also adjustable.
The Kid Comfort 2 has an adjustable back system that's designed with airflow in mind and the hollow chamber foam is quite breathable. There are also abundant storage options. And there's a large (washable) chin pad for when your child wants to rest with their head forward.
Coghlan's Pop-up Recycle Bin ============================
PRICE: Varies by retailer
GRADE: A
The trash situation can often go badly on a family camping trip. Initially, you might use an extra grocery bag, but when that's full, garbage seems to migrate to other areas. Before you know it, your kids are burning their plastic utensils in the fire and ominous smoke fills the air.
This collapsible recycle bin solves that problem for you. It folds up small for storage, but has plenty of capacity once you open it up. It's made from tear-resistant polyethylene, with an interior spring that is strong enough to keep it sturdy. There's also a zippered lid, so you can keep trash in its place and pests out.
This can be a really handy addition for any campsite, cabin or RV. And despite its name, it can obviously be used for either regular trash or recyclables.
Thule Urban Glide 2 Stroller ============================
PRICE: Varies by retailer
GRADE: A-
Thule products usually stand out because of their precision components. They're lean, mean machines. This is unsurprising, considering the company was born in Sweden, which is known for its efficient design techniques. In fact, the company is still based in Malmö, Sweden.
The Urban Glide 2 is a great addition to the Thule line. It's surprisingly agile for a double stroller. Where many doubles are difficult to maneuver, this one turns on a dime. Of course, because it's a side-by-side, it's still quite wide. So you won't want to take it into a china shop with narrow aisles.
The Urban Glide 2 has a swivel wheel up front that can be locked for jogging. The handlebar is adjustable and can easily accommodate tall parents. The rear suspension delivers an impressively smooth ride. The seats can recline to a flat position, so your little ones can comfortably nap while on the go.
One area this stroller really shines is its folding for storage. It's truly a one-handed operation. And once folded, it can stand upright without support. So transporting and storing it is a breeze.
KEEN Joey Kid's Shoe ====================
PRICE: $53
GRADE: A-
When you're on a family outing around water or harsh terrain, it's easy for young ones (especially toddlers) to lose their footing and risk injury. So at times like these, sturdy footwear can really work wonders.
There are some great shoe options from KEEN, with the Joey being a prime example. It's got a non-marking rubber outsole that delivers excellent traction. And just as importantly, the shoe's upper gives your child stability. It's got breathable mesh lining, elastic lacing and a removable footbed.
These shoes are also designed well for toddlers' feet, which are often chubbier than older children's. They've got a roomy design and are easy to adjust because of the oversized Velcro strap.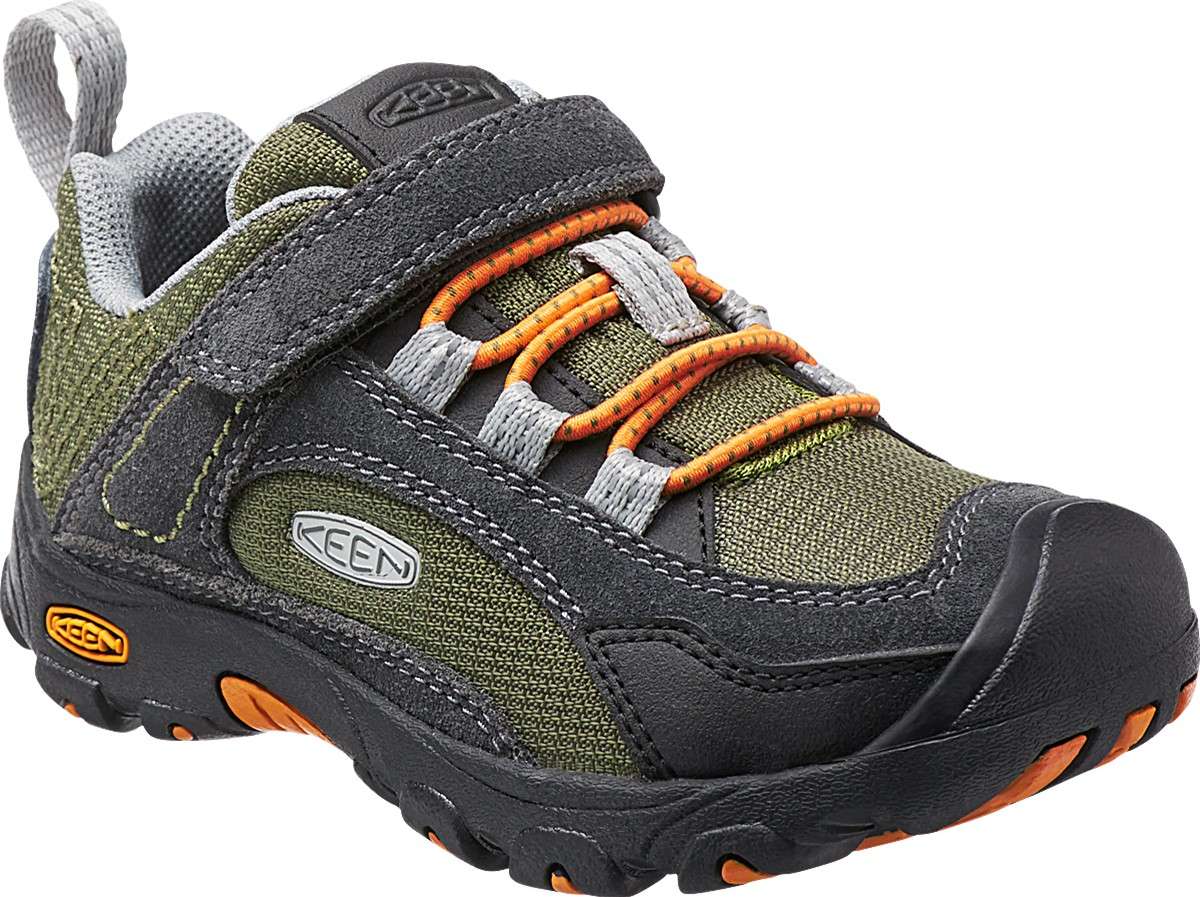 Burley Cub Bike Trailer =======================
PRICE: $699
GRADE: A
Burley trailers are some of the sleekest and safest trailers on the market. The Cub is no exception. It's built for harsh conditions, meaning you can take it on terrain that would shake the bolts off other trailers. It has a double-walled, molded bottom for added durability, and the adjustable suspension system actually works, unlike some systems that are more for looks than anything else.
One of my favorite features on Burley trailers are the harnesses with Spring Integrated Technology. Basically, the straps are always open and at the ready. So when you put your child into the trailer, you merely have to buckle them in, rather than needing to fish around for the straps underneath them.
The Cub can accommodate riders up to 100 pounds. Comfort is the name of the game here, with bowed-out sides for extra shoulder room, an adjustable sunshade, adjustable seatback and tinted windows. Water-resistant zippers also provide added protection from foul weather.
The Cub is impressively versatile. If you get the optional accessories, you can use it as a jogging stroller or even a sleigh in the winter. And by collapsing the seat down, you can convert it into a spacious cargo trailer.
What are your favorite family outdoor products? Let us know in the comments.
---
×
Photos
Most recent Utah stories