This archived news story is available only for your personal, non-commercial use. Information in the story may be outdated or superseded by additional information. Reading or replaying the story in its archived form does not constitute a republication of the story.
WEST JORDAN — One-hundred years ago, a loaf of bread cost 7 cents, the average price of a car was $400, and a quart of milk could be purchased for 9 cents, according to census data.
That was 1916 — the year Celia Jensen was born.
"It's a whole new world," the 100-year-old Utah woman said. "When I was young, I couldn't imagine what things would be like now. Now I wonder, how much different will the young kids know when they're my age?"
On Friday, Jensen traveled from Gunnison to attend a luncheon hosted by Gov. Gary Herbert to celebrate Utah's centenarians at the Viridian Event Center.
Fifty-four of Utah's 140 statewide centenarians attended the 30th annual Centenarian Celebration.
"We're not just here to celebrate your birthday. We're here to celebrate your life," Herbert told the attendees. "You've been so impressive. I can hardly wait to see what you're going to do with your next 100 years."
The governor and his wife, Jeanette, ate with the oldest woman attending the event, 107-year-old Beatrice Payne, of Provo, and her family.
Glenn Winegar was the oldest man at the event. The Sandy resident turned 104 on Aug. 4.
"It's great to be a 104," he said. "I'm surprised (to feel) as good as I feel. I don't do anything, but I feel good about it."
Winegar lives in his own home, his daughter Kayla Shuee said. Shuee and her twin sister live close by to offer care.
But Winegar mostly takes care of himself. Until last year, he cut his own grass on a riding lawn mower.
"I had good, clean bringing up. Good family," he said. "We all got along fine. I never remember an argument in our family. I really don't."
Jensen said she remembers hauling water for cooking and working without electricity on her family's farm. The only two people in town who owned a car was the doctor and the midwife, she said.
"To go from walking wherever you went or with horse and buggy, to seeing a man on the moon, it's quite a difference," Jensen said. "I don't see how there can be much improvement from now on as there has been, but who knows?"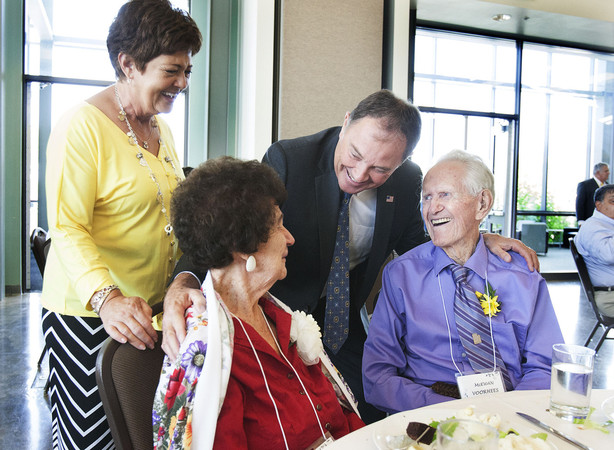 According to census data, the average life expectancy in the early 1900s was less than 50 years old. Today, average life expectancy in North America is roughly 80 years old.
"I feel this way about the whole thing: You will live long if you have a good family," said Mary Kawakami, 103, of American Fork. "If you have good food and a good attitude and a good family, everything is going to be good for you."
In honor of the event, the governor declared Aug. 19 as Centenarians Day in Utah.
"Here are people who have had 100 years of experience, going through multiple wars, economic recessions, ups and downs of life, and yet here they are," Herbert said. "We ought to spend more time listening to our senior citizens."
* * *
Want to live to 100?
Here's some advice from Utah centenarians:
Celia Jensen, of Gunnison, 100: "One day at a time. Work hard. When I was a kid, I thinned beets."
Glenn Winegar, of Sandy, 104: "Live a clean life. Be active in the community and church."
Beatrice Payne, of Provo, 107: "Just live a good life."
Ruth Conger, of Cottonwood Heights, 100: "Go as long as you can."
Mary Kawakami, of American Fork, 103: "Have a big, good family. And nurture it. Take care of it."
For the life stories of each 2016 Utah centenarian, visit the online yearbook at daas.utah.gov/pdf/2015-yearbook.pdf. Email: astilson@deseretnews.com
×
Photos