Estimated read time: 2-3 minutes
This archived news story is available only for your personal, non-commercial use. Information in the story may be outdated or superseded by additional information. Reading or replaying the story in its archived form does not constitute a republication of the story.
MANTI — In a small corner of her modest home, Kaziah Hancock spends her days painting the faces of men in uniform she has never met.
The Manti woman pays close attention to detail to help memorialize officers who died in the line of duty. She hopes her talents as a painter can help bring a little peace to the fallen officers' families.
"He was shot in San Diego, California — the latest act of terrorism on our policemen," Hancock said while working on a portrait of San Diego police officer Jonathan M. DeGuzman, who died July 28.
DeGuzman had been on the force for 16 years and is survived by his wife and two children, according to the Officer Down Memorial Page.
Hancock has already finished paintings of the officers killed last month in Dallas and Baton Rouge. Sadly, she says she has to work hard just to keep up.
"Well if I can try to do one in a day, I feel pretty good," she said.
She paints her works of art at no charge, even absorbing the cost of materials herself. She ships them to the officers' police departments — sometimes receiving a "thank you," which she says makes it all worth it.
Hancock started painting fallen soldiers 13 years ago when the Iraq war began. Her work for military families has been nationally recognized. When you count members of the military along with fallen law enforcement officers, she has now painted 1,645 "heroes," as part of Project Compassion.
With three other artists in her nonprofit organization, heropaintings.com, they have painted over 3,000 portraits.
"This I do for compassion," she said, looking at one of the officer's portraits. "The rest I do for a living — to feed my dog."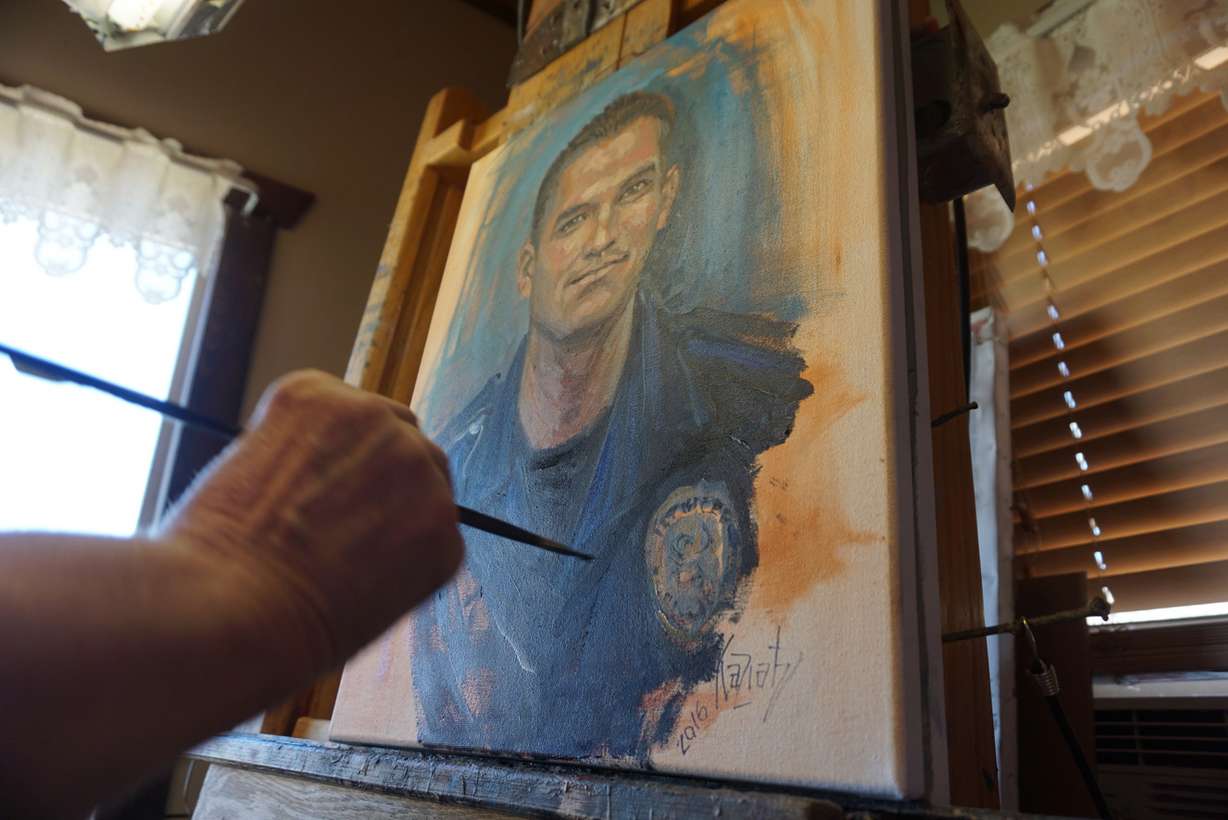 Other types of paintings she has made and sells can be seen at kaziahthegoatwoman.com.
But the fallen police officers and works of art are not for sale, hoping that her artistic abilities will help the officers' families to heal.
"Whatever I have lost, I haven't lost a son, I haven't lost my husband, the father of all my kids," she said.
Anyone who would like to support Project Compassion can send a donation to: Project Compassion, P.O. Box 153, Manti, UT 84642.
Contributing: Viviane Vo-Duc
×
Photos
Related stories
Most recent Utah stories