Estimated read time: 3-4 minutes
This archived news story is available only for your personal, non-commercial use. Information in the story may be outdated or superseded by additional information. Reading or replaying the story in its archived form does not constitute a republication of the story.
CEDAR CITY - State wildlife officers raced Monday to remove fish from a small creek northeast of Beaver as a lightning-caused wildfire loomed on the hillside above them.
The Briggs Fire is burning on a ridge above Briggs Creek in the Fishlake National Forest. It was discovered last Tuesday and has since spread over 300 acres.
While it might seem odd to worry about fish in a wildfire, the Utah Division of Wildlife Resources was concerned because Briggs Creek is home to a valuable population of Bonneville Cutthroat Trout.
"The fire can get intense enough to heat up the water and cause problems for the fish," said DWR southern region fisheries biologist Mike Hadley.
A bigger risk arises though once fires are extinguished.
"We see a lot of vegetation burned off the landscape and then when a rainstorm comes in after that, which happens quite often in late summer, we see some flooding," Hadley said.
That's a problem because ash from the burn scar might reduce oxygen levels in the water, choking out the fish. Rapid floodwaters might also hit with enough force to kill the fish outright.
Carrying the cutthroats to safety wasn't without risk, however.
"We had to get special permission from the Forest Service to go in there and do this. They were very concerned about our safety," Hadley said. "They had people up on the ridge watching the fire and keeping in contact with us on the radio."
Wearing waders and carrying electric shock rods, the wildlife workers first stunned the fish. They then used nets to scoop 140 of them into buckets.
The next challenge was getting the captured fish out of the rugged canyon.
Briggs Creek is a tributary of the South Fork of North Creek. It's area accessed by a trail popular with hunters. The biologists put the cutthroats into special saddle bags. Horses then carried them a few miles upstream from Briggs Creek, where they were dropped into the South Fork of North Creek.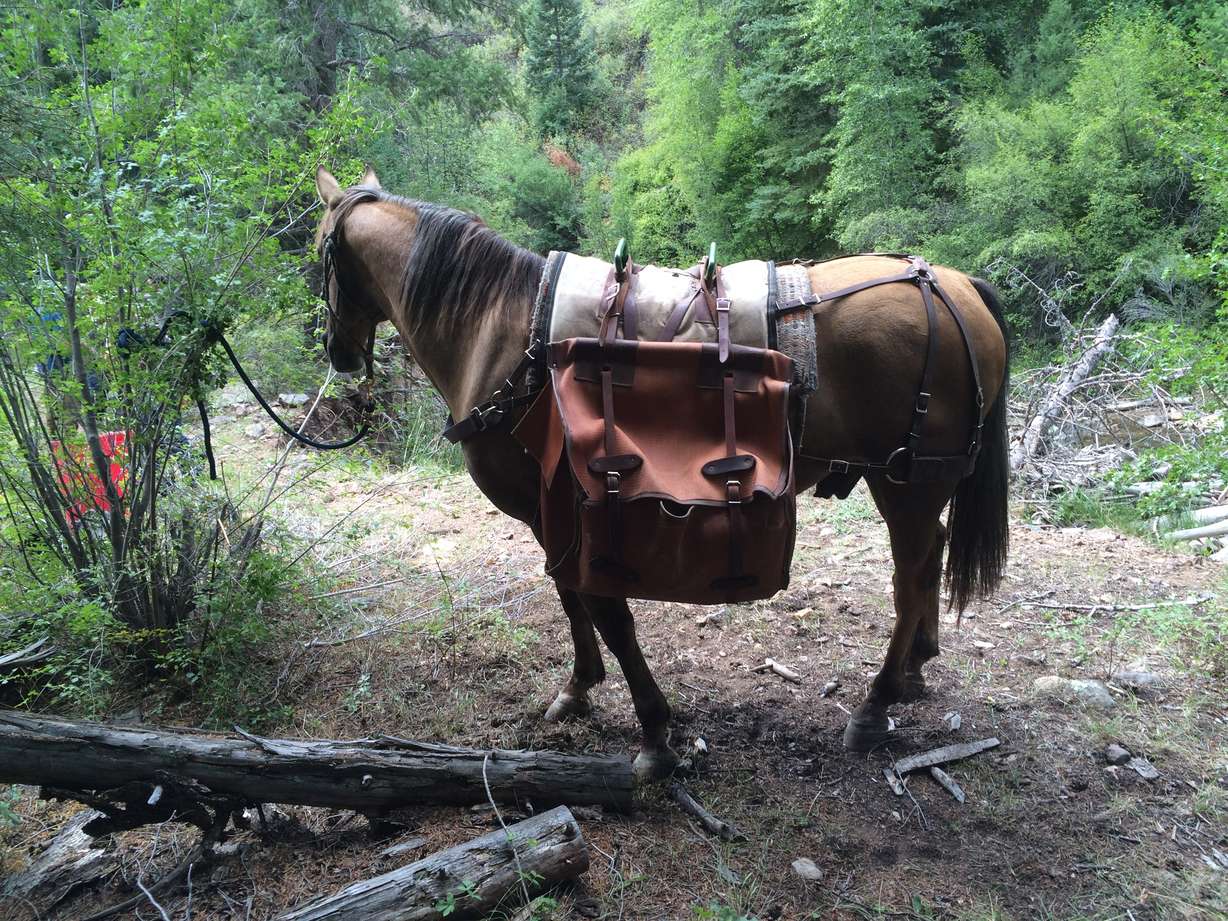 "We were planning on restoring Bonneville Cutthroat Trout in this stream anyway," Hadley said. "It just sped up the process."
Bonneville Cutthroat Trout were once found in waters all across the state. By the 1970s, competition from non-native species had caused their numbers to dwindle.
Normally, wildlife officers are not able to rescue fish from the path of wildfires because of environmental concerns. Relocated fish need to be tested for diseases and the waterways to host them need to be cleared of those non-native species.
In this case, that work had already been done. DWR previously treated the upper reaches of the South Fork of North Creek with rotenone, eliminating a population of Rainbow Trout there. That means the cutthroats will not face competition in their new home.
"It's a bigger stream so they can actually expand out into larger numbers," Hadley said.
Some may also be returned to Briggs Creek, once the wildfire danger has passed.
Increasing Bonneville Cutthroat Trout numbers is a key goal for wildlife managers. They are one of only four trout subspecies native to Utah and are also the state's official fish.
"There was a time when they were thought to be extinct," Hadley said. "We've been putting a lot of work into restoring them so that they can be kept off the threatened and endangered species list."
×
Photos
Most recent Utah stories