Estimated read time: 3-4 minutes
This archived news story is available only for your personal, non-commercial use. Information in the story may be outdated or superseded by additional information. Reading or replaying the story in its archived form does not constitute a republication of the story.
If you think you have an interesting "Today's Woman" topic, you can contact Madsen at cmadsen@ksl.com. A Utah woman who satirizes the Mormon mom blogging community has amassed quite a following, including moms who blog and a lot of people who cringe at the sight of them.
The blog "Seriously, So Blessed!" describes the super sweet adventures of newlywed TAMN (an acronym for Tiffany/Amber/Megan/Nicole.) She's living the dream in Utah with the perfect husband. She loves pedicures, scrapbooking and is a Bunco fanatic. TAMN's also preggers, as in pregnant, and is completely made up.
The woman who created her is now laughing all the way to the bank, seriously! The blog creator said, "I just made it as a little joke thinking I'd post once or twice and my friends could laugh about it."
The first blog entry was forwarded to a few friends on June 14. Two months later, 5,000 people a day are reading about TAMN's over-the-top, fabulously clean life that is uncannily familiar. "I think that's why most people are laughing because they recognize themselves and a lot of people they know," the blogger says.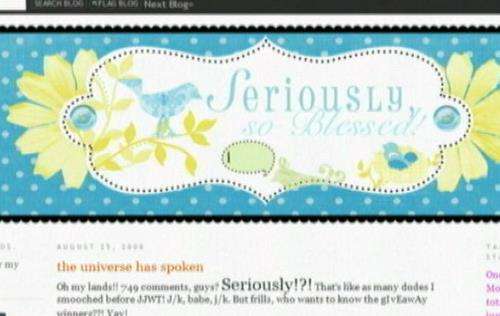 Using lots of exclamation points, smiley faces and acronyms, TAMN writes about everything from her date nights with her darling hubby to the church talk she swiped off the Internet. And she constantly flaunts her own cuteness. "She also loves just being a babe. She's very pretty and very skinny. She loves her manis and her pedis," the blogger told us.
But the big question all the readers really want to know is who is the mastermind behind TAMN? She revealed a few facts, saying, "I am a relatively new mom and in grad school. I do love Café Rio, and I'm trying to get off Diet Coke a lot of the time."
She's also 25 and a returned missionary, but that's as much as she wants to reveal. She's having too much fun with her anonymity. Her own friends don't know about her alter-ego. "I've gotten some hate E-mails that say I must be really fat or I must be really bitter, but, overall, people appreciate the laughs," she said.
Apparently they do. In the short time it's been posted, Seriously, So Blessed has received close to 250,000 hits. Local businesses are now paying up to $300 a month for ad space. "It's a pretty good target audience for a lot of different little products. It's been fun. It's going well. It's really starting to take off, which has been neat," she said.
Besides the advertising revenue, Seriously, So Blessed! Is also starting to generate a profit from TAMN's line of T-shirts and bumper stickers. The self-proclaimed Mo-prah even has giveaways.
"The comments, as most readers will tell you, are basically the best part. My readers are hilarious. It's kind of a little community," the blogger said.
Not bad for something that started out as a joke.
"It's fun. It's busy, but it's a good outlet for me," she said. If you want to check out Seriously, So Blessed! click on the related link to the right of the story.
×
Related links
Most recent Utah stories