Estimated read time: 3-4 minutes
This archived news story is available only for your personal, non-commercial use. Information in the story may be outdated or superseded by additional information. Reading or replaying the story in its archived form does not constitute a republication of the story.
SALT LAKE CITY — Exhilarating is the one word Robbie Preece uses to describe his new Salt Lake City touring business. It's the same word people use to describe his tours.
Why? Because Preece takes locals and tourists around the city on Segways.
"I love seeing everyone's faces as we drive by," Preece said. "It makes my day."
Ringing a little bell on his candy cane-striped Segway, the 32-year-old owner waves to everyone he passes on a tour.
"It's that much more unique because it's on something that people have never really maybe tried out before," he said. "Honestly, who's ever ridden a Segway before? They're so niche."
His business, Salt City Rollers LLC, launched its first Segway tour earlier this month during the Outdoor Retailer convention. He offers daily tours Monday through Saturday until November.
"We have a great opportunity to showcase really vibrant parts of Salt Lake City to people who might otherwise not see them," Preece said.
With the tagline "That's how we roll," the tours cover natural, culinary, historical and cultural sites in downtown Salt Lake City.
"Nobody is doing Segway tours in Salt Lake City," Preece said. "What better business to run than one in which there is no competition and that is something visitors expect to be in a town?"
Preece is the sole operator of the business. He moved from Hawaii to Salt Lake City in 2002 to attend college but he didn't expect to stay long.
"Salt Lake City just captivated me," he said. "I fell in love with the town."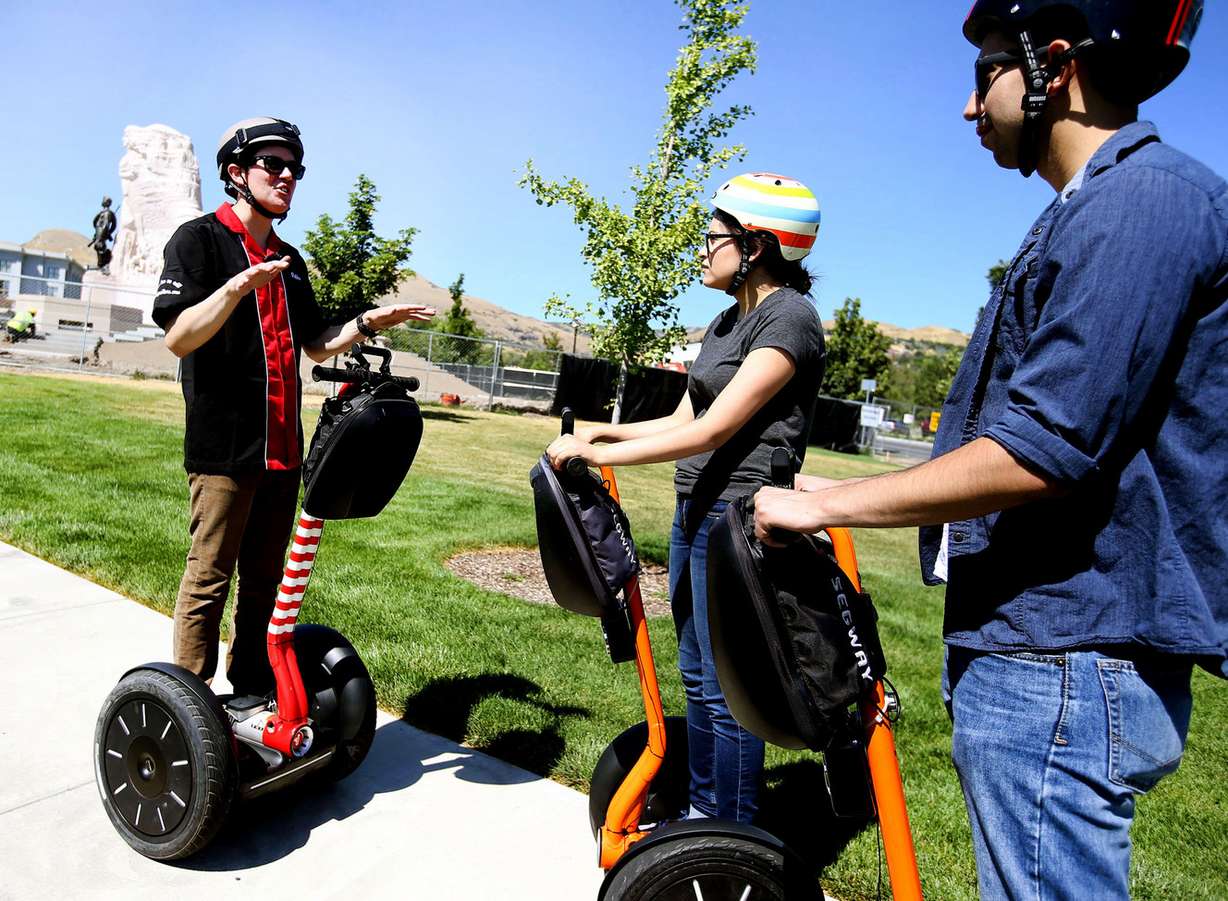 His parents gave him the idea to start a touring business after growing up in Hawaii. Preece mulled over the idea of opening a Segway touring company for the past two years.
"I was determined to be able to offer as good a tour as any other tour company in town," he said.
Salt City Rollers offers three 90-minute tours every day at 10 a.m., 1 and 7 p.m.
The morning tour, the Holy Roller, explores the history of the city. Riders visit sites like the Cathedral of the Madeleine, Pioneer Memorial Museum and Temple Square.
The afternoon tour, the High Roller, takes visitors around urban and rural spots in Salt Lake City. Riders travel to the mouth of City Creek Canyon and around Capitol Hill to see the city's skyline.
"That's one of the things we highlight in the tour, the thing that kept me here in town, and that is the proximity of nature and urban. It's just something that you don't get anywhere else," Preece said.
He expects the evening tour, the Sunset Express, will be the most popular tour with local residents for dates and group activities. The route mirrors the High Roller tour and visitors can watch the sunset.
"It was really something I thought my neighbors would love," Preece said about the tour.
Each tour costs $49 per person and hosts up to four people.
"We're keeping everything small on purpose," Preece said. "Everybody seems to benefit when tours are kept small and personalized."
Jessica Miranda and Adrian Luna went on a short tour around Capitol Hill Thursday.
"I was super scared, but like Robbie said, it's really easy to ride," Miranda said. "It looks hard but it's really fun."
Riders use the bike lanes around the city, sometimes veering on sidewalks to get a better view of city sites.
"At first you think it's going to be hard, but in the first two minutes, all you have to know is how to stand," Luna said. "Then you're automatically a pro. That's all there is to it." Email: astilson@deseretnews.com
×
Photos
Most recent Utah stories