This archived news story is available only for your personal, non-commercial use. Information in the story may be outdated or superseded by additional information. Reading or replaying the story in its archived form does not constitute a republication of the story.
SARATOGA SPRINGS — Police are looking for an alleged kidnapper after a 9-year-old boy reported he was able to escape the truck of a man who tried to abduct him Tuesday evening.
The incident began around 7 p.m. near 1300 N. Willowbrook Lane while the boy was walking near his home, according to Saratoga Springs Police Chief Andrew Burton.
The man forced the boy into his truck and began driving, Burton said. The man drove to a location behind a Smith's grocery store a half-mile away, 1320 N. Redwood Road, at which point the boy unlocked a door, jumped out of the truck and began running, he said.
The boy called his stepfather, Jimmy Green, for help using a GizmoGadget he was wearing, Burton said. Green quickly arrived at the store, where he found his frantic son.
Green said the boy appeared "scared out of his own skin."
"I'm really impressed that he was able to function and keep his wits about him," he said.
The boy had called Green after escaping the truck. He said Tuesday that he was afraid he "wouldn't see my family ever again."
The boy said he was walking along the sidewalk when the kidnapper approached him and forcibly threw him into the truck.
"He just picked me up and said, 'You're coming with me, little boy," he said.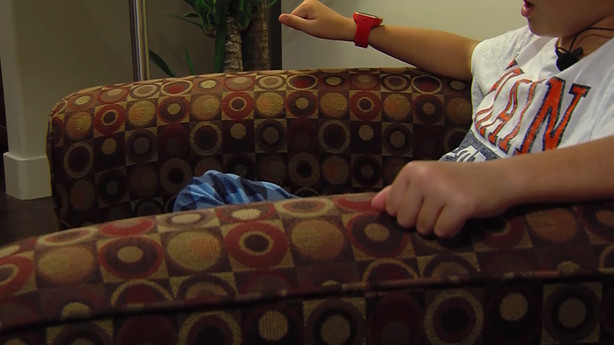 The truck was moving at a "pretty fast speed" when he jumped out, the boy said, but it was "more important to see my family" than to avoid injury. After he jumped out, he started running and called his stepdad with his watch.
"(The driver) didn't even notice, but then he looked back. … I just didn't want him to see me or get kidnapped again," the boy said.
The boy said his parents had prepared him to react if he ever found himself with a stranger wanting to keep him away. He said he was grateful that he was able to use his watch to call his family.
Green said he was stunned that his son could be kidnapped in Saratoga Springs, which he considers an exceptionally safe area. But he's relieved that the boy is safe and that police are working hard on the case.
"We're just glad that he's back," Green said.
The boy told police the man has tan skin, shoulder-length dark hair and a goatee. The man's vehicle is described as a tan or light brown 1990s model Chevrolet Tahoe.
Police have so far identified no reason not to believe the boy's account, Burton said.
Anyone with any information about this incident can contact Saratoga Springs police by calling 801-851-4050.
×
Photos