This archived news story is available only for your personal, non-commercial use. Information in the story may be outdated or superseded by additional information. Reading or replaying the story in its archived form does not constitute a republication of the story.
MIDVALE — Kenny Lopez says he is living through the worst kind of nightmare.
"I woke up earlier today thinking this was just a dream, and I came down here and I had to face reality that my baby brother and sister are gone. … It was over some stupid reason for them to die," Lopez said.
Lopez and others are reeling after Jose Izazaga, 16, and his sister, Abril Izazaga, 15, were shot and killed late Wednesday night. Unified police say the siblings were shot during an argument over a shirt in what the agency described as "senseless" killings.
Unified police also confirmed Thursday evening that the suspected shooter was been arrested.
Jose and Abril were shot multiple times at close range because of a dispute that apparently started over money owed for the shirt, said Unified Police Lt. Lex Bell.
"The loss of two young lives over an argument that involved a small amount of money, there's no way of looking at that and not thinking it's ridiculous and ludicrous," he said.
The incident happened about 10:50 p.m. at a condominium complex at 759 W. 7720 South.
A man arrived with a "smaller group" to confront Abril, Bell said.
The girl was arguing with the man over a shirt, possibly over money owed, Bell said. When the man began getting rough with Abril, Jose came out with a knife to defend her.
That's when a friend of the man went running up to them with a gun and shot them both at close range, Bell said.
Abril was declared dead at the scene. Jose died while en route to a hospital.
After 2 a.m., the man who was initially arguing with Abril turned himself in to police, Bell said. The man was being interviewed by detectives Thursday morning. His name was not immediately released.
Family thanking police for the arrest #Utahpic.twitter.com/PiQpJGzRnH

— Andrew Adams (@AndrewAdamsKSL) July 7, 2016
The alleged shooter was arrested later Thursday, according to Bell. The lieutenant said the man is about 30 years old, and the teens' family didn't know him. Police did not release the man's name Thursday.
Tearful family members of Jose and Abril could be seen embracing Bell after learning there was an arrest.
"We're glad that we were able to get him into custody this quickly," Bell said. "That was really awesome to be able to do — to tell them, 'Look, we've got the guy in custody.'"
Investigators can now focus more on the other circumstances of the case, Bell said.
"There are search warrants, items of evidence that we need to continue to look for. … Now we will move toward building the case," he said.
Earlier Thursday, Bell described the mother of the two teenagers as an "emotional wreck."
"She's beside herself," he said.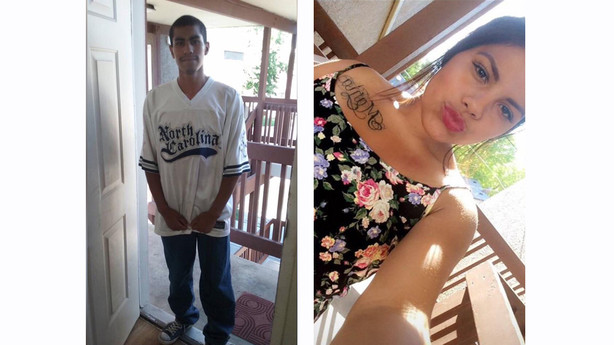 Outside the condominium complex Thursday, friends and family members created a makeshift memorial of candles, flowers and a cross.
Some also brought birthday balloons to the memorial. Jose would have turned 17 on Friday, and Abril would have celebrated her 16th birthday next week, according to family members.
"To me, it's unbelievable. I just can't believe it," said neighbor Silvana Torres. "I just saw (Abril) before I left to work."
At a vigil held for the teens Thursday night, more than 200 mourners lit candles, recited prayers and placed flowers at the memorial. Family members set out other objects to remember them by, including a baseball cap and a pair of shoes.
"They love all of us," Lopez told the crowd that had gathered. "I know they're watching over all of us right now."
Ryan Parache said he met Abril in middle school. He didn't know Jose well but said when the brother and sister were together, he remembers them "together, talking, laughing."
"Their personalities were great. They loved life," Parache said.
Abril and Jose were always positive and didn't let life's ups and downs affect the way they treated others, he said.
Jessica Urbina also knew Abril from school. She said her friend was giving and positive.
"She was a very happy person. She had really a lot of friends," Urbina said through fits of tears. "If you asked her for a favor, she'd do it for you."
Urbina said it was clear from Abril's relationship with her brother that her family came first.
"The way she acted with her family … you could tell she really cared about every one of them," she said.
Those who wish to donate to the victims' family can do so at any Wells Fargo Bank branch using the Benefit Memorial Fund for Abril Izazaga and Jose Izazaga account.*
Contributing: Ben Lockhart, Shara Park, Nicole Vowell, Andrew Adams
---
*KSL.com does not assure that the money deposited to the account will be applied for the benefit of the persons named as beneficiaries. If you are considering a deposit to the account, you should consult your own advisors and otherwise proceed at your own risk.
×
Photos
Related Stories