Estimated read time: 3-4 minutes
This archived news story is available only for your personal, non-commercial use. Information in the story may be outdated or superseded by additional information. Reading or replaying the story in its archived form does not constitute a republication of the story.
Utahns this weekend will get a rare chance to glimpse a piece of American history. An original copy of the Declaration of Independence is on display at the Utah State Capitol.
Hundreds of people crowded the Capitol to view the historic document today. This original copy of the Declaration of Independence is one of only 25 remaining Dunlap broadsides printed the evening of July 4, 1776.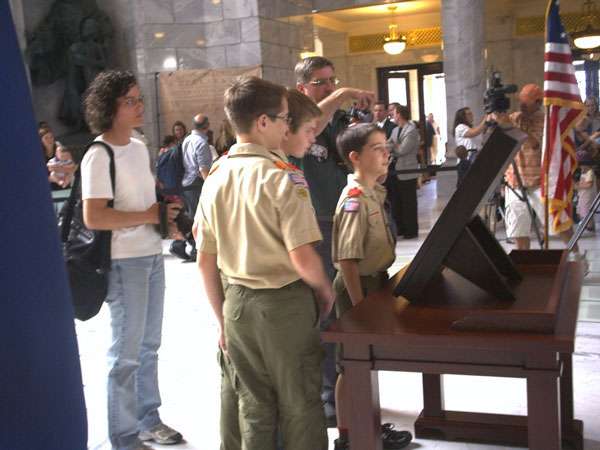 Historian Mike Winder said, "It was those very copies that went to Washington and his troops to be read, and went to King George, to King George the Third to say, 'Hey, we're our own country.'"
The document in the national archives was actually made several weeks later. Cricket Communications and Declare Yourself, an initiative to register voters, put together a national tour of 17 cities so families could get a good look at it.
Some young people scrambled up the Capitol steps to get in line to get a view of the document. Others, like Francis Dupaix, used a cane. The sight moved the World War II veteran to tears. He said, "It's at our country. Where would we be?"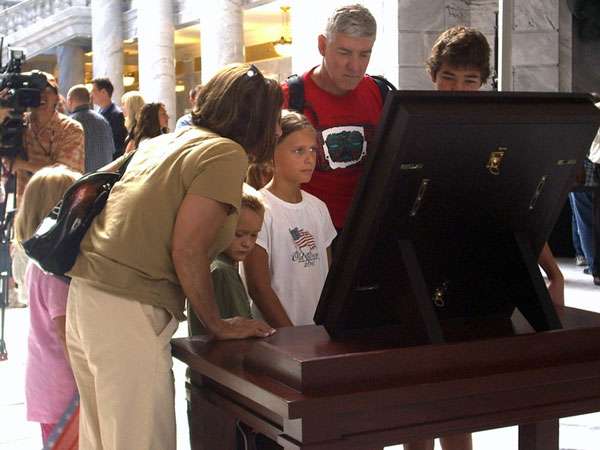 Richard Moore came to see it. He said, "Piece of history. Didn't want to miss it."
Another visitor, Melodie Moore, said, "My parents took me to see it in '76, but I was only three years old, so I think this is my first time seeing the Declaration."
A youngster got a glimpse at some 230-year-old penmanship. He said, "They make their S's funny. They look like F's." Another, younger boy said he knows the document is important, though he admits he doesn't know exactly why.
From what the historians can tell us, it's quite likely that when this document was printed, Ben Franklin was supervising, and Thomas Jefferson was not far away. Winder said, "We know that the drafting committee of Franklin, Adams and Jefferson were personally supervising the printing of the original you'll see here. So, it truly is shaking hands with history."
A Philadelphia man bought a $4 frame he liked at a flea market and found the document tucked behind a picture. He sold it for $2.4 million in 1991. TV producer Norman Lear bought the copy for $8.4 million at an auction.
Attorney General Mark Shurtleff hopes all who view it appreciate the sacrifices made by those who signed it. "Knowing full well what they were doing, that a simple declaration wasn't going to be enough, that they were going to have to fight, and bleed and die for what they were doing that day," he said.
The document will be on display from 10 a.m. to 5 p.m. today and 10 a.m. to 8 p.m. on Saturday.
Admission is free. It's also a great time to see the recently renovated Capitol, if you haven't done that.
The tour is part of a voter-registration drive. You can find more information on that by clicking on the related link to the right of the story.
The document goes to Denver next for the Democratic National Convention, then on to Minneapolis-St. Paul for the Republican National Convention.
E-mail: jboal@ksl.com
E-mail: mgiauque@ksl.com
×
Related links
Most recent Utah stories