Estimated read time: 3-4 minutes
This archived news story is available only for your personal, non-commercial use. Information in the story may be outdated or superseded by additional information. Reading or replaying the story in its archived form does not constitute a republication of the story.
MAGNA — They say talk is cheap. Not for 7-year-old MacKenzie Winn who works hard for every word. She practiced for 2 1/2 years just to learn to say her name.
Bright and loving, MacKenzie never babbled like most babies do. Her parents, who live in Magna, noticed something was wrong at 14 months, and speech therapists diagnosed her at age 2. She has childhood apraxia of speech, or CAS. It's the most severe neurological speech disorder there is, doctors say.
"I was devastated," said Trina Winn, MacKenzie's mother. "I just remember looking at my friend, crying, saying, 'I'm never going to hear her talk.' I'm like, 'I'm never gonna hear those sweet little words that every parent longs to hear.'"
MacKenzie understands everything and knows how she wants to respond, but she can't.
"It's really, really frustrating, and then you feel horrible as a parent because you should be able to understand your child but you just don't," Winn said.
The symptoms include inconsistent sound errors of both consonants and vowels, and difficulty creating a flow of speech that's smooth and continuous. Kids like MacKenzie also have more errors and struggle as the length and complexity of speech increases.
"What's it like when people can't understand you," Winn asked her daughter. "Bad," MacKenzie answered.
MacKenzie rolled the dice on the game board at her therapist's home office in Olympus Cove, where she goes to speech therapy once a week. Her therapist sets high goals, and MacKenzie forms sounds and words. She receives game pieces as a reward.
"Kids with other speech disorders tend to make progress much more quickly, whereas with apraxia, the progress is slower," said Andrea Lobb, speech language pathologist.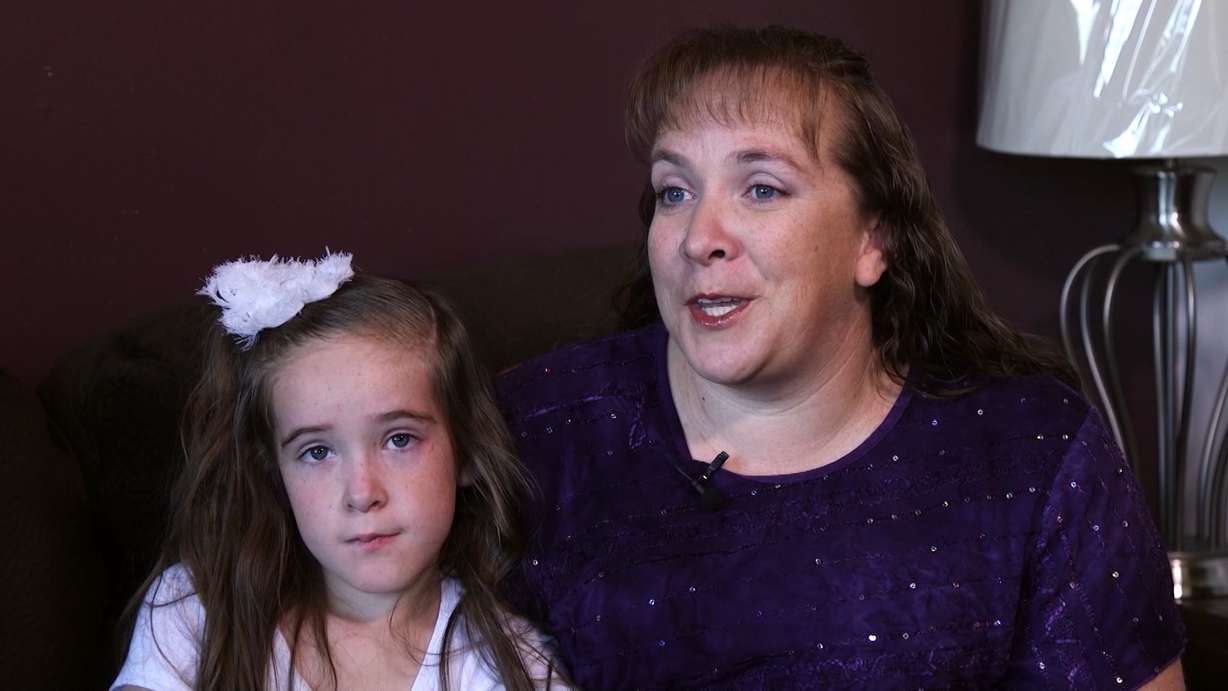 Lobb said early intervention is key. At therapy, they try to make a pathway, like a hiker, so her brain can form words.
"Kids with apraxia have a hard time planning the motor movements to produce speech," she said. "It's not that they don't know what they want to say. It's not that their speech muscles don't have the strength to do it. It's that there's a disconnect in their ability to plan the movement."
Her progress is slow and steady. As a second-grader, she now has the vocabulary of a 3-or 4-year-old. But without therapy, she may never have uttered the simple word, mom.
"When she first said 'mom,' it was the most beautiful sound on earth," Winn said. "It was the most beautiful sound I've ever heard because it had been a couple-year process in the making."
Her therapist is hopeful one day MacKenzie will become completely verbal. Lobb stood next to a framed printout of MacKenzie saying Lobb's name for the first time.
"It was just really special when she gave that to me as a gift," she said. "All of the ups and downs here represent one of the consonants or vowels in my name so you can see that it's 'Andrea.'"
They say talk is cheap, but MacKenzie and her mom disagree. "Every word, every sentence, every sound is such a victory," Winn said.
The walk to support kids with CAS is on Aug. 6 at 8:30 a.m. at Liberty Park. To contact Andrea Lobb with questions call 801-694-0300.
×
Photos