This archived news story is available only for your personal, non-commercial use. Information in the story may be outdated or superseded by additional information. Reading or replaying the story in its archived form does not constitute a republication of the story.
DRAPER — Lance Rylander was a sophomore in high school when he became a father.
In an instant, his responsibilities expanded beyond those of his peers, beyond going to class and getting homework done. So in an effort to take care of his new family, Rylander started attending night school and working during the day.
The workload quickly became more than the 16-year-old could carry, and he eventually quit school altogether. He took any job he could find — he joined the military; he traveled the country as a door-to-door salesman, visiting all 48 states in seven years. Still, it wasn't enough to keep his family together and taken care of.
One day, the realization of what life might have been like had he stayed in school hit him as it had many times before when he had to ask his kids how to set up a TV.
"Without an education, it came home to me (that) my kids knew more than I did," Rylander said.
Life bottomed out when Rylander, now 37, was convicted of felony burglary and drug charges, among other offenses. He's now an inmate at the Utah State Prison, awaiting a parole date in 2019.
But that's not the end of Rylander's story. He resumed his education at the prison, which "re-awakened the man inside," he said. He "started looking inward and started learning about me."
On Wednesday, he was one of 110 inmates who received their adult high school diplomas from South Park Academy, which is operated at the prison by the Canyons School District. For them, it's a new opportunity to change course and aim for higher ground in life.
"It has been said that the door of history turns on small hinges, and so do people's lives," Rylander said. "The choices we make determine our destiny."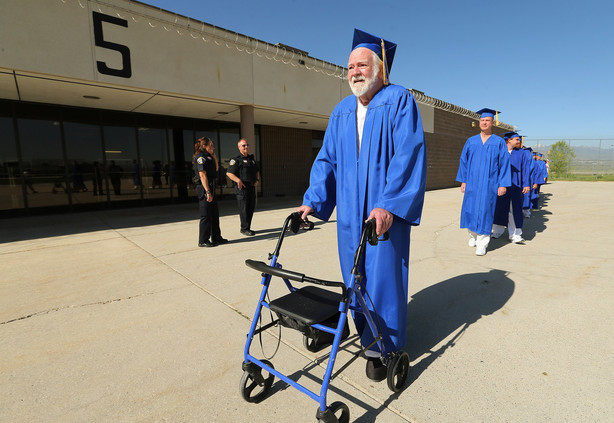 Orderly rows of inmates dressed in gold and blue regalia — almost concealing the white and red jumpsuits underneath — filed into one of the prison gymnasiums during Wednesday's commencement ceremony. Tassels danced from graduation caps as repeated glances from the procession searched the other side of the room where visiting family members sat.
Smiles from both sides of the aisle were as conspicuous as the waves that accompanied them.
Marshall Roberts was among the line of graduates. He said getting a high school diploma feels like a second chance at life. And seeing other inmates earn the same recognition, he said, shows they're "more than just inmates, more than the condemned."
"It's difficult coming to prison because you have the tendency to kind of beat up on yourself. You feel like you've made a lot of really bad choices and maybe you can't come back," Roberts said. "But this is a clear signal that you can come back. You can make the choices to do the right things to have a better future."
Roberts was recognized as Promontory's student of the year. And in light of his academic achievement and serving as a tutor for other students, he was also given a $1,000 scholarship to the University of Utah to use when he gets out.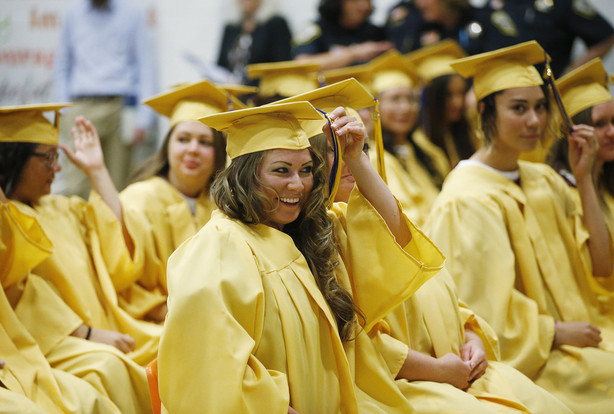 It adds to other resources Roberts knows he'll need when his release day comes. Combined with the support and encouragement of educators and family, Roberts said he plans to use the scholarship to make new opportunities for himself.
"That just means so much to me. It's really nice to have people that believe in you on an educational level. The University of Utah is somewhere I've always wanted to go," he said. "With addiction, you cannot do it alone. With all of the help that I've had here with the staff and with my teachers, as well as family and friends, I am, for the first time in a very long time, back on my feet."
Roberts' sisters, Sophia Roberts and Naomi Smith, were there to watch him graduate.
"Without the family support, what do they have to reach for? What do they have to strive for?" Sophia Roberts said. "I think it's good for them to have that support, especially when it comes time for them to actually get out, that they have that foundation to stand on. Family is everything when it comes to that."
Makayla Yeaman also received her adult high school diploma. The 21-year-old hopes to further her education with a special focus on history and government. She also plans to improve her sign language, a skill she's worked on during her schooling.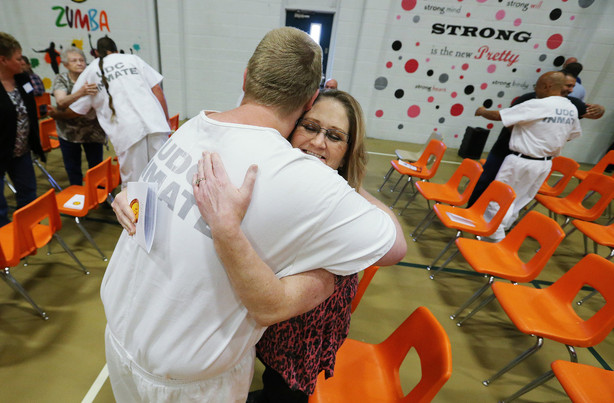 With several felony convictions, life going forward will be difficult, she said. But she's optimistic her diploma will help.
"There's always something out there," Yeaman said. "There's more to life than drugs and violence. I want to help people."
Yet for her, the joy of graduation day wasn't as much about completing her high school education as it was getting to visit with her grandparents and be herself, at least for a few minutes.
"When you're in a place like this, you really feel alone. It feels really lonely (even though) you're surrounded by people all the time. Nobody's your friend, you can't trust anybody, and you're not allowed to say how you feel," Yeaman said. "But with them, I'm not afraid to feel anymore. And when you start to feel again, it's overwhelming."
×
Photos