Estimated read time: 3-4 minutes
This archived news story is available only for your personal, non-commercial use. Information in the story may be outdated or superseded by additional information. Reading or replaying the story in its archived form does not constitute a republication of the story.
SALT LAKE CITY — Billboards. Power lines. Rundown buildings and vacant industrial land.
Those aren't images that reflect the grandeur of Utah, and yet it's what visitors see when they exit or enter the city from I-15 on 500 South and 600 South, Salt Lake Chamber President Lane Beattie told legislators Wednesday.
"A lot of people comment about how surprised they are by the roads when they come into Salt Lake City," Beattie said. "They've been told how beautiful Salt Lake is, but when they come here and they turn off the freeway … (they) aren't impressed with what they see."
That's why Beattie and other economic leaders urged the Legislature's Business and Labor Interim Committee to begin considering a new "vision" for the roadways — the Grand Boulevards Corridor Plan — to give Utah's largest city a more welcoming entryway.
"We just believe those (state-owned) roads need attention, and we can't do it without your help and without your consideration," he said.
Beattie said he and other economic stakeholders, including the Downtown Alliance and Downtown Rising, have joined together to study ways to make the roadways more appealing and drive economic development.
Clint Ensign, senior vice president of Sinclair Cos., which owns the Grand America and Little America hotels downtown, presented to legislators possible improvements, which included filling vacant land, improving landscaping, working with billboard companies to make more aesthetically pleasing roadside signs, and encouraging Rocky Mountain Power to bury its power lines.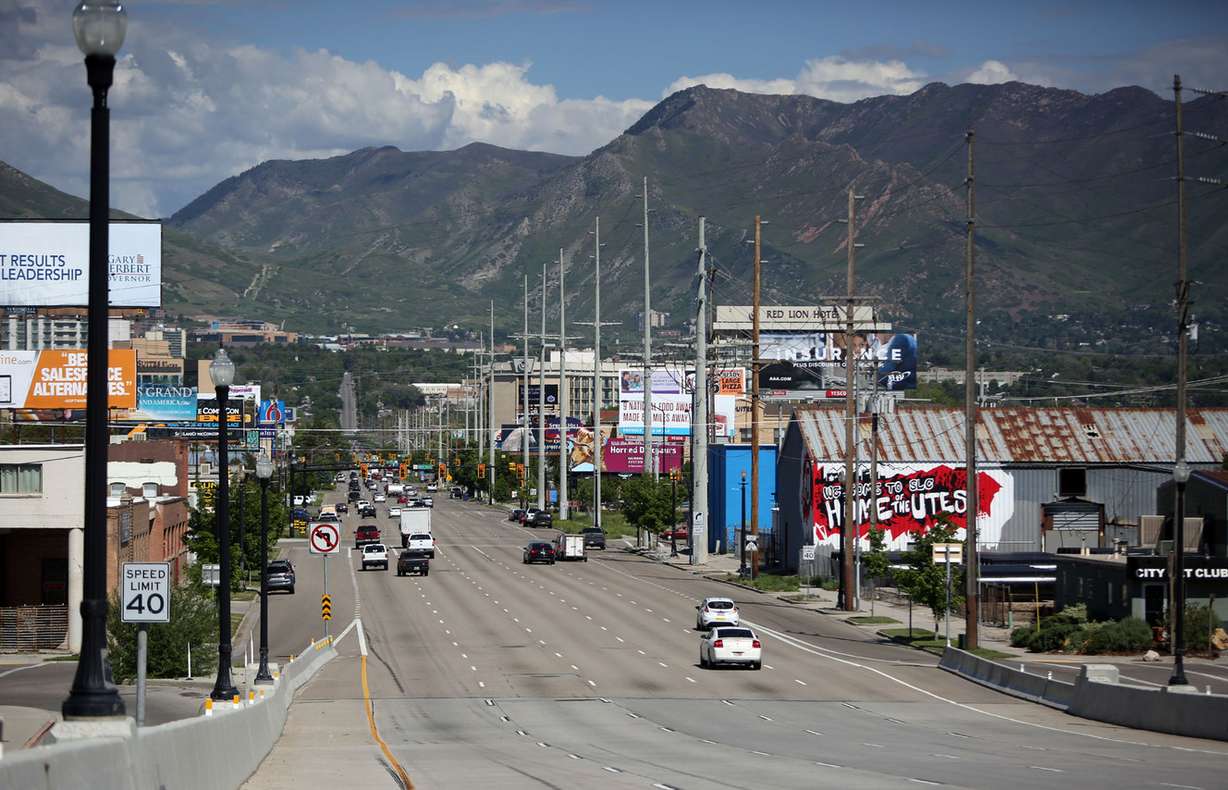 Ensign urged the committee to study the issue throughout the summer so a clear vision would be ready by fall.
"This provides a tremendous opportunity to improve the image of our city, but most importantly boost the economic activity in our city," he said. "We feel the need to act now. Waiting will make it more difficult. There are large tracts of land open and so this is the right time to act."
Challenges: cost and city ordinances
But cost and city ordinances could be a challenge, Ensign pointed out. For example, it may cost Rocky Mountain Power about $20 million to bury its power lines, he said, and city ordinances could create obstacles for creating newer, electronic billboards.
Under the administration of former Mayor Ralph Becker — who was outspoken about his dislike of billboard presence within Salt Lake City — city laws placed tighter restrictions on billboard companies' ability to change existing signs or build new ones.
"There are some innovative things that can be done, but the billboards will be a major challenge," Ensign said. "The ordinances downtown make it difficult to improve what they have."
The issue will need public-private partnerships between the state, city, county and private entities to achieve the "grand boulevards" vision, Ensign said.
"We're not looking to the state of Utah to shoulder this alone," he said. "It should be a shared responsibility."
Sen. Curt Bramble, R-Provo, chairman of the committee, spoke in support of the plan and said the committee plans to include the issue on each agenda throughout the summer.
"If we can capture the vision and come up with the right approach, this would gain the committee's endorsement and there will be a committee bill to be presented by November," Bramble said.
×
Photos
Most recent Utah stories