Estimated read time: 4-5 minutes
This archived news story is available only for your personal, non-commercial use. Information in the story may be outdated or superseded by additional information. Reading or replaying the story in its archived form does not constitute a republication of the story.
MURRAY — A woman is trying to save her dog that she claims was unfairly ordered to be put down by a Rich County judge.
Her dog, Lilly, was accused of biting a 2-year-old boy.
Shauna Thompson said her dog doesn't deserve the harsh sentence, but the prosecutor disagrees and said surveillance video shows her dog is not innocent. Thursday, Rich County Justice Court Judge Ross McKinnon found Thompson, who was representing herself, guilty of allowing a vicious animal to go at large, a class B misdemeanor.
"The dog needs to be put down, or the dog can be given to a ranch," the judge ordered, according to a court docket. "The court would need a letter stating who the new owner is and where they are located."
Thompson was sentenced to six months of probation and ordered the pay a $680 fine.
"I don't want my dog to die," said Thompson, who lives in Riverton. "I want my dog to be with her family that loves her, that she has bonded with, that care about her enough to take her to training to make her a good dog."
The ruling stems from an incident at Bear Lake last year that left a 2-year-old with a cut on his arm. On Aug. 22, the family was sitting outside a fast-food restaurant with Lilly by their side.
"I was actually feeding her chicken at the time, and two little boys they came running around the table, and it appears as though one of the little boys stepped on Lilly's tail," Thompson said. "Lilly turned around and she was barking."
She said the incident lasted 7 seconds, and the dog was barking the whole time. She also doubts whether the 2-year-old was bitten by Lilly.
"The little boy had a cut on his arm. It was a straight cut; there was no bite marks, no puncture wounds. I think it was about an inch to 1 ½ inches, straight cut on his arm," she said. She suspects the child may have been cut by the prong collar Lilly was wearing.
Rich County Attorney Gary Heward, however, said there's surveillance video to prove the Great Pyrenees attacked the boy, unprovoked.
"They're simply walking by and this dog turns and grabs this little boy, and he is then pulled back underneath the table with the dog hanging onto him. And it leaves an open gash on his arm," Heward said.
He added there is no evidence that the boy who was attacked had stepped on the animal's tail.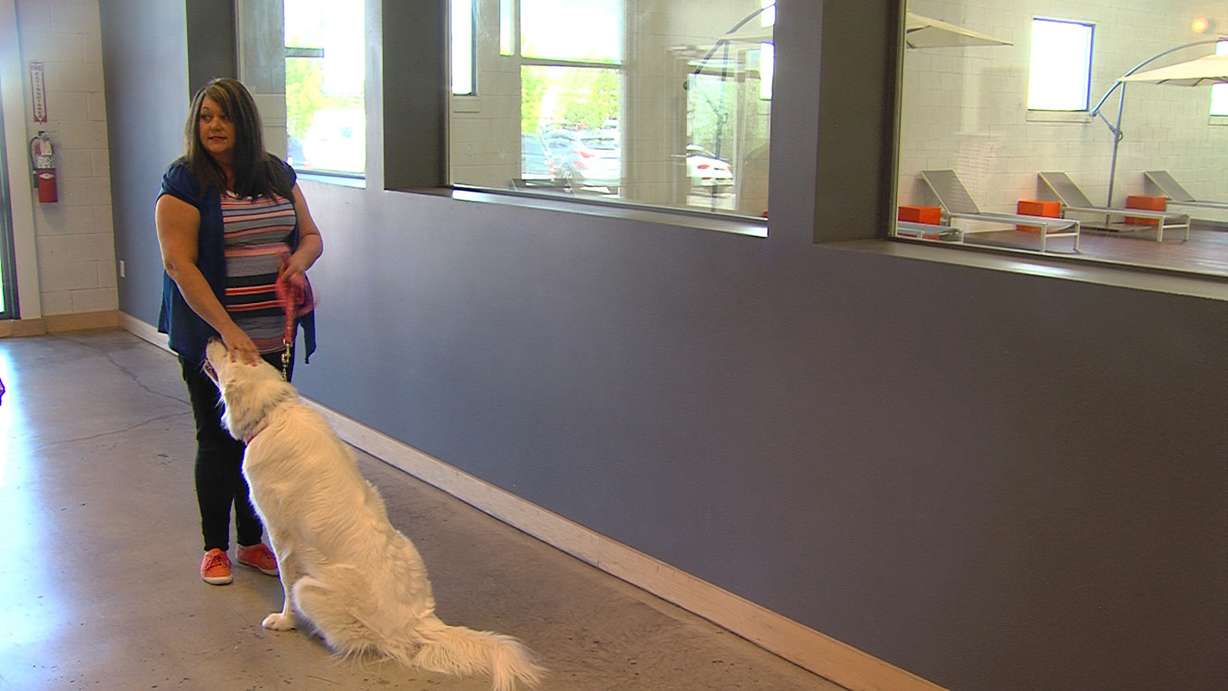 Ten minutes before the attack, Heward said the dog lunged at and growled at another child that was 4 or 5 feet away. He said putting the dog down, in his mind, is a public safety issue.
"I feel that no owner should have to have the choice to turn their beloved family member over to be murdered," Thompson said from a dog day care in Murray where she often takes Lilly to play with other dogs.
She said she has had Lilly since she was 7 weeks and the dog has been in training classes since she was 12 weeks old. The dog has also earned her Canine Good Citizen certificate, which recognizes that she has passed the 10 step test. The test includes accepting a friendly stranger, sitting politely for petting, staying in place and coming when called.
She said Lilly is like a family member and has special significance to her. "My mother was my best friend and she died on her birthday," she said. "I missed my mother and Lilly was born on my mother's birthday so … she's named after my mom, she has very special meaning to me."
Thompson said she has 30 days to appeal. She has set up a petition to try to get the judge to change his mind.
"I'm praying that it will happen. I don't know based on his biased opinion of the breed, I don't know if that will happen, but I'm praying that it will happen," she said.
The entire surveillance video has been added to this story. At 7:35 in the video, you see the dog appear to bark at a child who falls down and at 25 minutes in, you see the dog appear to allegedly bite a child.
×
Photos
Related links
Most recent Utah stories