Estimated read time: 3-4 minutes
This archived news story is available only for your personal, non-commercial use. Information in the story may be outdated or superseded by additional information. Reading or replaying the story in its archived form does not constitute a republication of the story.
SOUTH JORDAN — Roughly 2,000 horse lovers gathered at the Salt Lake County Equestrian Park Monday with a message that was loud and clear: Don't close our park — enhance it.
Salt Lake County Mayor Ben McAdams and County Council members heard thousands of boots stomping the bleachers, whistles and cheers when they were presented with the option to invest in enhancing the park's facilities to make it a western state destination for national horse events.
But the crowd rumbled and booed when presented with another option — close and repurpose the 120-acre park.
"We need to get rid of this issue once and for all — do we need horses and do we need the equestrian center?" said Brett Tolman, a member of the Equestrian Park Coalition, a group dedicated to preserving the park. "Because I think the community answered that loud and clear."
What exactly to do with the equestrian park is an issue county officials began grappling with earlier this year, questioning whether the park is worth its nearly $1 million per year cost to taxpayers. The center operates at $2 million per year, but revenue generated by events and boarders only pays for half of that.
Plus, the park is faced with up to $4.5 million in needed maintenance over the next five years.
But McAdams and Councilman Richard Snelgrove — an outspoken conservative of the Republican-controlled council — both assured the public that they don't see closing the park as a real option.
"I get everybody's concerned about that," McAdams said. "But we want to shift this conversation to talk about what this facility will look like as an equestrian facility."
Snelgrove called the park a "vital" asset to the county.
"Yes there is a subsidy, but we also need to recognize the benefits," he said, listing economic benefits of having major horse events attracting out-of-state competitor dollars. "But there are also benefits that are not quantifiable. How do you measure the impact this facility has on children involved in 4-H?"
Brian and Kim Kaylor, who run an equestrian vaulting club in Lehi, said they were "encouraged" by Monday's meeting, and she hoped anyone supportive of closing the facility was "intimidated" by the meeting's turnout.
"The community is behind this, and we're excited to hear (county officials) have an interest in developing it beyond its current use," Brian Kaylor said.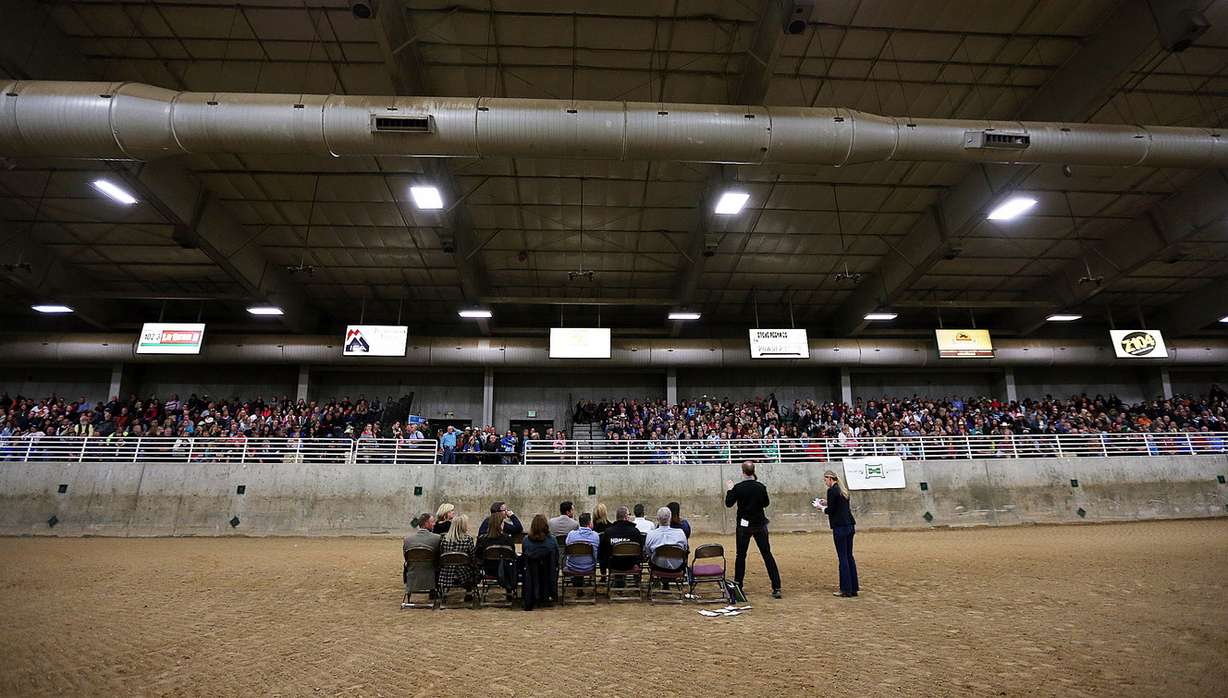 Erin Litvack, director of the county's Department of Community Services, said it was clear to her from Monday's meeting that repurposing the park has "no traction at this point."
However, the option that had most of the crowd's support — funding major improvements to bring the facility up to standard for more national competitions — also gave her pause.
"That will have a hefty price tag. We're talking some intensive facility builds and landscaping," she said, noting it could cost "tens of millions."
Councilwoman Aimee Winder Newton said she appreciated hearing from the park's users and their proposed solutions, but before the council can move forward, it will have to see the cost proposals of each option. Litvack said those estimates should be ready in about a month.
"At the end of the day, we're going to have to wait until we get the numbers," Newton said. "The council holds the purse strings, so we're pretty concerned about what the budget impact would be for the county."
Tolman, also a member of a steering committee helping to recommend solutions to county officials, urged community members to maintain their "fire," and keep pressure on county officials as the council prepares to take up the issue n June.
He urged community members to go to County Council meetings and take an online survey on the county's website to give input on the issue.
"(The meeting) was encouraging, but I don't think the fight's over," he said. "If we're going to do this right, it will require investment, and that's when it's going to get tough."
Contributing: Ashley Moser
×
Photos
Related stories
Most recent Utah stories