Estimated read time: 3-4 minutes
This archived news story is available only for your personal, non-commercial use. Information in the story may be outdated or superseded by additional information. Reading or replaying the story in its archived form does not constitute a republication of the story.
SEATTLE — Martin Frey of Holladay wanted to become the first person to climb the highest peaks on each of the seven continents and to sail the seven seas.
Last month, he began his final leg, the seventh sea, and he made it.
Last weekend, hundreds welcomed the crew of "Visit Seattle," one of the boats that competed in the Clipper Round the World amateur boat race. It was the end of a 5,700 mile journey from China to Seattle across the North Pacific.
It was a special event for Frey. He had accomplished an amazing feat, one that took 11 years to finish. Seven seas and seven summits — no one has ever done that.
"I'll tell you, the Pacific is really the Mighty Pacific," Frey said after he stepped off the boat last Sunday. "It battled us as soon as we turned the corner in the south of Japan. We got hit with head-on waves and I got seasick really fast, and just miserable for several days, or weeks, I can't remember!"
Martin and the crew worked alternating shifts: six hours on, four hours off. When he was on, he did it all: was at the skipper's chair at the wheel; unpacked and hoisted sails, took them down, untangled ropes, battled for balance in conditions where waves pounded the boat, causing it to lean at incredible angles. It was storm after storm after storm.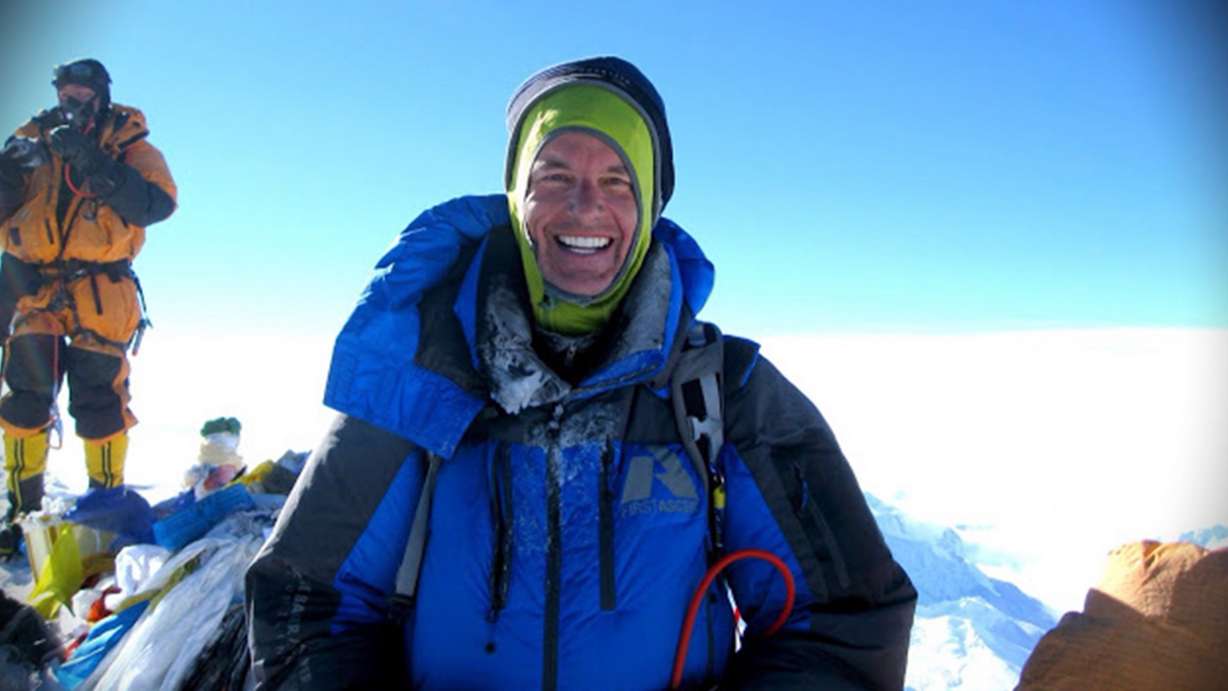 When he was off shift, trying to get some sleep, dealing with nausea and constantly wet clothes was certainly not fun. He posted updates on his website throughout the journey, and camera crews interviewed him as well. He described the conditions about halfway through the journey:
"This is some of the most hostile and isolated environment on earth. I've been to 8,000 meters, I've been to Antarctica, sailed through the Arctic. This has been some of the roughest conditions I've had to deal with and certainly challenging for everyone on board."
Frey started doing the sailing trips and mountain climbs as a way to push himself to the limit, and has used the experiences the past several years to send motivational messages to others — especially young people — that to make life more fulfilling, you have to challenge yourself at times.
Huw Fernie, the skipper of "Visit Seattle," said this trip was by far his hardest sailing journey. He said Frey's participation was inspirational for the entire crew. "It was great to take his experience and sort of add it to ours and truly inspirational character, so it was really nice for the whole team to be able to meet him and share some stories, and I think we're all better because of that," he said.
The harsh conditions put a strain on everyone's physical and mental well-being. Then came word that a crew member on another ship, Sarah Young from London, was knocked overboard and died. On Frey's boat, and on the others too, crew held moments of silence in her honor. Young's death brought it all home, that this was no ordinary journey.
Related Story
Last Sunday, under sunny skies and calm winds, Frey and his sailing mates were back on dry land after more than a month at sea. They were finally with their families, with many stories to tell, both now and in the years ahead.
"You know, it's wonderful," Frey said. "This 11-year journey has taken a long time and we've had to prioritize a lot of things around that, but it was a goal that I thought was the right thing to do, and I look forward to where this takes me next. Who knows what that is, but I hope it'll unfold and be a great transition."
×
Photos
Related stories
Most recent Utah stories