This archived news story is available only for your personal, non-commercial use. Information in the story may be outdated or superseded by additional information. Reading or replaying the story in its archived form does not constitute a republication of the story.
TAICHUNG, Taiwan — The Church of Jesus Christ of Latter-day Saints confirmed Tuesday that a missionary serving in Taichung, Taiwan, was killed in a bicycle accident.
North Ogden resident David Smith Hampton, 18, was hit by a car while riding his bike and died later at an area hospital from his injuries Tuesday, according to LDS Church spokesman Eric Hawkins.
"Our hearts are saddened as we share the news of the death of one of our young missionaries. … Our prayers are with his family and loved ones as we join with them in mourning his death," Hawkins said in a statement.
His mother, Cyndi Hampton, told KSL that serving a mission was her son's only goal.
"He just knew that he was supposed to be on a mission and that's what he was supposed to be doing," she said. "It was really the only thing that he cared about.
"When he gave his farewell (talk), he actually gave his testimony in Mandarin," she added. "Now we're really glad because it was kind of like he gave his homecoming (talk) when he gave his farewell."
Elder Hampton went on his mission in December 2015. He is from the North Ogden, Utah Coldwater Stake.
"We heard early this morning that our son David, who was serving as a missionary in the Taiwan Taichung mission, had been hit by a car while he was riding his bike," his parents, Steve and Cyndi Hampton said in a statement. "He did not survive the accident and we are truly saddened by the event — as can be imagined we are still processing the news.
"However, we are thankful he was serving the Lord as a missionary. In each of his letters he expressed his pleasure to be on a mission. It was hard work, but it was a blessing for him and for us. And we know it will continue to be a blessing for us. ... Our faith is strong that he has been taken home to that God who gave him life. We have a daughter who is still serving as a missionary in the Tahiti mission. We have spoken with her and she has also expressed her gratitude and testimony that David was serving the Lord. At this point, we have not decided what she will do.
"We are thankful for our family who is with us and appreciate and are strengthened by their love and prayers, and the love and prayers expressed by so many others. At this point, we do not have any other information about the funeral or when he will be brought home."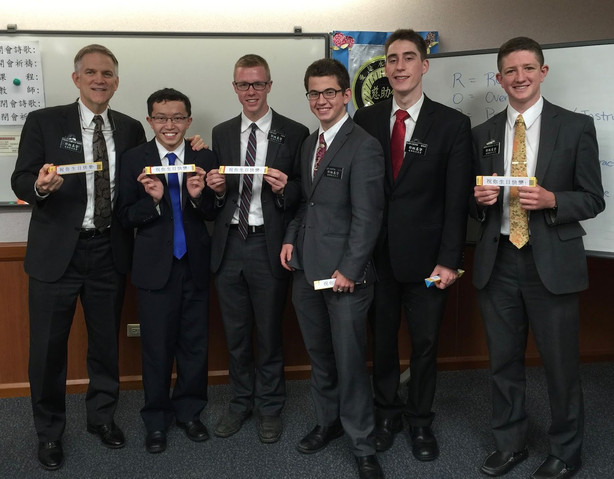 Elder Hampton's bishop, Peter Wollschleger, said the family is handling the death well and that they have a lot of support from the ward and the community.
"The family is handling this incredibly well during this difficult time. I know it's difficult for them, but they're a very strong family, very strong in the faith and strong in the community. They're doing very well with the situation," he said. "We've got a great, strong LDS ward here in North Ogden and they've already received a lot of support and will continue to receive great support to get them through this."
Wollschleger said Elder Hampton was a "young man that did well in school and scouting — Eagle Scout — and just a great young man." He added that Elder Hampton always desired to serve a mission and made it his "whole desire."
"He's always had a great desire to serve a mission," Wollschelger said. "He was serving a great mission at the time of his accident."
Wollschleger said the family has yet to finalize funeral arrangements or whether Sister Hampton will remain on her mission, but that more would be known in the coming days.
Contributing: Josh Furlong, Mike Anderson, Andrew Adams
×
Photos