Estimated read time: 3-4 minutes
This archived news story is available only for your personal, non-commercial use. Information in the story may be outdated or superseded by additional information. Reading or replaying the story in its archived form does not constitute a republication of the story.
SALT LAKE CITY — University of Utah police are investigating a possible hate crime after an act of on-campus vandalism. They're looking for the person who defaced seven posters inside Orson Spencer Hall.
"It's disheartening is what it is," said U. spokeswoman Maria O'Mara. "It's incredibly disappointing."
On Friday, someone defaced seven posters advertising a lecture put on by the Hinckley Institute of Politics, O'Mara said.
"We had a visiting professor from Duke University who was here to speak about Islamophobia," she said.
The event was meant to promote peace between America and Islamic nations, but the words scrawled over the top of the posters only promoted hate. The vandal wrote "Islam means death to the west" on several of the posters, and expletives on others.
O'Mara said there are a lot of events held inside Orson Spencer Hall and many are open to the public, so the vandal isn't necessarily a student.
"This anonymous person with a marker does not reflect the University of Utah's values," O'Mara said. "Frankly, it doesn't reflect American values of religious freedom and inclusivity and diversity. Those are the things that we care about here on campus."
O'Mara said this is an isolated case, and there haven't been any other incidents against Muslims on campus that she's aware of.
Still, Imam Muhammed Shoyab Mehtar, a religious leader with the Greater Islamic Society of Salt Lake, said bullying against Muslims is on the rise, especially in the past three months.
---
It's a type of behavior I would not expect in Utah. The Utah that I know is not only inclusive, it wants to learn.
–Imam Muhammed Shoyab Mehtar, Greater Islamic Society of Salt Lake
---
"I don't know if the increase is a result of the state being accommodating of refugees, and this is the way people are reacting, or whether it's an increase as a consequence of more reports in the media. But I do know that it's much more than before," Mehtar said.
One girl wearing a headscarf was told to "go back home," he said. Another was shoved into a locker. And a male student at a local school has been repeatedly called a terrorist by another student, even after reporting the incident, according to Mehtar.
In another instance, a boy who recently returned from a trip to Pakistan was asked by a teacher whether he had met any members of al-Qaida or relatives of Osama bin Laden, he said.
All of these incidents have taken place in the last four months, mostly in middle schools and high schools, according to Mehtar.
"It's a type of behavior I would not expect in Utah," he said. "The Utah that I know is not only inclusive, it wants to learn."
Ben Horsley, a Granite School District spokesman, said employees have not noticed an uptick in serious bullying incidents directed toward Muslim students. Salt Lake City School District spokesman Jason Olsen said employees also have not noticed "anything out of the ordinary."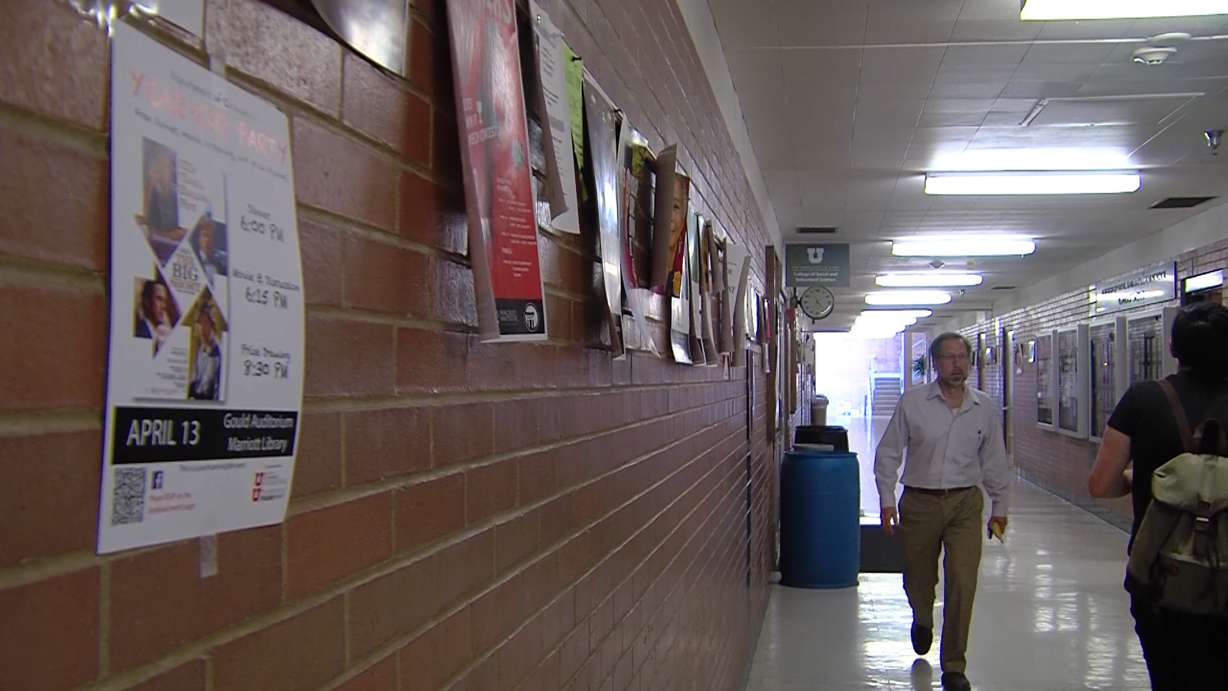 Muslim students at the University of Utah say they are treating the graffiti as an isolated incident at a campus that has largely been inclusive of minorities.
"This is one of the first times we experienced even a small thing like this," said Ahmad Alsaleem, president of the Muslim Students Association.
He said the organization is using the attention to start a wider conversation about Islam. The club is hosting a four-hour panel discussion Friday to raise awareness about the religion.
"Worrying about things will not get us anywhere," Alsaleem said. "So what we can do is try our best to provide information."
The event was scheduled before the vandalism came to light, but the organization is promoting the event as an open forum to ask questions about the religion. Imam Anwar Arafat, the leading imam of a large mosque in Memphis, is the keynote speaker.
"Whatever the questions are — the tough ones, the easy ones — there's no limitation on what you can ask in that panel," Alsaleem said.
×
Photos
Most recent Utah stories