Estimated read time: 2-3 minutes
This archived news story is available only for your personal, non-commercial use. Information in the story may be outdated or superseded by additional information. Reading or replaying the story in its archived form does not constitute a republication of the story.
It's moving season. But if you're not careful, thousands of dollars could be moved right out of your wallet. A New York woman moving to Salt Lake to be closer to her boyfriend learned that lesson the hard way.
The woman says once the movers got her belongings packed and on the truck, the agreed-upon price went up. Today Eyewitness News found out it's not all that uncommon.
The Better Business Bureau says its stamp of approval is just one of the many things you should look out for when hiring a moving company. But as this couple found out, it's not always that easy.
Seth Radford says his girlfriend, Haylen Latorre, still got scammed.
"She did her research online with the Better Business Bureau with the American Movers and Storage Association," Radford said. "It's taken a lot out of her. She feels taken advantage of."
Latorre hired Special Movers, a company out of New Jersey, to transport her items from New York to Salt Lake. The company said it could do it for $1,192. But when the movers got Latorre's belongings on the truck, the price changed.
"The glass top of the coffee table was packed separately, so that now counts as two items. The futon is now in four pieces as opposed to one, and that's where the low-ball estimate mushroomed into $3,300 in charges," Radford said.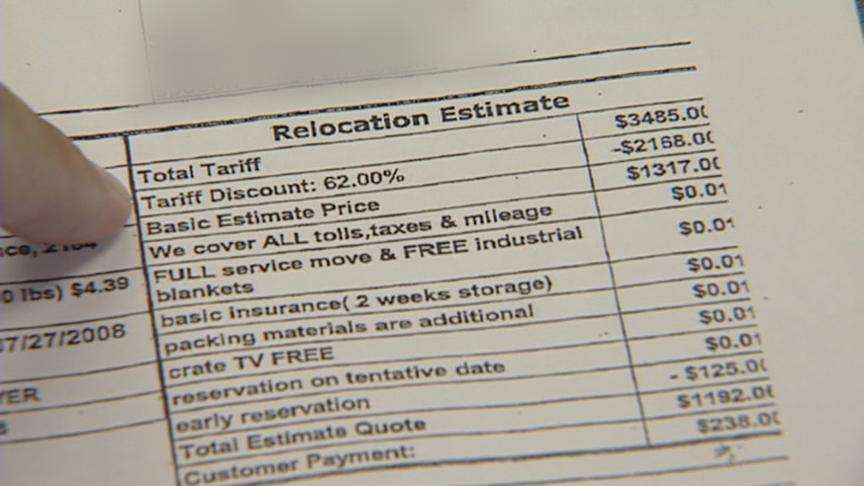 When Latorre said she wouldn't pay that much, the company threatened to auction her belongings.
We contacted Special Movers today. All company officials would say was that everything had been resolved.
Art Haddow operates Premier Movers in Salt Lake and is a volunteer for an organization called MoveRescue.
"Here this poor girl is paying $4,000 for a move that shouldn't have cost more than $2,000," Haddow said. "Legitimate movers don't want this to happen."
MoveRescue and the Better Business Bureau say never agree to a price until you've seen the contract. They also suggest you try to get at least three different quotes.
"We just wanted a smooth, trustful, professional move cross-countryn never anticipated a battle like this," Radford said.
Special Movers agreed to release Latorre's belongings for about $1,100. But all her belongings are still in New York.
Tomorrow, Utah's Premier Movers will pick up her belongings and bring them to Utah, charging her only for the driver's fee: $1,500.
E-mail: corton@ksl.com
×
Most recent Utah stories