This archived news story is available only for your personal, non-commercial use. Information in the story may be outdated or superseded by additional information. Reading or replaying the story in its archived form does not constitute a republication of the story.
BISMARCK, N.D. (AP) — Fewer pregnant women and new moms in North Dakota are utilizing the federally funded nutrition program known as Women, Infants and Children, or WIC.
The program, which has been in the state since 1975, offers nutrition assistance to low-and middle-income pregnant and breastfeeding women, infants and children younger than 5 years of age. In the past five years, WIC offices across the state have seen participation rates slowly decline, which could be attributed to low birth rates and higher incomes, the Bismarck Tribune reported.
A flight of younger families from rural areas and into cities with larger populations also has impacted participation numbers.
___
Jamie Mclain and her 7-month-old son Liam visit the Bismarck WIC office once a month for nutrition assistance.
Mclain said her parents told her about the program, which she started using at the end of her pregnancy and has continued to use after the birth of her son.
"It has really helped out a lot," said Mclain, who works at HIT Inc. in Mandan, a disability service.
Mclain breastfed Liam until he was 3 months old. Once she returned to work, she started feeding him formula.
The WIC program is funded by the U.S. Department of Agriculture and is similar to food stamps. It helps pregnant women and new moms buy WIC-eligible food, such as milk, cheese, eggs, and whole grains. It also can be used to purchase baby formula, fruits, veggies and baby food.
To qualify for WIC, annual household income must fall at or below 185 percent of the poverty line.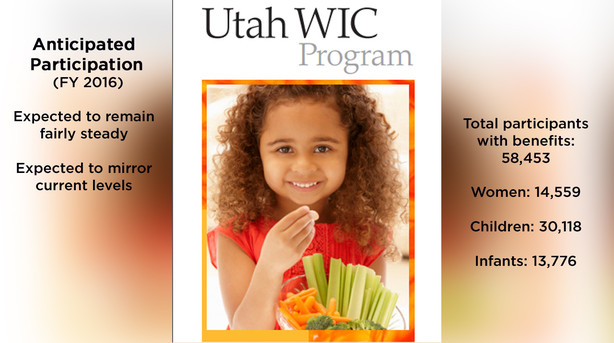 ___
Colleen Pearce, WIC program director for the North Dakota Department of Health, said the program is for low- and middle-income families, a vast majority of whom have jobs and are working. According to the program's participant survey in 2015, 76 percent of WIC participants were working families.
It's a great supplement for working families, Pearce said.
WIC provides families with nutritious foods as a way to combat diseases and other nutritional issues, such as obesity and type 2 diabetes.
The program also offers nutrition education, refers clients to other health and social services and also provides breastfeeding support. The Bismarck WIC office supplies new mothers with breast pumps.
___
Last year, 21,690 women, infants and children used WIC, down from 24,356 in 2010.
"Why over time have the WIC numbers been decreasing?" Pearce said. "Well, in fact, our births have not been all that high."
In 2010, there were a little over 9,000 births in the state, Pearce said. In 2011, it was about 9,200, and finally, in 2012, it increased to 10,000.
"It's a fairly low birth rate for (2010 to 2012)," she said. "We didn't see much of a bump up in the number of births in our state until the beginning of 2013 and going into 2014."
The number of births in 2014 was about 11,300. The numbers finally increased as a result of the oil boom and a more desirable economy, Pearce said.
"Clearly, that could be the driver for WIC," she said.
The national WIC participation numbers have been dropping, too, Pearce said.
___
During the oil boom, a number of people entered the state seeking jobs and other opportunities.
"In North Dakota, we're kind of the anomaly," Pearce said.
Those people could be finding jobs that put them at an income level higher than allowed under WIC, Pearce said.
People who utilize the WIC program are younger families who are having children and who may fall into the lower- to middle-income range, Pearce said.
In recent years, younger families have migrated from more rural areas and into the larger population centers, including Bismarck, Minot and Fargo.
"The rural areas seem to be losing that younger population," Pearce said. "Those numbers really have continued to drop. That's probably the most dramatic shift we've seen over the years."
"It's not surprising," she said.
WIC offices in Dickinson and Williston have witnessed many families leave more rural areas, but also report a recent uptick in participation due to the decline of oil prices.
Barb Truchan, director of the Dickinson WIC office, which serves seven counties in the southwestern part of the state, said many more families are enrolling in WIC.
This could be due to a number of oil field layoffs, 30 or 40 at a time, she said.
"So they're coming back to WIC," Truchan said.
Liz Bustad, director of the WIC office in Williston, said she's also seeing numbers increasing because of the downturn in oil industry in northwest North Dakota. In the past year, participation has increased 19 percent, she said.
"We're getting a lot of calls," Bustad said. "When people get laid off ... it's really hard to make ends meet."
WIC offices in Bismarck and Fargo also have reported increases in recent months. Many younger families may be moving out of rural areas of the state and into cities with larger populations, such as Bismarck and Fargo.
"We have not really seen a decrease in our numbers," said Kim Vance, director of the Fargo Cass Public Health WIC Program.
Vance said the office has been keeping busy in the past five months, averaging about 2,900 WIC clients each month.
"Our numbers are staying up," said Vance, adding that she has had more of a challenge in keeping enough appointments and scheduling availability for clients, many of whom have work or school.
Both Bismarck and Fargo WIC offices also have seen an influx in clients from other states and countries.
Shannon Spotts, director of the Bismarck and Mandan WIC offices, said she's seen more pregnant women and new moms coming in from Puerto Rico and Mexico.
The Bismarck location recently had to request more WIC pamphlets and educational brochures in Spanish, Spotts said.
WIC offices also have an interpreter line that staff members can call.
"We call the language line a lot," said Brandy Zacher, an employee at the WIC office in Bismarck. "I've met people from all over just in the last few years."
This is an AP Member Exchange shared by the Bismarck Tribune
Copyright © The Associated Press. All rights reserved. This material may not be published, broadcast, rewritten or redistributed.
×
Related Links