This archived news story is available only for your personal, non-commercial use. Information in the story may be outdated or superseded by additional information. Reading or replaying the story in its archived form does not constitute a republication of the story.
AMERICAN FORK — You don't see many celebrities at Wal-Mart.
That is, unless you go to the American Fork Wal-Mart and meet Glenn Stucki. He's there every day ready to meet you.
"Walmart greeters are the best," Stucki said in a loud voice you can't miss.
It seems everyone knows him. For five years now he's been making people, especially children, smile. Stucki is a greeter at the store and loves meeting people. "Hi, how are you?" can be heard several times in an hour, with the 20th time just as excited as the first.
Five-year-old Ryker Shepard will never forget meeting Stucki.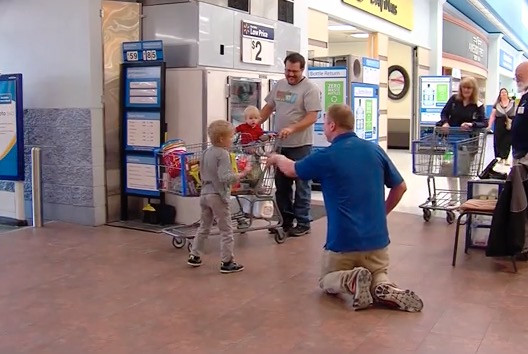 Ryker was nervous about a dentist appointment, so his mother brought him to Wal-Mart to get him a Lego toy to cheer him up. When Stucki saw Ryker, he noticed the boy's face right away.
"It was down, and I asked him what was wrong," Stucki said. "When I found out he was scared of the dentist, I told him my dad is a dentist and there was nothing to be scared of."
Ryker's attitude changed immediately. His mother said he was now excited to go to the dentist.
Stucki also found out Ryker loved Captain America, so a few weeks later when Ryker and his mom came back to the American Fork Walmart, Stucki had a painting of Captain America waiting for him.
"To me, that Glenn would actually do that for us, strangers, that he would do that, it meant a lot," said Sara Shepard, who is Ryker's mother.
Painting super heroes is Stucki's thing.
"First, I do it in black and white. Then I work on it until it's perfect," Stucki said while painting his latest superhero in his apartment.
He has done hundreds of the paintings, which he gives away to children for free.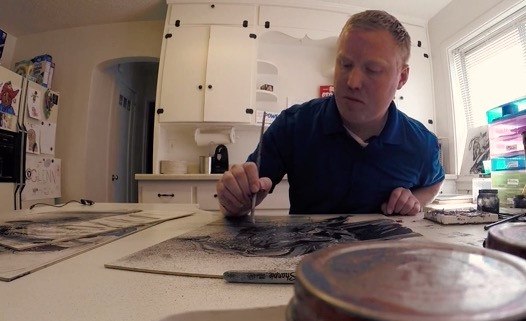 "I'm not really motivated out of money," Stucki said. "I paint because I love people."
For him, being able to paint for people is payment enough.
"After my accident, I was so afraid of everyone," Stucki said. "I was worried about people judging me because I walked with a limp and I was worried what they were saying about me."
Stucki was 12 years old in 1993 when he was hit by a jet ski while on a California lake. The accident left him battling a villain called brain injury.
"That was really hard," Stucki said.
He was in a coma for several weeks, but when he woke up, he remembers smiling.
"It was hard to cope with the situation, but it felt like a bad dream. I remember when I was young and had a bad dream, I would go to my parents room and my dad would tell me if I went back to sleep, it would be a good dream. So, I decided to make this a good dream," Stucki said.
To pass the time, he started painting and found out he was pretty good.
"You really can make no mistakes when you're painting," Stucki said.
Now, when he sees children's reactions after giving them a painting of Superman, Batman or any other character, it's Stucki who feels like the superhero.
"It's so cool to see their faces. It makes me feel good," Stucki said. "My motto is change the world with the love." Contributing: Mike DeBernardo
×
Photos