Estimated read time: 3-4 minutes
This archived news story is available only for your personal, non-commercial use. Information in the story may be outdated or superseded by additional information. Reading or replaying the story in its archived form does not constitute a republication of the story.
SALT LAKE CITY — Amid the caustic cacophony of the presidential race it's hard to hear where the candidates stand on things that matter.
Though their nasty rhetoric makes for no-they-didn't reality TV, White House hopefuls would be talking about the economy, national security and health care if Utahns had their druthers.
Those are the top three issues 500 registered voters identified as the most important to them in considering a presidential candidate, a new Deseret News/KSL poll shows. Those surveyed were asked to rank their top three on a list of 14 issues. Least important were climate change, poverty and abortion, the poll showed.
The Deseret News and KSL-TV will roll out a series of opinion polls Sunday and Monday aimed at getting at what's important to Utah voters heading to presidential preference caucuses next Tuesday and the general election in November. And, of course, the results will offer a glimpse of the horse race among the leading Democratic and Republican contenders.
The economy was mentioned as important by 56 percent of all respondents, ranking well ahead of any other issue. National security followed at 34 percent and health care next at 27 percent. Dan Jones & Associates conducted the survey March 8-15.
"Even though jobs have recovered from the 2008 recession, people still lack confidence in the economy going forward," pollster Dan Jones said. "Even though Utah has a healthier economy than many parts of the country, when you add the fresh memories of the Great Recession to the current signs pointing to economic unrest in China and Europe, it is no wonder the economy is most important to voters."
Money matters are historically a top issue for voters who are always concerned about finding and keeping jobs, interest rates, saving money and sending children to college.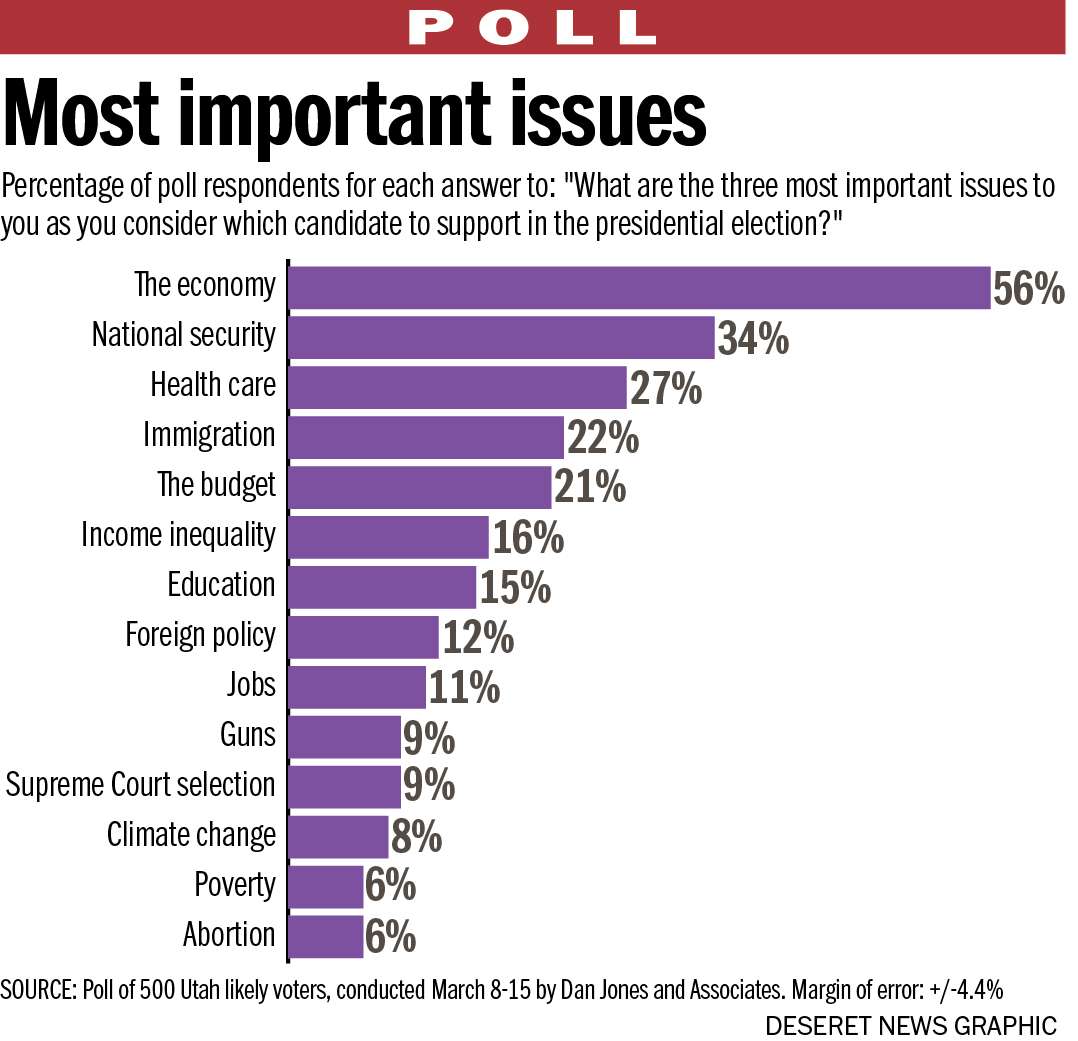 That shifted slightly in the 2002 election when national security and protecting the nation's borders was top of mind after 9/11. Health care, too, is usually something voters care about.
The poll shows that Republicans are more likely than Democrats or unaffiliated voters to cast their presidential votes with a close eye on the candidates national security views at 42 percent. Only 16 percent of Democrats and 29 percent of unaffiliated voters listed national security one of their top three issues.
Democrats and unaffiliated voters believe income inequality is an important issue far more than Republicans. Twenty-nine percent of Democrats and 21 percent of unaffiliated voters named the issue important, while only 5 percent of Republicans did.
Nasty rhetoric among the candidates has swallowed any substantive discussion of public policy in the presidential debates, particularly on the Republican side.
BYU political science professor Mike Barber found Utahns choice of the economy as the top issue interesting given how well the state is doing.
"Their confidence is not reflecting the robustness of the local economy," he said.
But that along with national security and health care have been the biggest topics when candidates have debated issues, Barber said.
"In many cases voters tend to take cues from the candidates as to what are the important issues," he said.
Contributing: Keith McCord
×
Photos
Most recent Utah stories