Estimated read time: 2-3 minutes
This archived news story is available only for your personal, non-commercial use. Information in the story may be outdated or superseded by additional information. Reading or replaying the story in its archived form does not constitute a republication of the story.
It's a multi-burglary case that's been baffling a local police department. In the past month, several homes in the Bountiful area have been broken into. Not only do the burglars steal items, they then put those items into the victims' car and steal that too!
Police now have a clue they're hoping will lead them to the burglars.
Bountiful police are now looking for two burglars, and they think they have a pretty good picture of them from the West Jordan Wal-Mart.
Bountiful Police detective Chris Lund said, "It actually does look like a mother and a son kind of a thing."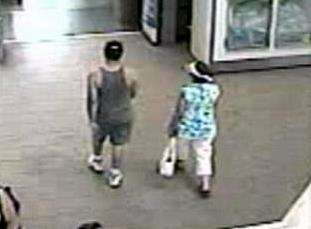 By now, even burglars should know cameras are everywhere. Two cameras caught these two "shoppers" recently. Now, police want to catch them. "They've stolen TVs, microwaves, VCRs, and then they put the items into the victims' car and steal that as well," Lund said.
Detectives say these two are behind several burglaries. Lund said, "So in the last month, they've done nine burglaries where they've kicked the door and gone in while people are away during the day."
Last month, we covered a story in Bountiful where residents came together, donated items, and held a yard sale. The money went to those who had items stolen from them after their homes were broken into. Burglary victim Brandon Redd, said, "It was kinda like we were violated because we walked in and drawers were all empty and everything was all over the floor and on my bed." Ten-year old Brandon Redd was saving cash for football camp. The burglars stole that and his mom's wedding rings.
Police think there's a good chance these two are connected to those burglaries, the others in town and one in Sandy and Holladay. Catching them would make a lot of people feel better. Lund said, "We're hoping you can help us find them."
While at that Wal-Mart, the burglars tried to use two stolen credit cards to buy a large screen TV, but the cards were already canceled.
Police think if they can get these two, they'll be able to solve a lot of the burglaries happening in Bountiful.
E-mail: acabrero@ksl.com
×
Related links
Most recent Utah stories