This archived news story is available only for your personal, non-commercial use. Information in the story may be outdated or superseded by additional information. Reading or replaying the story in its archived form does not constitute a republication of the story.
OREM — Geoff Griffin looks up from his lunch at a precarious stack of ceiling tiles leaning against a window to the next room.
They've been there for as long as he can remember, probably set up by another student years ago to make the clashing sounds of piano scales, vocal warmups, metal grinders and impact wrenches a little less aggravating in Utah Valley University's music library.
It's just one of the drawbacks of having the music department situated across a narrow hallway from the welding and auto body shops.
"I think all the students have mentioned so far that it's kind of hard to practice because you just hear so much stuff going on," Griffin said.
As jumbled as the sounds that make it through the makeshift insulation are, the library itself is just as chaotic. What was once a classroom is now a cramped storage space for cellos, French horns and dozens of other large instruments, with an inventory of more than 2,000 music scores taking up the bulk of the space.
All of it serves as a hub for the department.
"Because this is where everyone has to come to check out music and instruments, we usually have a bottleneck going on in the hallway. So there's not a lot of space to help students," said Griffin, who's worked there since he was a freshman three years ago.
Eleasah Halsmer regularly stops by the library to check out a key to a music practice room. Her main reason for coming to UVU to study piano performance is because of the "wonderful teachers," she said. But there are also a few reasons to be frustrated as an arts student.
"Noise pollution. It's crowded. There's not enough practice space. It's not a good facility for giving recitals or concerts because we don't have a concert hall," Halsmer said. "We end up giving recitals in our classrooms."
Private donations top $20M
But things may soon change for UVU and its 1,500 music, theater and dance students.
University leaders announced Wednesday that private donations for a new performing arts building have now topped $20 million in 18 months, exceeding the university's original goal of $15 million.
With 1,770 individual contributions to the cause, university leaders hope state legislators will see the widespread community support and cover the remaining $30 million that's needed using state money. If that happens, ground could be broken in November, and the building could be set to open in the fall of 2018.
"We believe that this sends a strong message to the state about what a needed and important priority this is, not just for the Utah Valley community, but beyond," UVU President Matthew Holland said. "It's really, truly a missing piece on this campus as a university. We will need the support of the Legislature to complete this project."
The proposed 140,000-square-foot facility will provide a stage for theater, recitals, concerts and dance performances. The building will also be a regular performance site for the Utah Symphony, Holland said.
Getting lawmakers to consider a $50.4 million capital project dedicated to the performing arts is a tougher ask than most. Business is booming for Utah County's science, technology and engineering industries, and a job-driven focus on those subjects has been given educational and legislative priority.
But university leaders are confident the Legislature will seriously consider funding the project. UVU's performing arts building is the top capital priority in Gov. Gary Herbert's budget proposal for higher education, and it's the second-highest priority this year of the Utah State Board of Regents.
"We think that so far, the vibes are positive," Holland said. "We're not taking anything for granted, but we're pretty well positioned."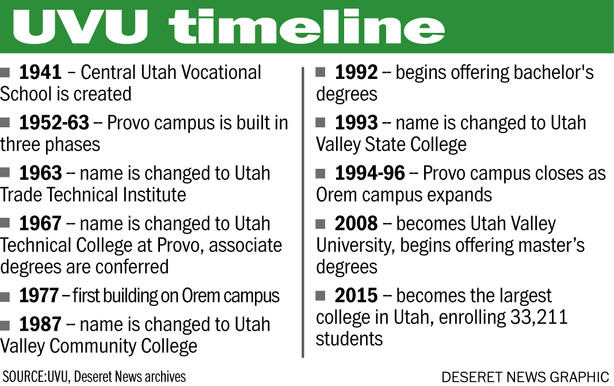 The $20 million pot of private donations is the largest in the university's history and five times bigger than the previous record. The fund started with an anchor gift from the Ray and Tye Noorda Foundation, as well as contributions from Utah County government, Kem and Carolyn Gardner and others.
Last fall, UVU, now in its 75th year, became the largest institution in the state, enrolling more than 33,200 students, with projections showing a steady increase in the years ahead. The university also accounts for about 17 percent of arts majors among Utah's eight public institutions, and about 8,000 UVU students take at least one arts course each semester.
"We're talking about a building, but we're really talking about students. We're talking about the students that will come through that building, and their education will be just like the challenges they'll face," said Newell Dayley, dean of the university's School of the Arts. "It will allow students to test themselves."
In the meantime, rehearsals and auto body restoration carry on together as normal in a symphony of Chopin and chop saws.
And while the new building will likely open its doors after Griffin and Halsmer graduate, they're no less eager to see it happen.
"We're all very happy that it's actually becoming a reality now," Halsmer said. "We've needed it for a long time."
×
Photos
Related Stories