Estimated read time: 2-3 minutes
This archived news story is available only for your personal, non-commercial use. Information in the story may be outdated or superseded by additional information. Reading or replaying the story in its archived form does not constitute a republication of the story.
A woman impaled by a four inch diameter tree branch could be released from the hospital this weekend.
Thirty-five-year-old Clancy Talbot was almost killed by a bizarre accident in American Fork Canyon. She is still in a lot of pain while the inside of her body begins a slow healing process.
Eleven days ago, Talbot joined her friends and co-workers on ATVs for some trail riding up American Fork Canyon. She was a passenger in one of the machines. She said, "When we went around the corner, there was this tree. Half of it was in the road, half of it was still in the ground. And so I saw it coming, but there was nothing I could do."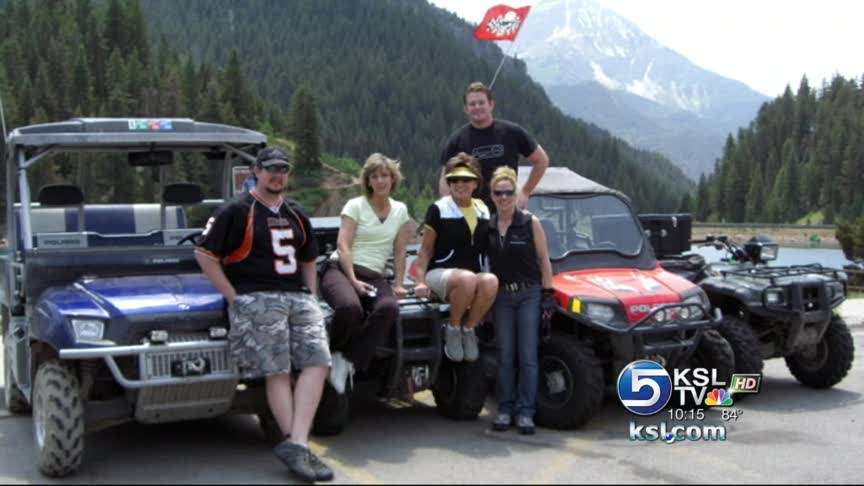 Her friend David Hall says, "The log went through the front plastic on the machine and right into the cab, and right through Clancy." Hall was in an ATV about fifty feet behind Clancy. He said, "There were numerous times where I thought she was not going to make it. In fact, I thought she was dead."
Talbot's stomach exploded. The log had penetrated all the way through, shattering the rib cage, and stopping the ATV only when it had reached the back of her rib cage. Luck seems to have favored Talbot through this whole ordeal, though. When that four inch diameter log or limb impaled her, it pushed her shirt all the way through. But then as the ATV backed off and the log pulled out, her shirt actually acted like a seal or plug, probably reducing the bleeding.
Cell phones didn't work in the area, but suddenly, out of nowhere, someone arrived, and his phone was able to call out just long enough to reach 911 and get help.
As they made their way down to a meadow, Hall says, "She looked up at me and said, 'You know Dave, I'm not going to make it. I'm dying. Tell my family that I love them. Tell my kids that I love 'em. Tell my husband that I love him.'"
Surgeons have made repairs and sewed up what stomach is left. Talbot has been getting nourishment through an IV, not digesting food or water. Yesterday she got her first drink.
She said, "It's definitely in God's hands. I could have been dead 20 times over. There's just so many ways I could have been dead."
But with her husband and friends at her side, she's here and alive and ever so grateful.
A fund has been set up to help Talbot with her medical bills. Those who wish to help can donate in her name at any Zion's bank branch.
E-mail: eyeates@ksl.com
×
Related links
Most recent Utah stories